Proudly made in Mexico, these customizable container homes celebrate local design and environmentally friendly materials.
Starting with a simple question-"What would you do with less"-architects Rodrigo Alegre and Carlos Acosta of STUDIOROCA have devised a groundbreaking line of prefab homes made from repurposed shipping containers. Outfitted with environmentally friendly materials and smart home automation systems, their VMD (Vivienda Minima de Descanso) residences offer a "no-fuss, low-cost building solution."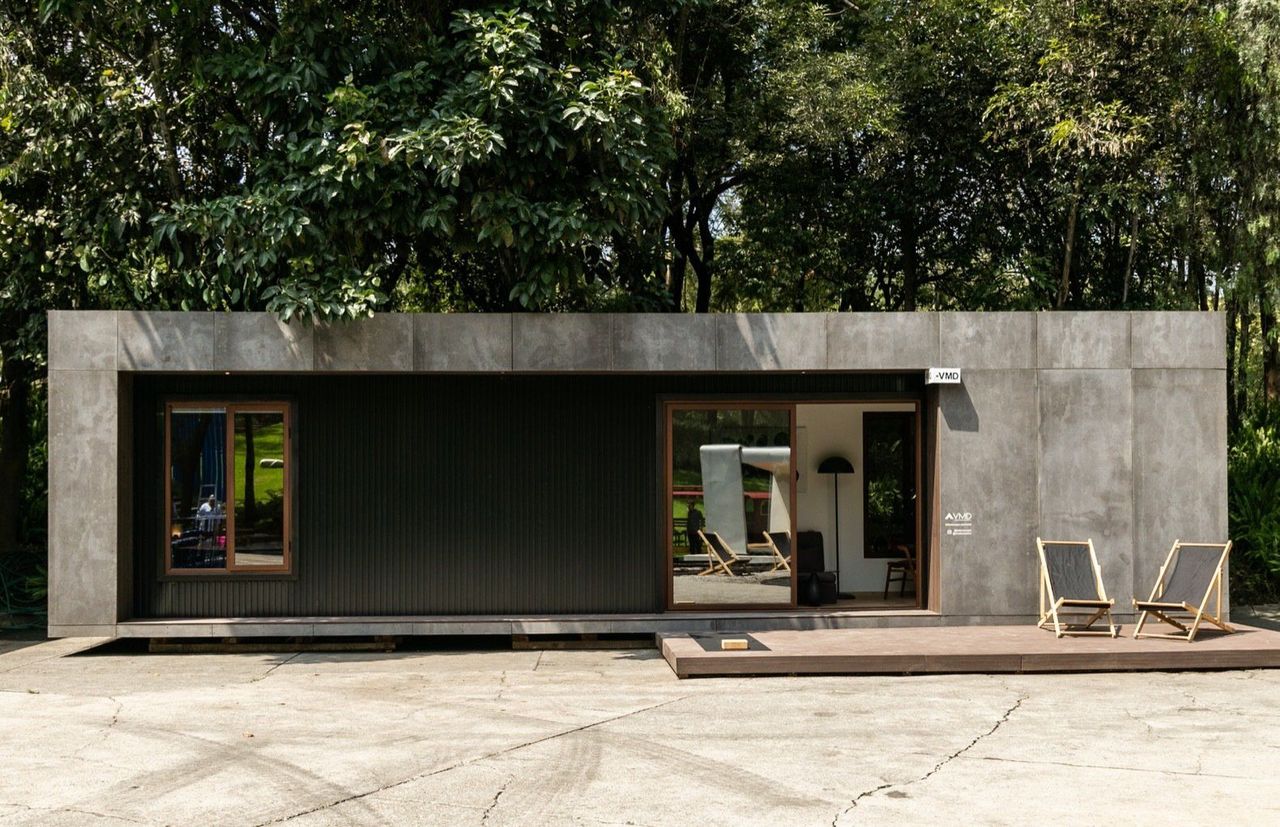 Constructed from a single repurposed shipping container, the one-bedroom VMD model includes an open-plan kitchenette, a dining area, and living space on one end. A bathroom and storage space are located in the middle, and the bedroom is on the opposite side.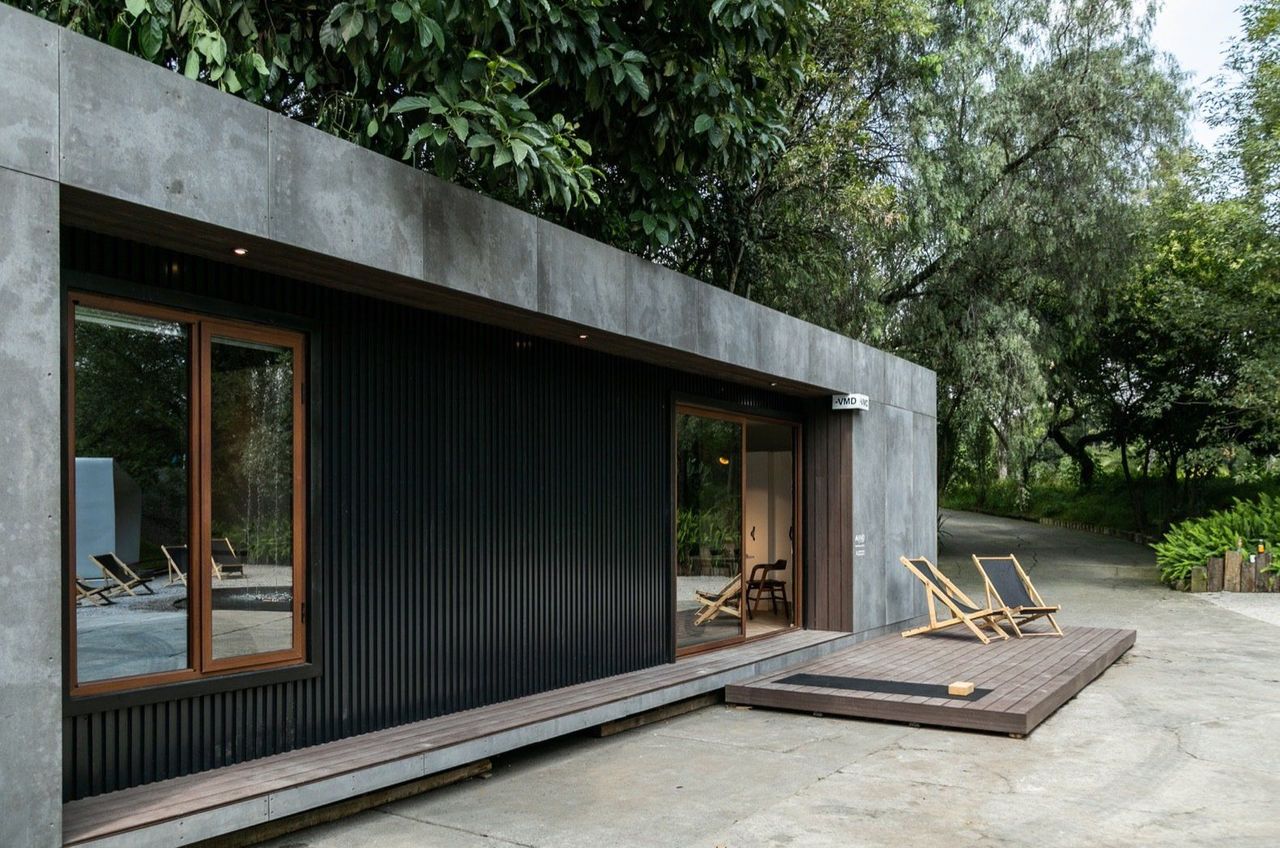 The unit is wrapped in black Hunter Douglass Quadroline aluminum and gray Valchromat Viroc cement-bonded particle board, which is water- and fire-resistant, non-toxic, sound dampening, and thermally insulating.

"Homes usually require maintenance and involve a lot of expenses," says Acosta. "This is what an 'escape' is all about—being free of all those hassles of maintaining a second home, but still having a weekend getaway where you really can enjoy your time."

The customizable prefab homes can be constructed in a factory in Mexico in a little over three months, and then installed in just seven days with minimal site impact.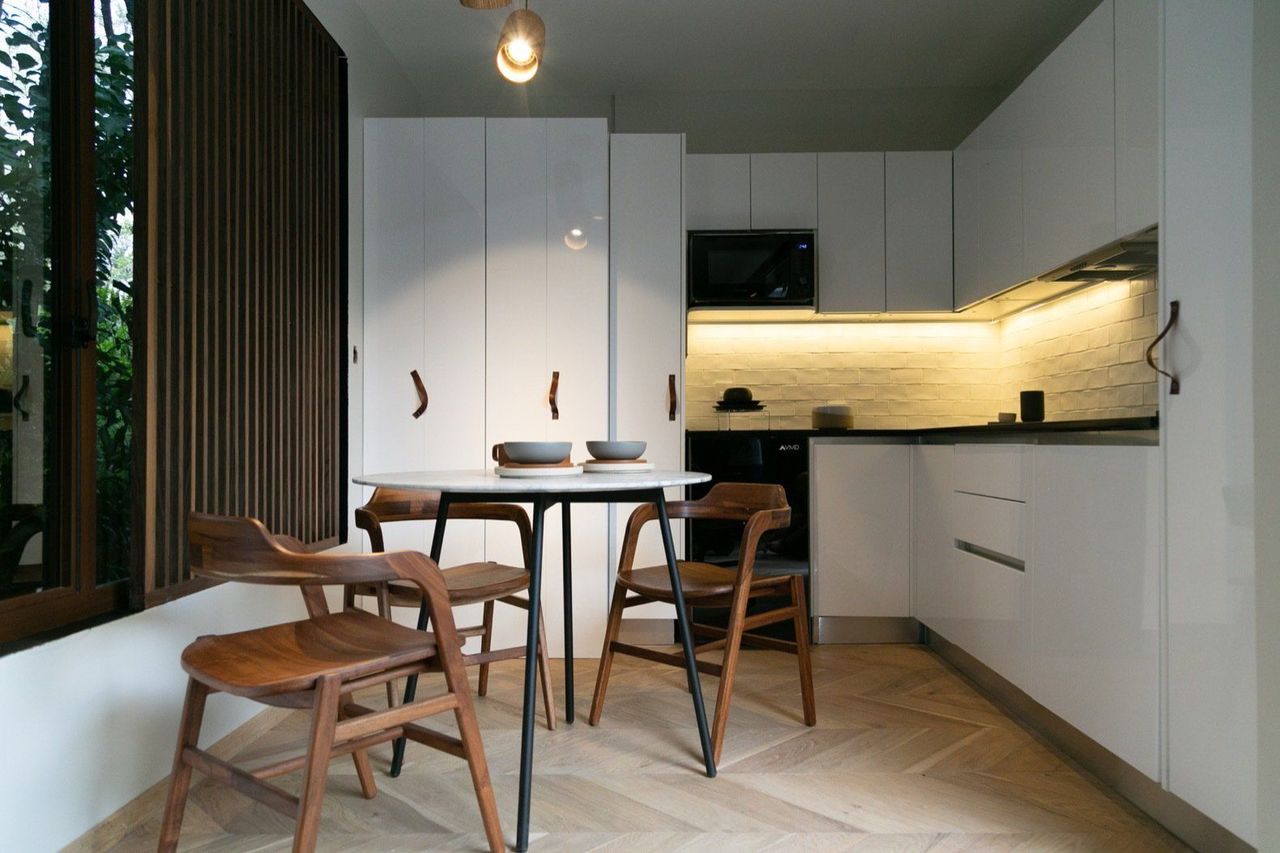 Piso Creativos FSC-certified engineered oak floors line the interiors. A Capital Studio dining table is paired with Dorica dining chairs.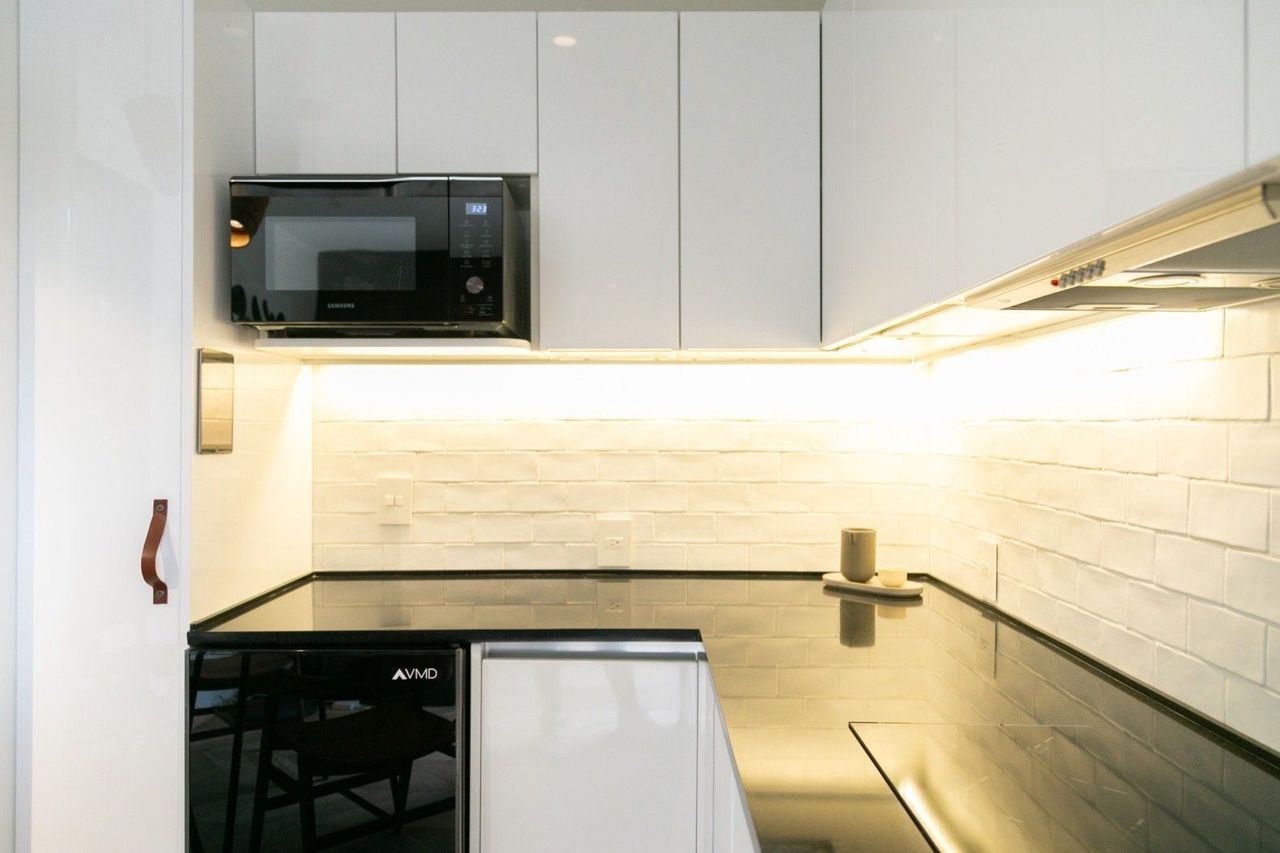 The kitchen cabinets are Emozioni by Helvex MDF with a high-gloss finish. Beneath the microwave is a space to mount a tablet for controlling the home automation system.

Customers can choose from three VMD models: a 320-square-foot one-bedroom unit, a 640-square-foot two-bedroom unit, or a 640-square-foot three-bedroom unit. The base one-bedroom unit is available for a starting price of approximately $49,100-not including site prep and delivery.

Finishes, appliances, and a home automation system are included in all units. Customers can also request add-ons such as an exterior deck and off-grid capability-including a solar rooftop system, rainwater collection, and an incinerator toilet.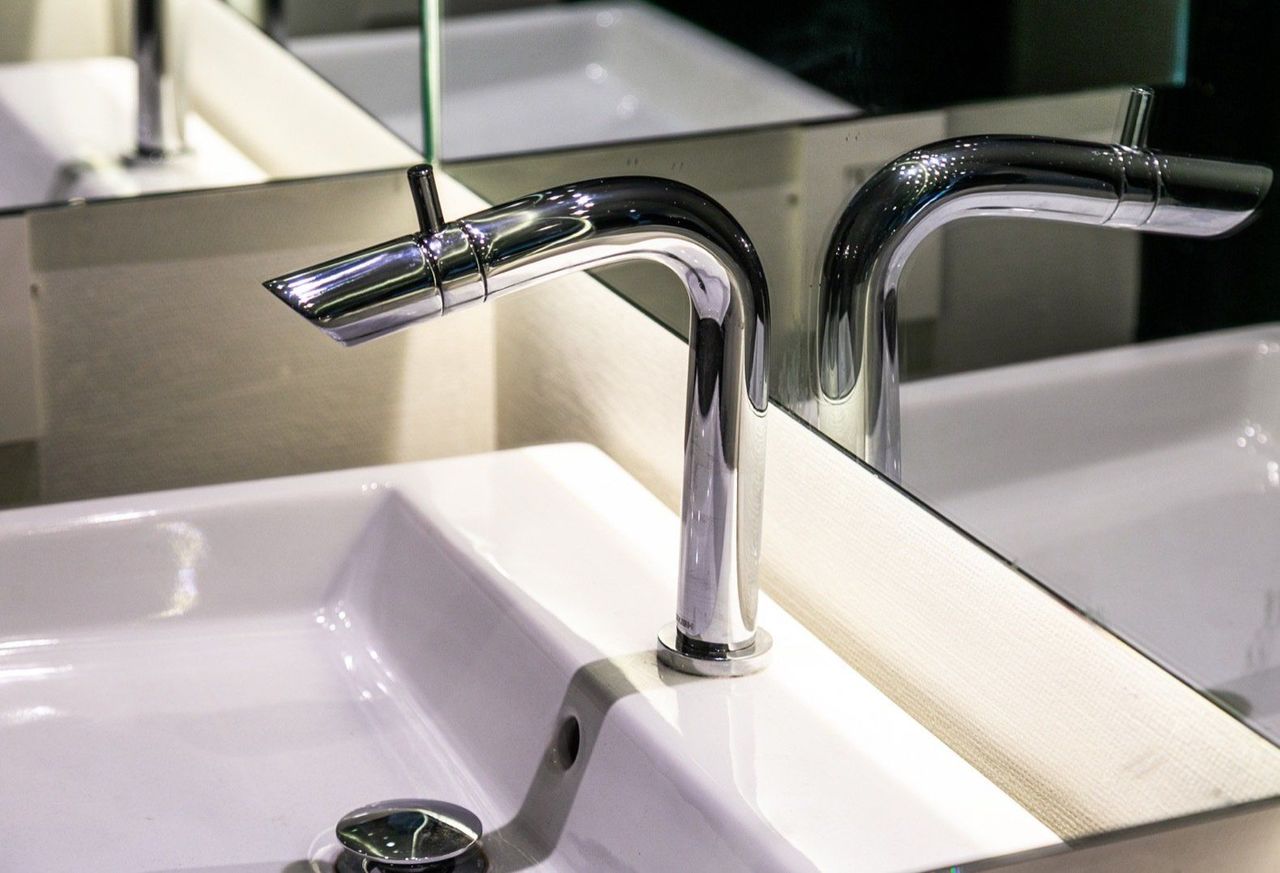 To reduce the unit's environmental impact, the architects have outfitted the VMD with low-flow kitchen and bathroom fixtures by Mexican firm Helvex.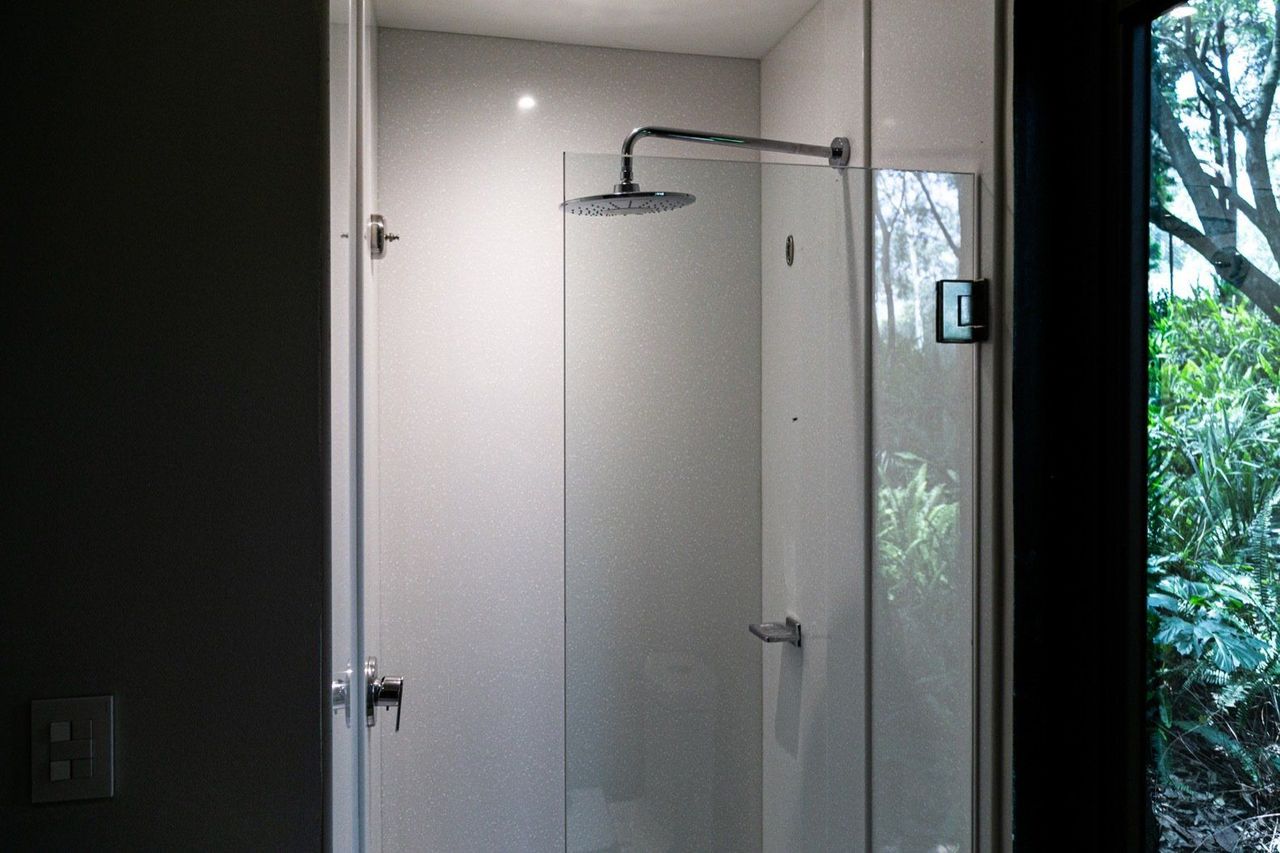 A peek inside the shower, which features Tristone solid surface walls in Snowrange.

The VMD recently debuted at Design Week Mexico in October. A show model was temporarily installed in Mexico City's Chapultepec Park, and it was entirely furnished with pieces by Mexican designers. In presenting the VMD, the architects have emphasized Mexican design and construction-from the inclusion of local craftspeople for the prefabrication process to the selection of Mexican brands for the eco-friendly finishes and appliances.

Orders for VMD from North and Central America can be placed online through the architects' newly formed firm, Taller Escape.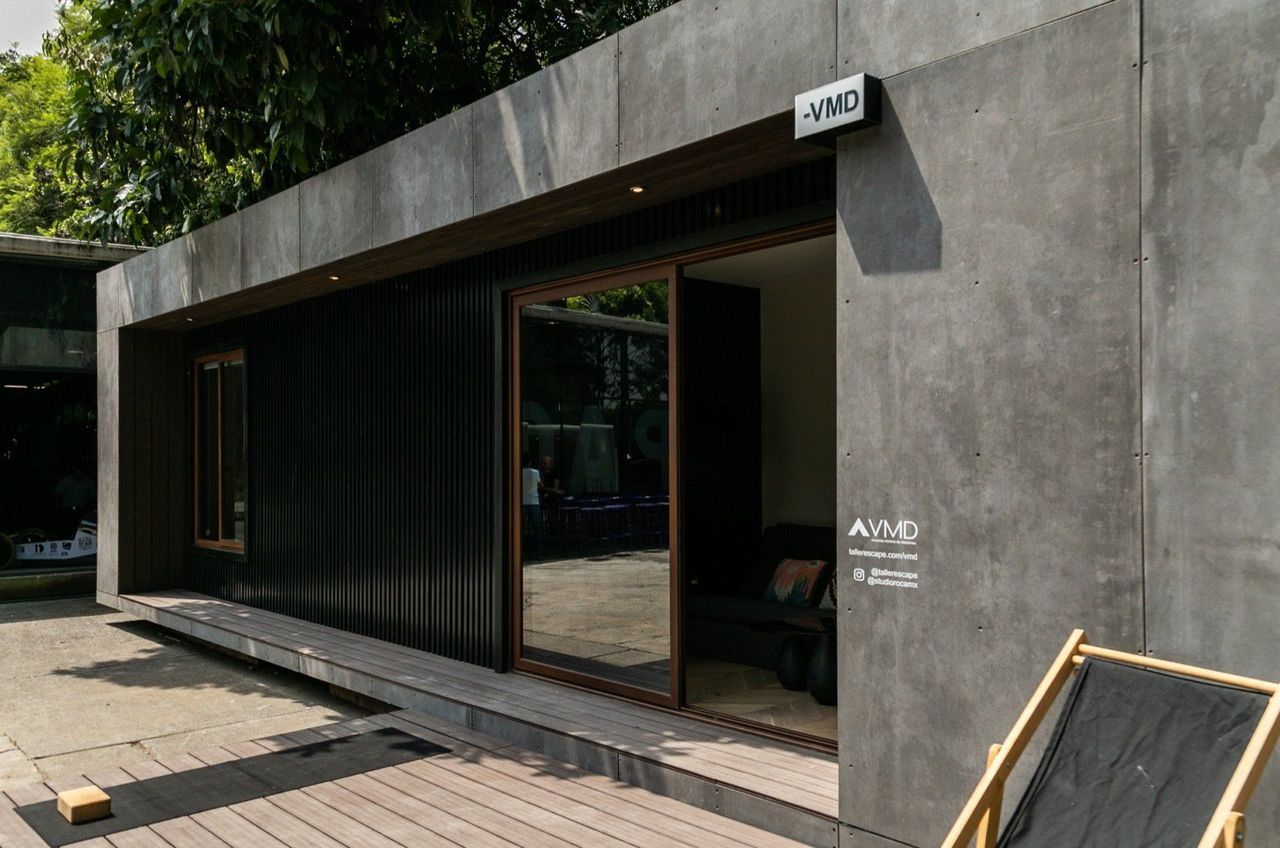 The one-bedroom VMD unit will be relocated to Avandaro, Valle de Bravo, a popular weekend destination near Mexico City. The show model will reopen to the public at its new location starting December 18.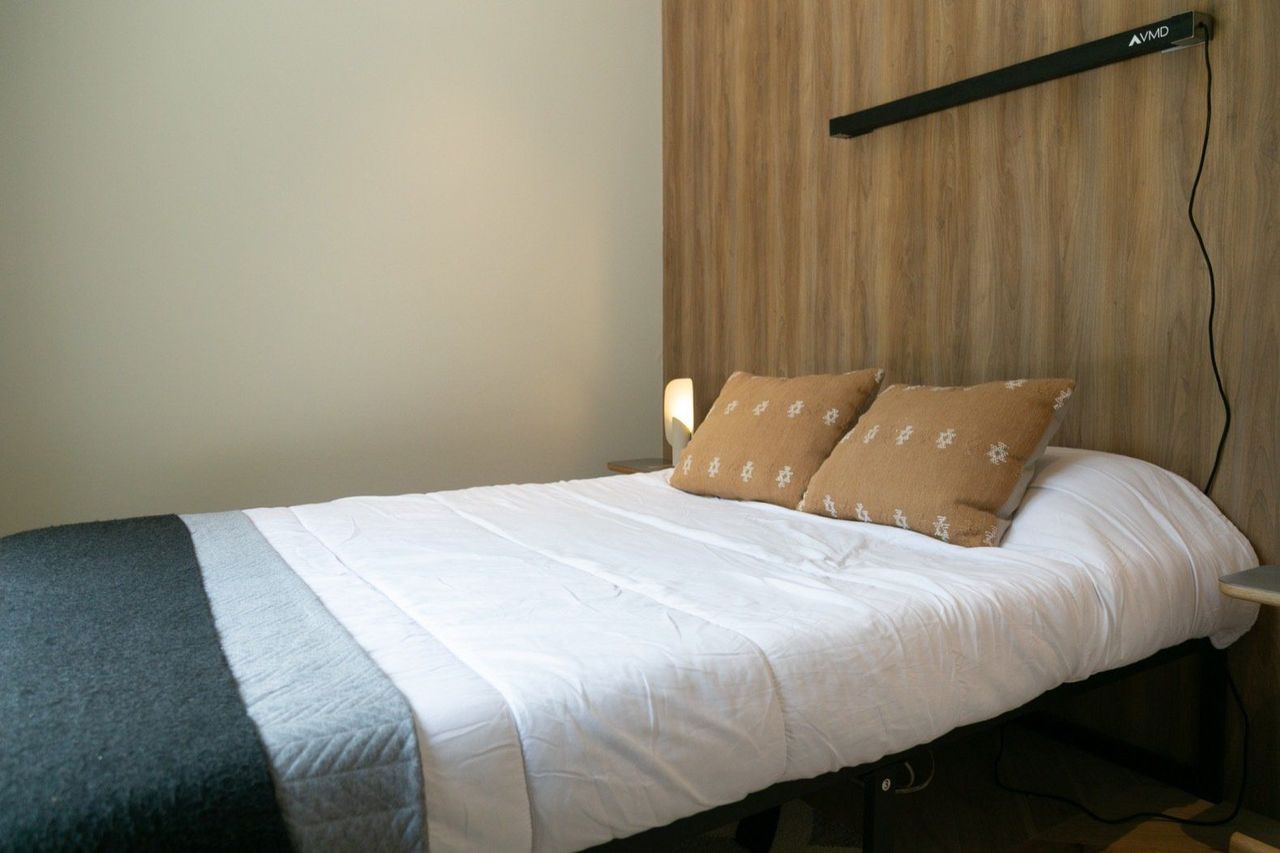 "The idea was to include a mix of the most representable Mexican furniture design studios," says Alegre. The bedroom features a wall lamp and bed by STUDIOROCA. Furniture is not included in the sale of VMD.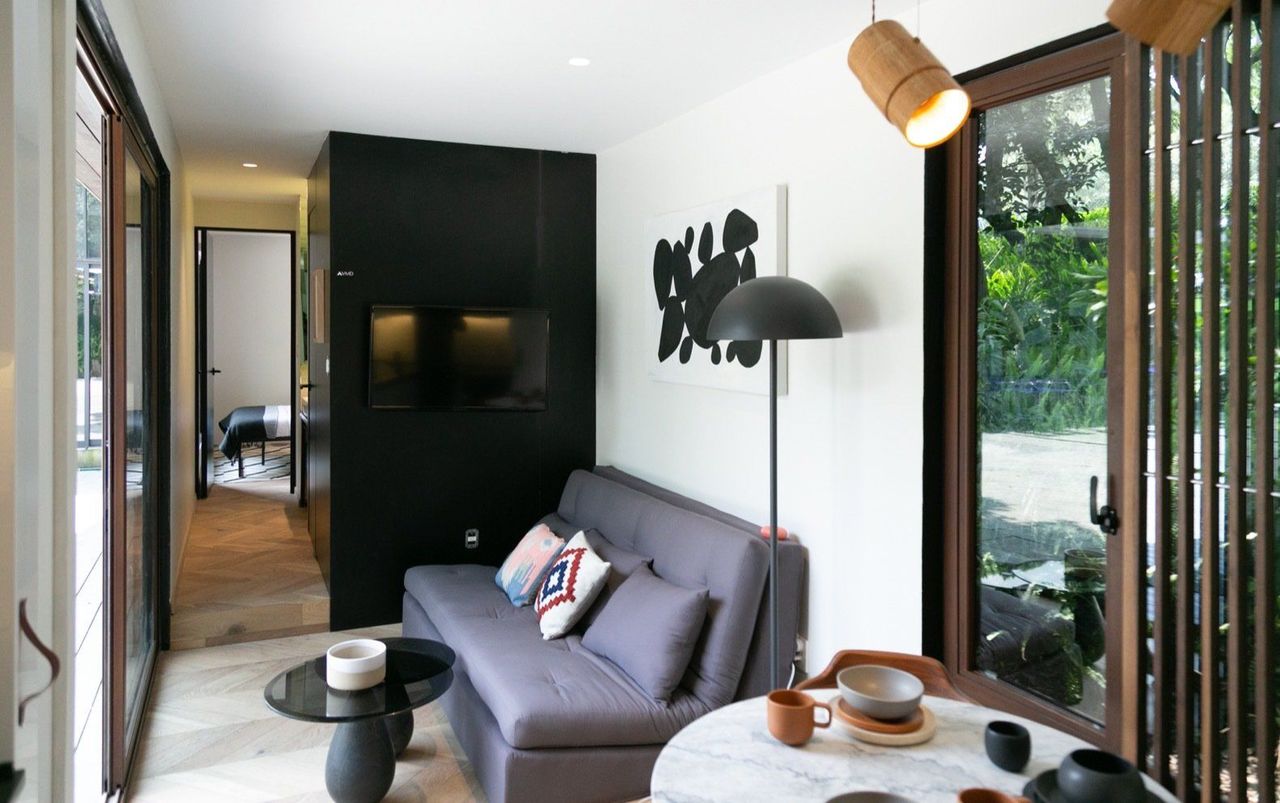 The compact living area is flanked by floor-to-ceiling glazing to bring the outdoors in. The show unit has been furnished with a Futón Tanoshi sofa, a Bandido Studio coffee table, and a Natural Urbano floor lamp.

"VMD is an invitation to find a balance between daily life and weekend escapes, and come into contact with nature-Mexico is a country famous for its biodiversity and its unparalleled landscapes," reads a statement on Taller Escape's website.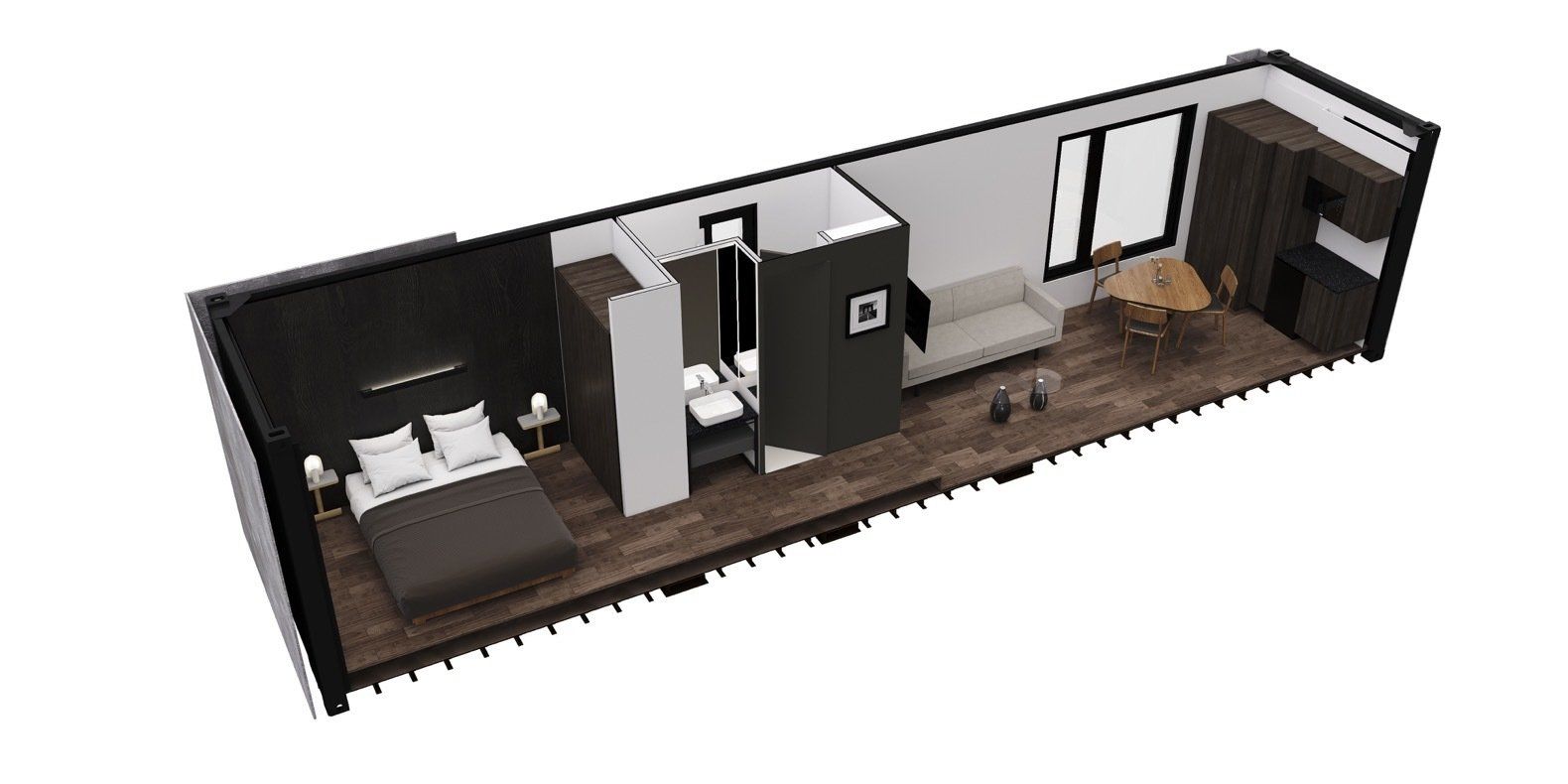 "The strength and durability of the shipping container structure allows the units to be placed on any terrain that can provide access to a large trailer and crane, and, as no complex foundations are necessary, minimal building permissions are required, thus eliminating time-consuming construction challenges," note the architects.




The one-bedroom VMD unit uses a single repurposed shipping container. The two- and three-bedroom units are built with two repurposed shipping containers.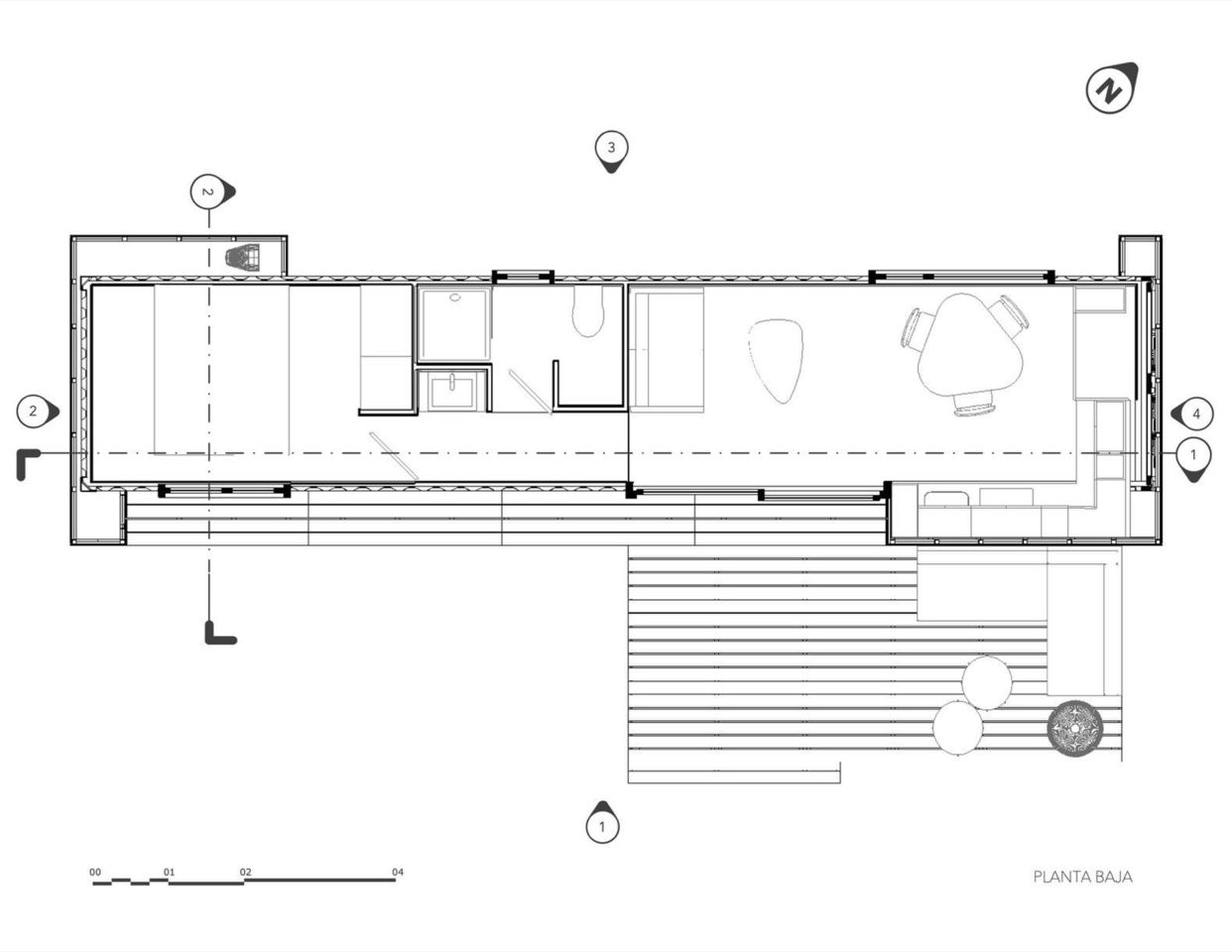 One-bedroom unit floor plan.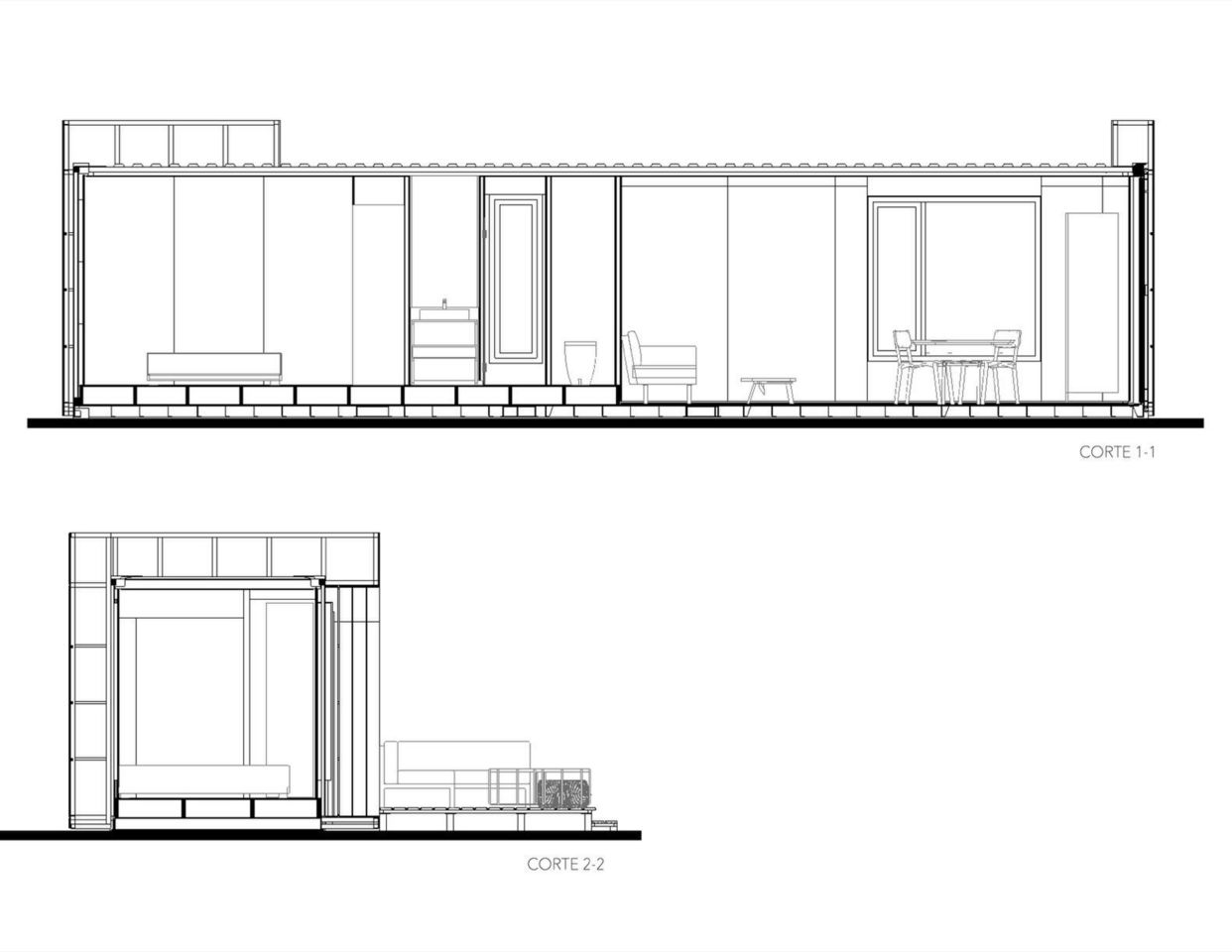 VMD one-bedroom model section