Tesco staff say they've missed out on a Christmas bonus for a second year running, with some receiving only a box of Quality Street for their efforts.
In 2020 the supermarket giant paid a 10% Christmas bonus, and has given out shopping vouchers in previous years.

But this time round the only thing given to staff was a plastic tub of chocolates worth about £5.

One worker said it was the second year running that he'd received only a box of Quality Streets from the manager of his store, which took in £10million last month.

'They're certainly penny-pinching and trying to drive costs down,' he told the Guardian.

However, instead of offering vouchers or cash bonuses, Tesco said it doubled staff discounts to 20% on certain days.

In its 2022 annual report, Tesco said it had agreed with unions in 2019 that a regular cash bonus – previously paid in March – would be scrapped in return for a higher basic rate of pay.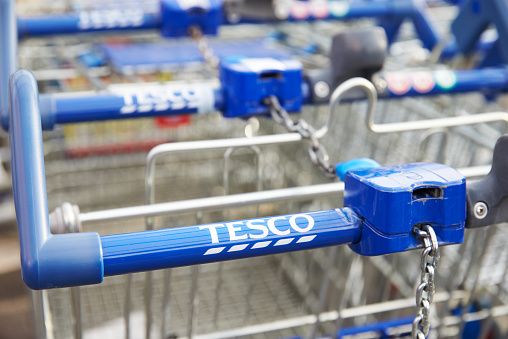 The UK's biggest supermarket chain was accused of 'penny-pinching and trying to drive costs down'
The UK's biggest supermarket chain also dished out a series of special bonuses during the heigh of the
Covid
-19 pandemic in 2020 to thank staff for their work.
From July 2022, Tesco said it would up the rate to a minimum of £10.10 – raising again in October to £10.30.
This meant shopfloor staff had a total pay rise of 8% last year, which was much higher than average private sector pay growth.
But as the UK faces a cost of living crisis, with CPI inflation running at around 10.7%, many staff will have been hoping for a bit more than a box of chocolates at the end of a tough year.
After all, supermarkets are expected to have enjoyed a bumper festive season, as many people opted to save money by eating and drinking at home instead of at bars and restaurants.
A report last month by retail analysts Kantar showed UK households spent £1.1billion more on groceries in December than last year.
But they still had fewer items in their shopping baskets as inflation has sent prices soaring.
A Tesco spokesperson said: 'We have never given a regular cash bonus at Christmas and it is wrong to suggest that we have replaced one with chocolates.
'To help colleagues with their Christmas shopping this year, we doubled our colleague discount to 20% in the run-up to Christmas – one of many benefits available to our colleagues, on top of the near 8% increase in base pay we invested over last year.'