Scotland's biggest union of teachers will take industrial action on Thursday after a new pay offer was dismissed as "insulting".
Employer Cosla made the fresh proposal which will see rises of up to 6.85%.

It was an improvement on the previous offer of 5% but still well below the 10% the unions want.

The strike by members of the Educational Institute of Scotland (EIS) will lead to the closure of most schools in Scotland.

Education Secretary Shirley-Anne Somerville believed the offer was fair and recognised that the "cost of living crisis is the priority".

Under this latest proposal teachers earning less than £40,107 would receive an extra £1,926 a year - equivalent to a 6.86% uplift for the lowest paid.

Those in the top two bands were being offered a 5% uplift, with those on £60,000 or more receiving no more than £3,000.

Ahead of the new offer being made, the education secretary told the Scottish Parliament that the 10% demand by teacher representatives was "unaffordable" for the Scottish government.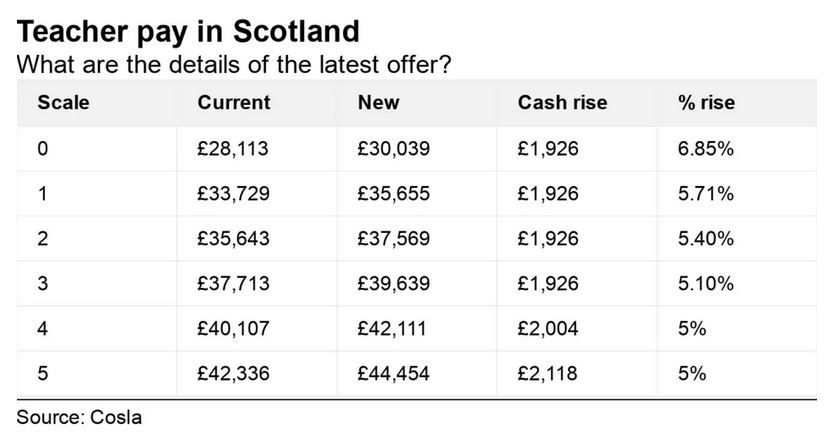 The EIS said its salaries committee unanimously rejected the offer in a special online meeting on Tuesday.
Its general secretary Andrea Bradley said it was a "divisive offer...which is actually worse for many teachers in promoted posts".
"Our members will see this offer for exactly what it is - a kick in the teeth from their employers and the Scottish government," she added.
"This afternoon's salaries committee expressed outrage at this offer, and that outrage is sure to be replicated in staffrooms across Scotland today and tomorrow.
"Our programme of strike action, which will commence as scheduled on Thursday, will clearly show the strength of feeling of Scotland's teachers who will be out in numbers and with strong voice on picket lines and at regional rallies."
Angry and demoralised

A spokesman for the Scottish Secondary Teachers Association (SSTA), which is planning a strike on 7 and 8 December, described it as a "very disappointing offer".

"The unions have been led down the garden path by Cosla and the Scottish government and tell us they care about teachers and value their commitment over the last few years," the spokesman said.

"This offer will not go down well with teachers and I would expect the planned strikes to go ahead. Maybe they will listen to parents and children as they are not listening to teachers."

Meanwhile a third teachers' union - the NASUWT - says its members have voted for strike action, which will take place on 7 and 8 December.

They will take action short of strike action from 9 December, refusing to cover for absent colleagues and attending no more than one meeting per week outside pupil sessions.

Mike Corbett, the union's national official Scotland, said: "Our members are angry, demoralised and have had enough.

"They are sick of being expected to put up with declining wages while working ever harder to meet the increasing challenges being faced in our schools. They are facing increasing financial hardship with more teachers having to cut back on basic necessities."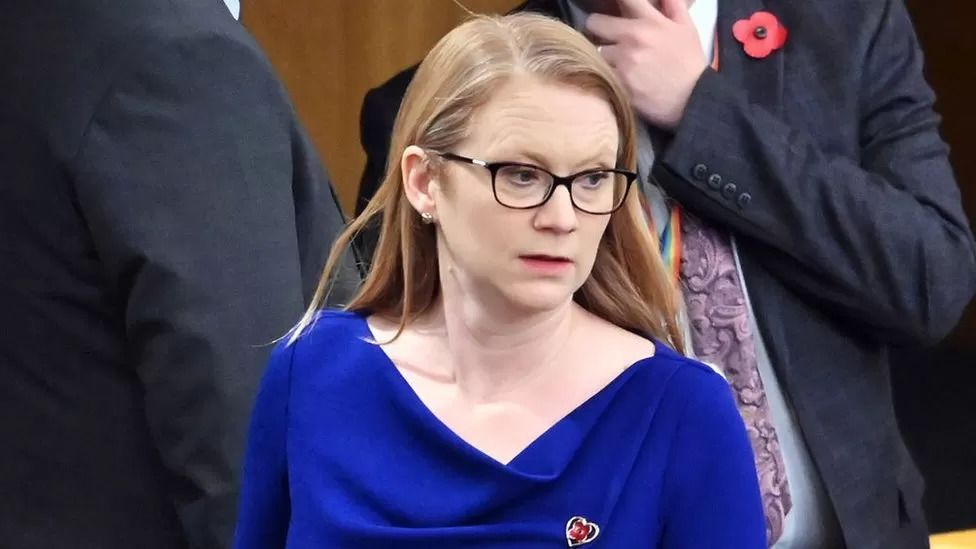 Shirley-Anne Somerville says the teachers' pay demands are unaffordable

Cosla, the umbrella body for Scotland's 32 councils, had called on the EIS to postpone Thursday's strike.

Spokeswoman Katie Hagmann said: "We have worked extremely hard and closely with Scottish government to ensure such a revised offer could be brought forward and made today.

"I would call on our trade union colleagues to recognise that these are extremely challenging financial times we are operating in and we all need to make decisions with a full understanding of the consequences.

She added that it was is "in line with offers made to all other parts of the public sector".

Meanwhile the Scottish Conservatives were highly critical of the education secretary's role in the negotiations with teaching unions.

"It should never have reached the stage where the SNP Government were scrambling around at the eleventh hour trying to strike a deal with teachers, and it's no surprise that this last-gasp offer has been rejected," Stephen Kerr, the party's education spokesman said.

"Shirley-Anne Somerville has been missing in action as strikes have loomed large for months...The whole saga has shown that Shirley-Anne Somerville lacks the leadership required to resolve disputes satisfactorily."