Teachers in England and Wales are preparing to walk out over pay, in the first national strikes since 2016.
More than 100,000 could strike on Wednesday, the National Education Union has said - along with university staff, civil servants, train and bus drivers.

The education secretary said the teachers' strike meant "huge uncertainty for parents".

Some schools may not decide until the morning whether to close, as it depends on how many staff join the strike.

About 500,000 workers are due to take part in walkouts across a range of sectors, making it the biggest strike in more than a decade, according to the Trades Union Congress.

Education secretary Gillian Keegan said the strike would have a "significant impact on children's education".

But Schools Minister Nick Gibb later said he expected the "majority" of schools to be open in some capacity.

Downing Street said mass action would cause "significant disruption".

Labour's deputy leader Angela Rayner accused Rishi Sunak of "weak leadership" and urged him to come to the negotiating table to sort out the "chaos".

"The Tories are in charge, and they have not only failed to find a solution to industrial action but deliberately stoked conflict," she said.

In Wales, striking teachers will be joined by support staff, while members of the National Association of Head Teachers begin action short of a strike.

Teachers are also striking in two parts of Scotland - Clackmannanshire and Aberdeen - as part of rolling industrial action.

Year 5 teacher Helen Butler will be joining a picket line in Portsmouth for the first time in her 26-year career. She has voted against strike action in the past - but this time feels different.

"We've got some teachers now that are going to food banks," she said, adding her salary had fallen in real terms over a decade.

Ms Butler said she loved her school, where she is an NEU representative, but there were insufficient resources and her workload had increased.

"We're given 10 glue sticks for a class of 30, because it's expensive. I've ended up buying my own," she said.

"I do not know one teacher who doesn't work in their holidays.

"What other job expects you to work in your holidays?"

Taking exams

Most state-school teachers in England and Wales had a 5% pay rise in 2022. But inflation means this is actually a cut, unions say. And they want to make sure it is not paid for out of school budgets.

Wednesday will be the first of seven national and regional NEU strike dates.

Schools have been advised to open for vulnerable pupils, key workers' children and those taking exams.

Some will open for certain classes only.

Children may be set work to do remotely - but striking teachers are not required to do so.

Paula Arnold, who works in a law firm in Poole, said she would not find out until Wednesday morning whether her daughters' schools would open.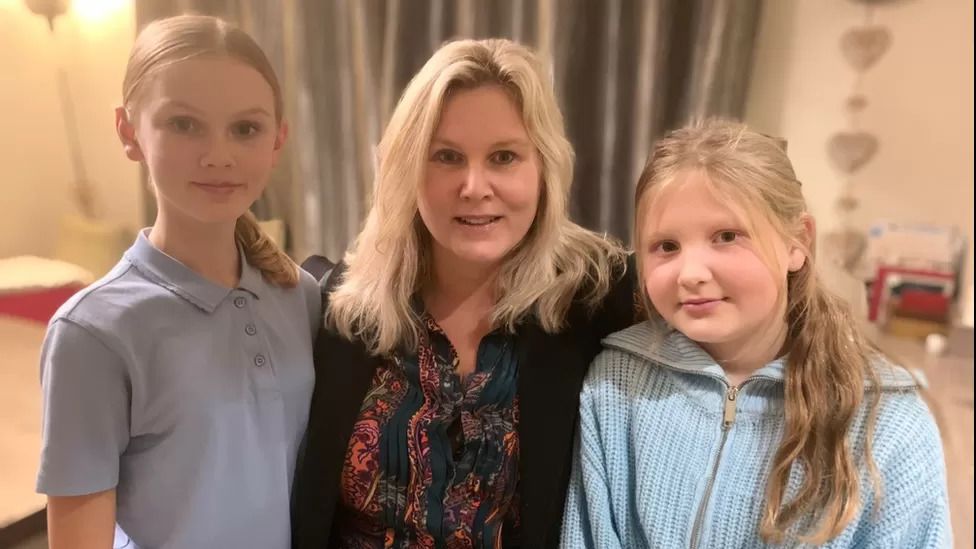 Paula Arnold feels lucky to have a supportive employer

"I don't know whether I'm going to be in or out [of the office] or working from home or unable to work," she said. And working from home with children was not easy - especially if they were not set work.

"I'd like to say my kids are angels," she laughed. "Children are children. They need feeding. I don't want to just... put them in front of devices and crack on."

Ms Arnold said she wanted to stay supportive of striking teachers but needed more certainty to plan childcare.

"I end up just pulling my hair out because it's just tricky trying to juggle everything," she said.

Sam Done, the principal of Hillcrest Academy primary school, in Leeds, is unsure how many staff will be working and how many pupils could be accommodated.

"We will have to wait and see what happens, right up until the 11th hour almost, on the night before and the morning of industrial action," he said.

Schools in England will each see four days of strike action:

*  three national days

*  one affecting their region

Just over 53% of teachers in the NEU in England voted in its ballot - 90% of them supported a strike.

A secondary-school teacher in Cambridgeshire, who asked not to be named, said she understood why her colleagues were striking but she could not afford to lose the pay.

"Morally, it just doesn't sit right with me," she added.

"The kids have suffered so much through Covid and I just feel like striking and them missing another four days of school is not going to help anybody. They're already so far behind."

Teachers have already been on a national strike in Scotland - and action is continuing on a rolling basis. Most teachers in Northern Ireland will walk out for half a day on 21 February.

Teachers join a wave of public sector workers striking over pay and conditions.

Workers represented by seven different unions across the UK will strike on Wednesday.

They include:

*  Civil servants across 124 government departments

*  Rail workers at 15 different companies

*  Some London bus drivers

*  Lecturers, librarians and other university workers

Earlier, the Unison union announced its members in five ambulance services in England will strike on Friday of next week, as part of a dispute about pay and conditions.

The walkout will affect London, Yorkshire, the South West, North East and North West.

Unison also says its members at the Environment Agency will join members of the Prospect union in striking for 12 hours next Wednesday. The action will include workers in flood forecasting and pollution control.
Watch: What do the teachers' strikes in England and Wales mean for parents?