Members of the Scottish Secondary Teachers Association (SSTA) have voted overwhelmingly to accept the latest pay offer from council leaders.
The SSTA and other teaching unions have been engaged in a year-long industrial dispute with councils and the Scottish government.

The pay proposal involves a 7% rise backdated to last April, a further 5% this April and another 2% in January.

The SSTA said members backed the deal in a ballot which closed on Thursday.

Most teachers would see their salaries rise by £5,200 in April if the offer is accepted, according to the Scottish government.

In the ballot, 85.3% voted in favour of accepting the offer while 14.7% rejected it. It had a turnout of 79.9%.

However, SSTA general secretary Seamus Searson said the union still had a "major concern" over a price cap included in the pay offer.

He said: "The inclusion of this is a considerable barrier in the professional career structure for secondary school teachers."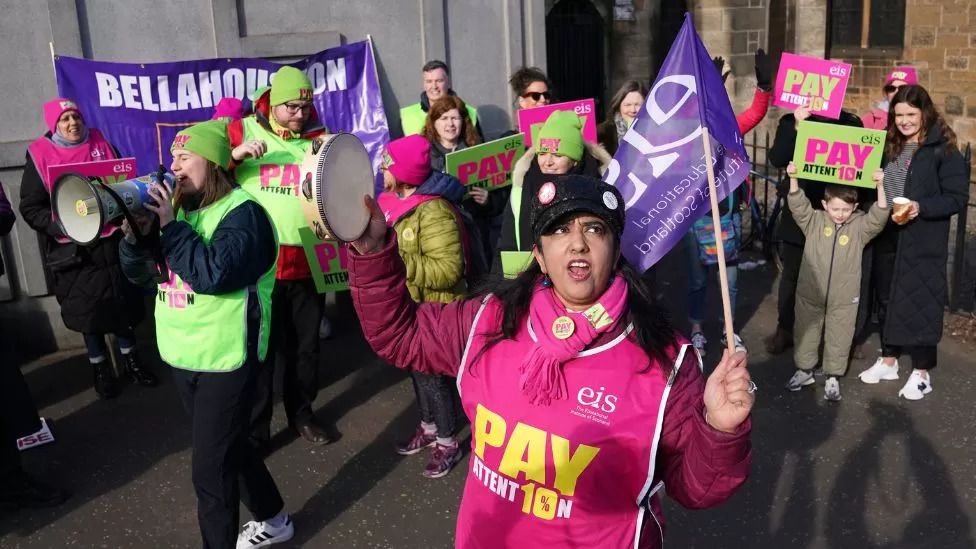 Members of the EIS union are considering the latest pay offer

SSTA president Catherine Nicol added: "This dispute could, and should, have been resolved many months ago.

"Scottish government and Cosla should have been more prepared to negotiate with teacher unions properly and long before they did."

She said school closures were preventable, adding: "Lessons on negotiating with teacher unions must be learnt, the process must be taken seriously in future."

The SSTA had paused strike action in February after members voted marginally in favour of a previous pay offer.

However, it was rejected by the Scottish Negotiating Committee for Teachers, which includes the Scottish government, local authority body Cosla and the EIS and NASUWT unions.

Following the latest pay offer, Scotland's largest teaching union the EIS paused strike action and recommended that members accept the deal.

Pupils in the constituencies of senior politicians including First Minister Nicola Sturgeon and Deputy First Minister John Swinney have been particularly affected by the strikes, as targeted action by the EIS closed schools last month.

The EIS said planned future action - 20-day wave of rolling strikes beginning on 13 March - would depend on the outcome of its week-long ballot which is due to be announced on Friday.