The UK will give France almost £500m over three years to help stop migrants crossing the Channel in small boats.
The cash was announced at a summit in Paris between UK Prime Minister Rishi Sunak and President Emmanuel Macron, who said France would also contribute.

The money will go towards an extra 500 officers and a new detention centre in France, but this will not be fully operational until the end of 2026.

The UK had planned to pay France around £63m this year to tackle the problem.

This new package appears to at least double that amount, with the UK pledging £120m in 2023-24.

France will also step up its funding of enforcement but has not said by how much.

Labour's shadow attorney general Emily Thornberry accused the Conservatives of "lurching from one crisis to another with nothing more than their typical sticking plaster politics".

"Before Rishi Sunak sends even more money to the French authorities to tackle this crisis, he needs to explain what was achieved by the hundreds of millions we've given them before, and why small boat crossings continued to go up regardless."

Mr Macron praised the joint efforts of UK and French teams working to reduce small boat crossings.

Speaking at a press conference with Mr Sunak at the Elysee Palace, he said the team had prevented 30,000 small boat crossings and made 500 arrests in the past year.

Mr Sunak said the money would help "put an end to this disgusting trade in human life".

He added: "Working together, the UK and France will ensure that nobody can exploit our systems with impunity."

Mr Sunak said the new deal agreed by the two leaders will see 500 extra French law enforcement officers using "enhanced technology" such as drones to prevent Channel crossings.

The money will also go towards a new detention centre in France, adding to the 26 already in existence.

Downing Street said the detention centre would allow more migrants "to be removed from the French coast".

Mr Sunak has made stopping the boats one of his key pledges for his government.

However, if the centre is completed on that timetable it would not fully functioning before an election is due in the UK, which can be held no later than January 2025.

Both men said the summit in Paris marked a new beginning in Anglo-French relations.

Mr Macron said it was a "moment of reconnection" while Mr Sunak described the meeting as an "entente renewed".

The French leader had no qualms about putting his finger on what he thought had led the relationship into difficulties in recent years - Brexit.

Between the lines of his statement, that was a criticism of Mr Sunak's three predecessors as UK prime minister and the tensions all have had with the EU.

During their press conference, the two leaders presented a strong sense of comradery - Mr Macron addressed "dear" Rishi, who in turned thanked "mon ami", and the briefing concluded with an embrace.

However, it is clear this meeting was just the start of something more cooperative - a small step, no more.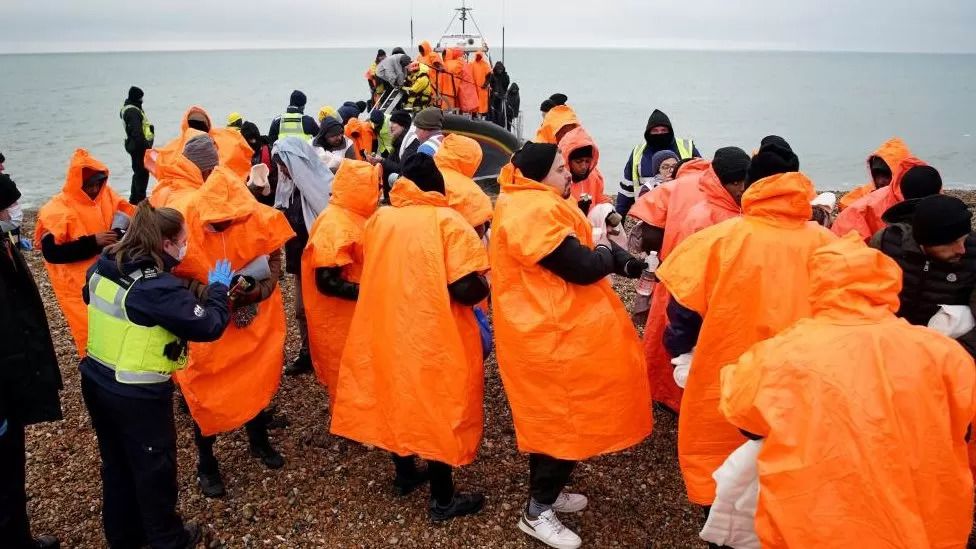 A group of migrants brought to Dungeness in Kent, after being rescued by the RNLI

Last year saw a huge increase in the number of people trying to get the UK by crossing the English Channel in small, often flimsy boats.

For Mr Sunak, this is a domestic political issue.

At the start of 2023, he said tackling small boats was one of his priorities. He needs to see a reduction in boats reaching the UK in order to fulfil his pledge.

Mr Macron also wants to see the movements reduced - but for him the issue is one that has broader implications.

He wants European countries to look at the routes people take to reach western Europe.

Earlier this week, Mr Sunak unveiled a new Illegal Migration Bill.

Under the plans, anyone found to have entered the UK illegally would not only be removed within 28 days, but also be blocked from returning or claiming British citizenship in future.

Mr Sunak argues his new plan was "designed to break the business model of the criminal gangs and remove the pull factors, bringing them to the Channel coasts".

However, the bill has been fiercely criticised by some charities and the UN's refugee agency. It is also likely to face legal challenges.