Border Force staff have begun the second in a series of strikes at UK airports until New Year's Eve.
Around 1,000 members of the PCS union, many of whom work in passport control, are walking out from 28-31 December.

Rail disruption will also continue on Wednesday and Thursday, with TSSA union members at Great Western Railway and West Midlands Trains on strike.

Driving examiners are continuing a rolling walkout which will continue into January.

The Border Force strikes have been called over pay, jobs, and conditions as the cost of living rises.

Civil servants will join military personnel to cover absent striking workers at Heathrow, Gatwick, Manchester, Birmingham, Cardiff and Glasgow airports, as well as the Port of Newhaven.

Earlier strikes, which ran from 23-26 December, caused minimal disruption.

A spokesperson for Gatwick Airport, in West Sussex, said: "Flights to and from Gatwick are expected to arrive and depart as normal during today's strike.

But the official added: "Passport checks for arriving passengers may, however, take longer and queues may form."

A spokesperson for Heathrow said immigration halls for travellers were "free-flowing" and that the airport experienced "no issues" resulting from the first series of strikes.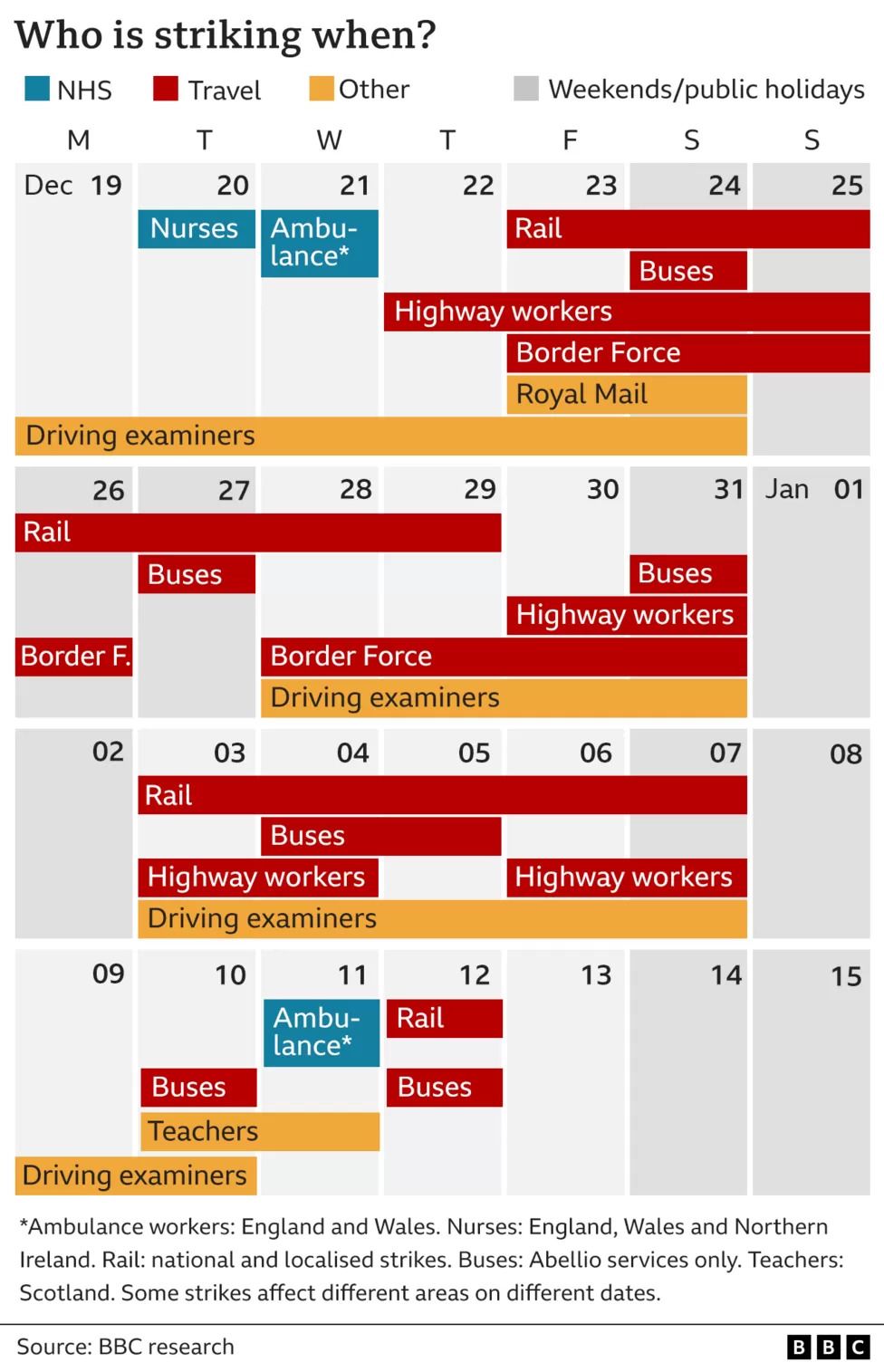 Mark Serwotka, general secretary of the PCS, said: "The government could resolve this dispute today by agreeing to meet us and putting some money on the table."
Meanwhile, driving examiners and rural payment officers at more than 250 sites across the UK are holding rolling strikes from 13 December to 16 January.
Members of the PCS union at 71 driving test centres in eastern England and the Midlands will be on strike over five days from Wednesday.
The PCS is calling for a 10% pay rise, better pensions, job security and no cuts to redundancy terms for all its members - but the government has said the requested pay rises are "unaffordable".
Downing Street has once again urged unions to call off strike action, saying it wants an end to disruption.
The Prime Minister's deputy spokesman said meetings aimed at mitigating disruption were continuing, but added: "We are disappointed about disruption to many people's lives - particularly around Christmas"
'Damaging dispute'

TSSA members, who work for Great Western Railway and West Midlands Trains, will walk out from midday on Wednesday (28 December) until midnight on Thursday (29 December). Talks between the union and two rail firms have yet to result in an agreement.

Nadine Rae, organising director at the TSSA, told the BBC the union believed negotiations had been progressing - but, after almost four weeks of talks, the outcome was "completely different from what we were talking about".

The latest stance suggested the government "had interfered with the negotiation process", said Ms Rae.

A spokesperson for the Department for Transport said the transport secretary and rail minister had "worked hard to facilitate a fair and reasonable offer, and it is incredibly disappointing that some continue to strike".

"We urge them to step back, reconsider and get back round the table, so we can start 2023 by ending this damaging dispute."

Separately, members of the TSSA employed by Network Rail - which owns and maintains the UK's rail system - have already agreed a deal over pay and conditions. They will get at least a 9% wage rise over two years and there will be no compulsory redundancies until the end of January 2025.

The latest wave of rail staff strikes is expected to disrupt journeys for those travelling back to work after Christmas, or heading off for New Year breaks.

Disruption to travel is also expected during forthcoming rail strikes in January.

RMT union members at Network Rail will resume their strike action over pay and conditions on 3 and 4 January. They will walk out again on 6 and 7 January, and there is a ban on any overtime for RMT members from 18 December to 2 January.

Members of Aslef will strike on 5 January and Southeastern has warned that no trains will run on that day. In addition, the train company has warned there will be very limited Southeastern services for the entire week, due to the RMT strike affecting the Dartford lines, the Sevenoaks line and the highspeed route via Ashford.

The Rail Delivery Group (RDG) said the striking RMT rail staff would mean only around 20% of services will operate and "half of the network will shut down".

"There are likely to be even fewer services on 5 January due to a strike by drivers who belong to [the union] Aslef," the RDG warned.