Reality TV contestant Stephen Bear has been jailed for 21 months for sharing a private video of him having sex with his ex-partner.
Bear, 33, shared CCTV footage of himself and Love Island star Georgia Harrison, which was uploaded to OnlyFans.

He had caused her "extensive humiliation and embarrassment", the judge said.

Ms Harrison said she had been through "absolute hell" since 2020.

"Today's sentence is a vindication of what I've been put through and sends a clear message that the police and courts take this matter very seriously," she told reporters outside Chelmsford Crown Court.

"I want to let all other victims of this crime know that I stand in solidarity with them and I have absolutely no regrets on waiving my anonymity.

"I hope this puts anyone off committing this sort of crime and I hope for anyone who has been a victim of it, it gives them some sort of justice."

Bear was found guilty of voyeurism and disclosing private, sexual photographs and films in December.

Ahead of his sentencing, he posed for a selfie outside the court building and began to sing Lady In Red to a reporter wearing a red coat.

As he was led down to the cells, he raised a hand to wave from the secure dock, and said: "Have a good evening. Enjoy the weekend everyone."

The Crown Prosecution Service (CPS) said he had shown a "complete lack of remorse".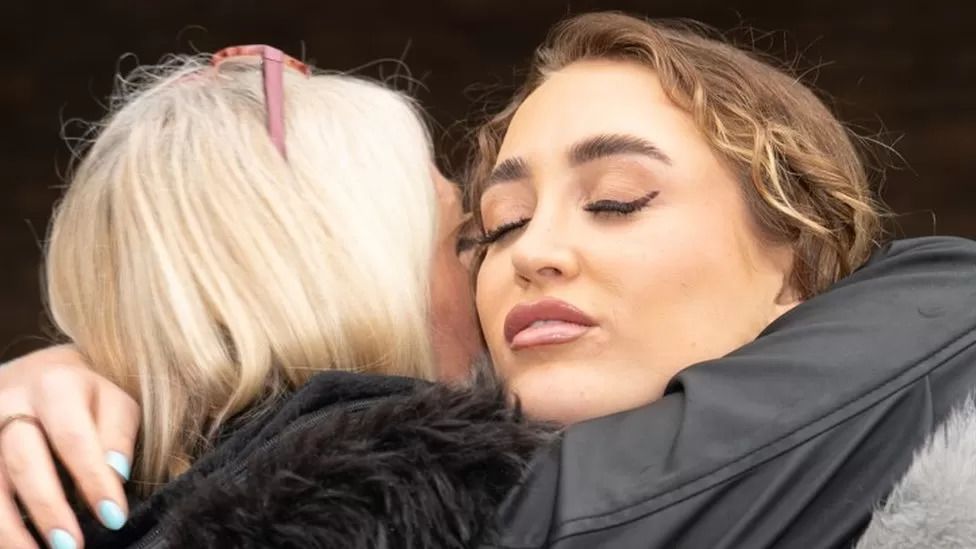 Georgia Harrison hugs a woman outside court after the sentencing of Stephen Bear

Bear was given a restraining order to not contact Ms Harrison, who has appeared on The Only Way Is Essex and Olivia Meets Her Match, for five years.

He was also ordered to sign the sex offenders register and will be subject to notification requirements for 10 years.

Jacqueline Carey KC, prosecuting, told an earlier trial that Ms Harrison and Bear had consensual sex at his home in Loughton, Essex, but Ms Harrison did not know they were being recorded.

Ms Harrison said that when Bear showed her the footage she told him "never to send" it to anyone and "made it plain how upset she would be if he did", the prosecutor said.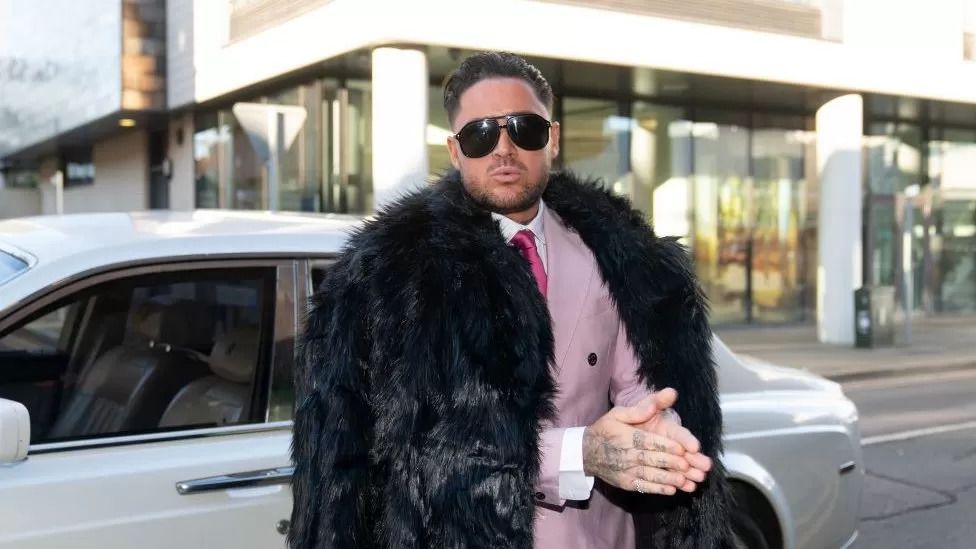 Stephen Bear, pictured arriving at an earlier hearing, posed for selfies outside of court ahead of sentencing

The victim said she saw Bear send the footage to someone on WhatsApp later that day, and later that year she was made aware it was circulating online.

Ms Carey said Bear uploaded the footage "either himself or had it uploaded to OnlyFans and profited financially".

Judge Christopher Morgan, sentencing, said the disgraced reality TV personality "wished to exploit the economic value of the recording", as Ms Harrison "would have been known and recognised by many people".
Following the hearing, Hannah von Dadelszen, deputy chief crown prosecutor for CPS East of England, said: "I want to commend Georgia Harrison for the bravery and determination she has shown throughout this case.

"By contrast, Stephen Bear showed a complete lack of remorse by never accepting responsibility for his abusive behaviour, even going so far as to place the blame on Ms Harrison.

"Although she lives a public life, Georgia Harrison has the right to privacy.

"But that was taken away by Bear to make money in the most egregious way."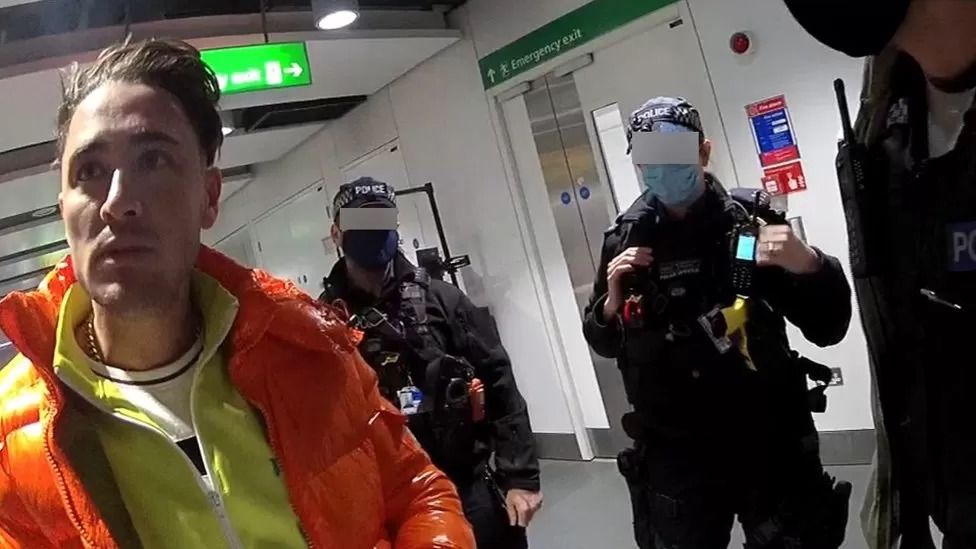 Bear was arrested at Heathrow Airport in January 2021

Her thoughts were echoed by Det Con Brian Sitch of Essex Police, who praised Ms Harrison for her "immense bravery and patience".

"This young woman stood in a court room, in front of strangers and went over the most personal details of her private life," he added.

"She had to sit her family down and explain to them that this video had been leaked.

"This was all because Stephen Bear thought he could secretly film his former partner and thought he could get away with appalling crimes."