Thousands of people have been taking part in St Patrick's Day festivities in Northern Ireland.
Among the big events taking place was the parade in Belfast city centre, staged by arts organisation Beat Carnival.

It used the spectacle to mark the 25th anniversary of the 1998 Good Friday Agreement.

Celebrations kicked off in County Fermanagh on Thursday night with the inaugural St Patrick's Eve flotilla.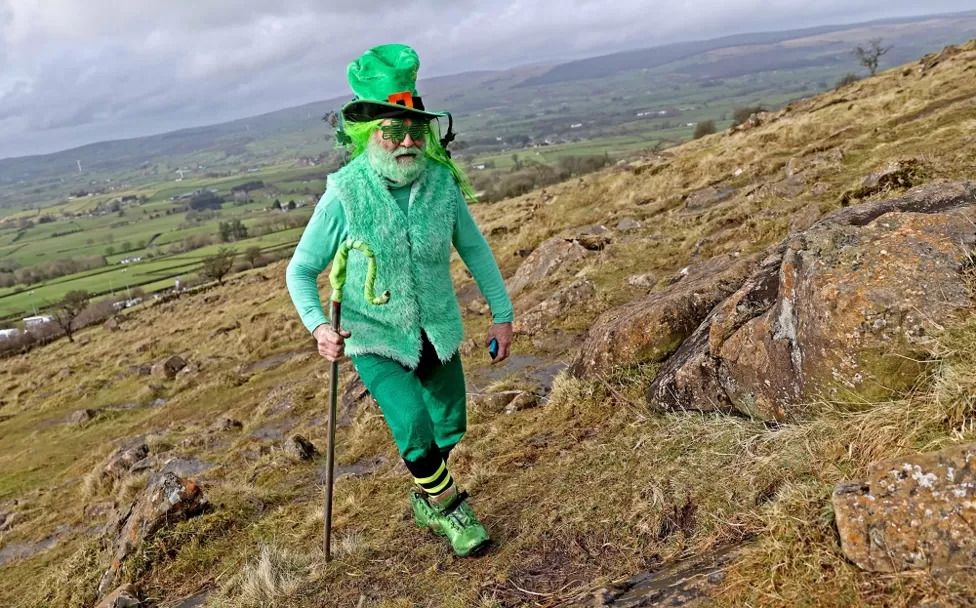 Colourful characters made their way up Slemish Mountain on Friday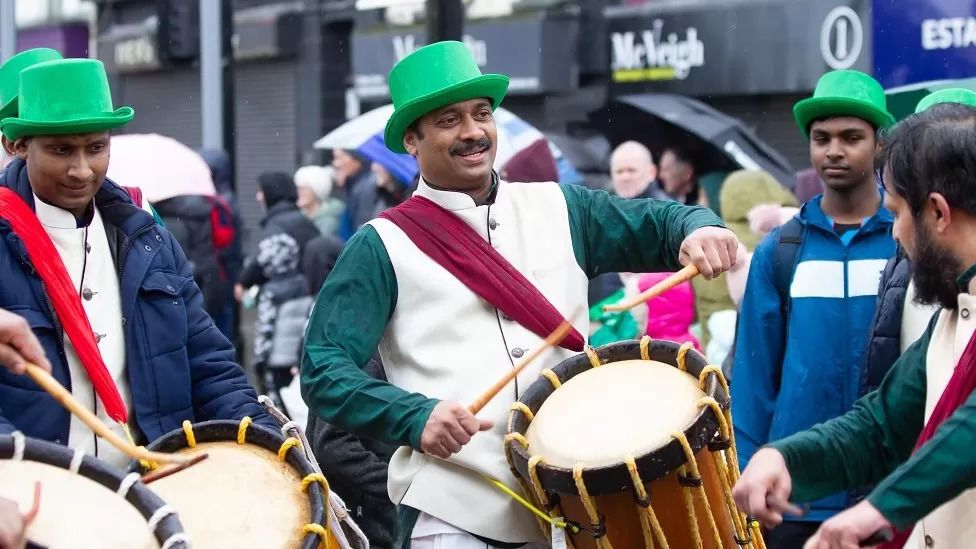 People of all backgrounds joined the parade in Newry, County Down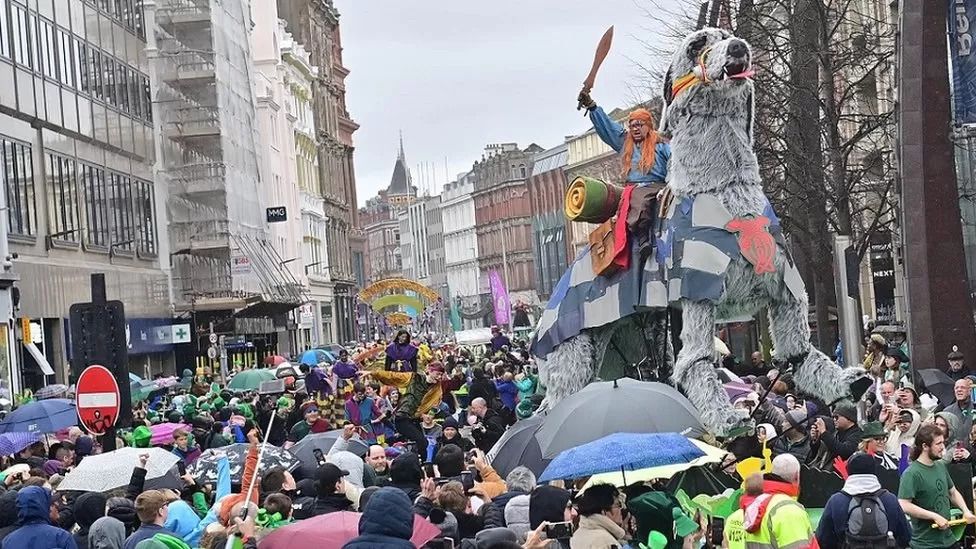 Hundreds lined the streets of Belfast for this year's parade
Friday's music-themed parade in Belfast started at 13:30 with hundreds gathered around City Hall to enjoy musicians and Irish dancers.

David Boyd, director of Beat Carnival - who produced the Belfast parade - said 800 people from across the community were participating this year.

"We decided to have a music theme, Belfast being a Unesco city of music," he said.

The procession included ancient horns of Ireland, traditional folk, disco, punk and a dance rave.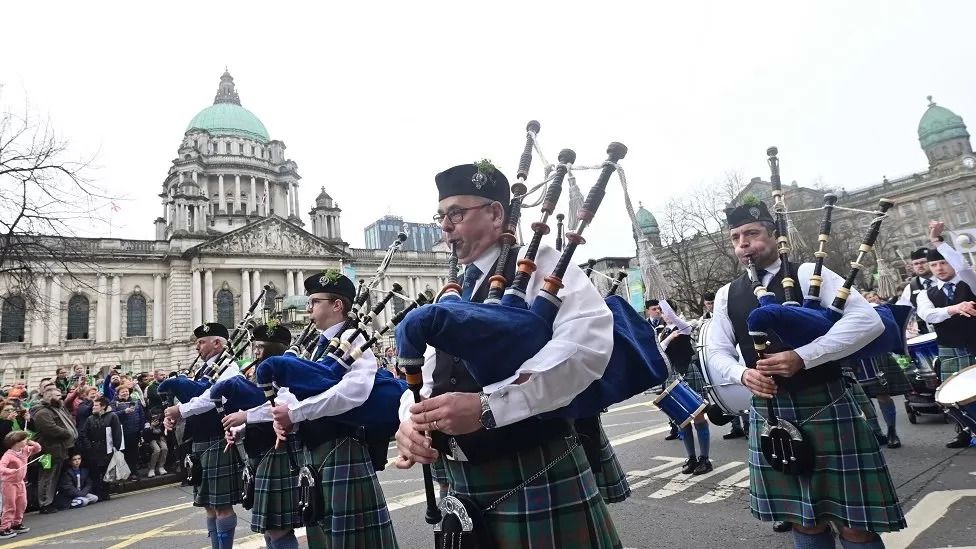 Pipers joined the Belfast parade, which had a music theme this year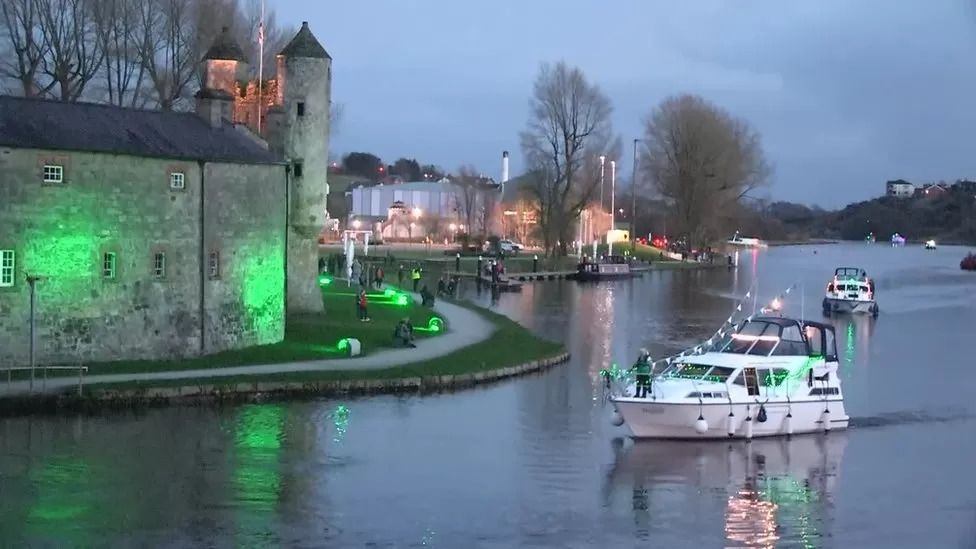 The inaugural St Patrick's Eve flotilla on the River Erne, with Enniskillen Castle lit up in green in the background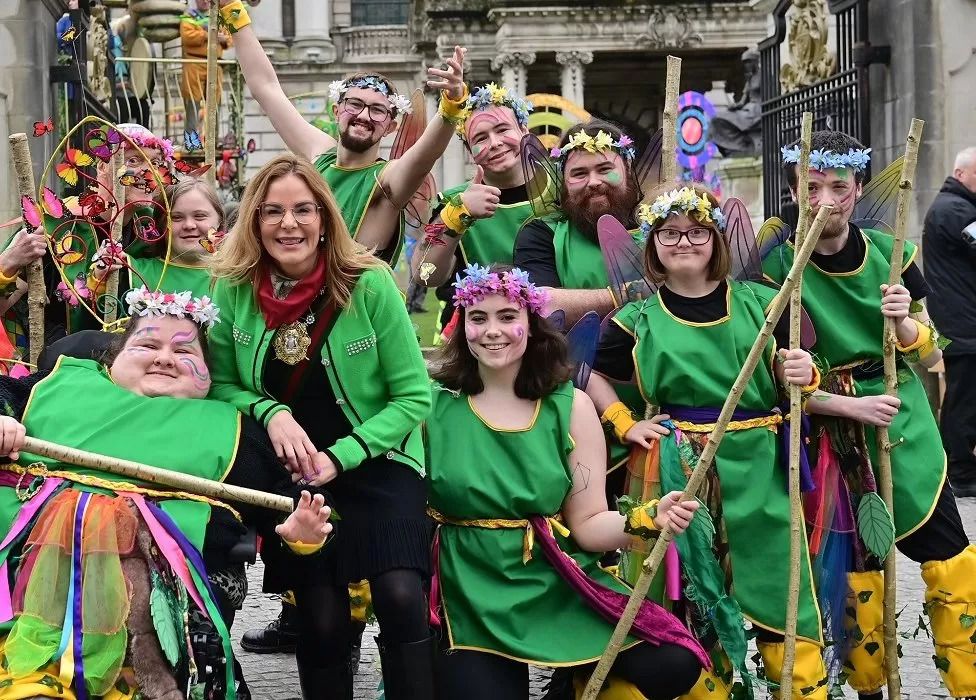 The Lord Mayor of Belfast, Sinn Féin's Tina Black, was among those enjoying the festvities

Celebrations started early in County Fermanagh with several dozen vessels lit up for the occasion on Thursday evening.

The boats sailed through Enniskillen, past the illuminated castle, and people gathered along the banks of the River Erne to watch them.

Londonderry's streets were packed on Friday, with thousands having come to the city centre to witness a lively parade and colourful performances.

The theme around this year's festivities in Derry was Recycle and Renewal, with some of the participants costumes created from leftover T-shirts from last year's Waterside half marathon.

Irish dancers, drummers and mummers marched through the streets of a rainy Armagh to entertain the thousands who turned out in Ireland's ecclesiastical capital.

The water spectacle continued in Enniskillen, with leprechauns and superheroes among those braving the cold of River Erne with a hydrofoil display.

And on land, parade attendees were brought Back to the Future when St Patrick arrived in a DeLorean.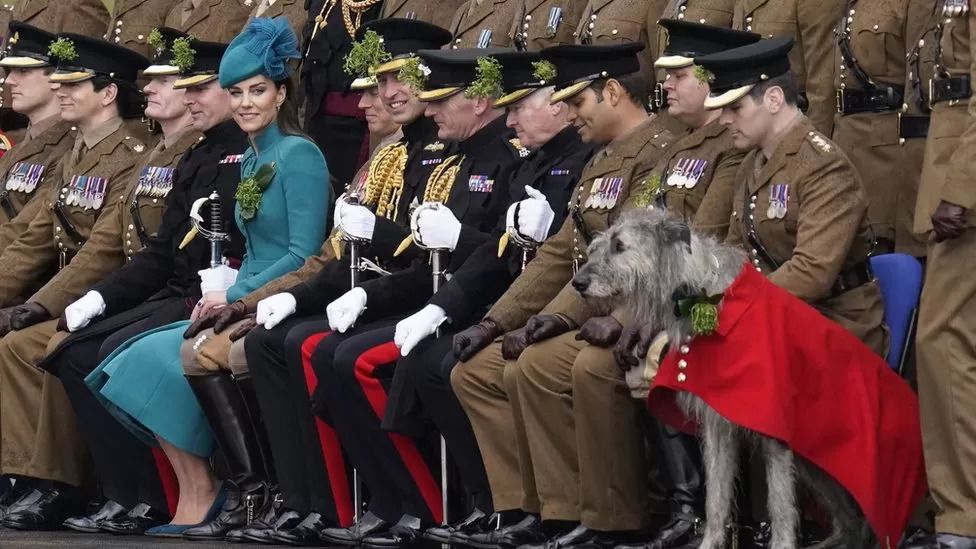 The Prince and Princess of Wales visit the 1st Battalion Irish Guards at Mons Barracks in Aldershot, England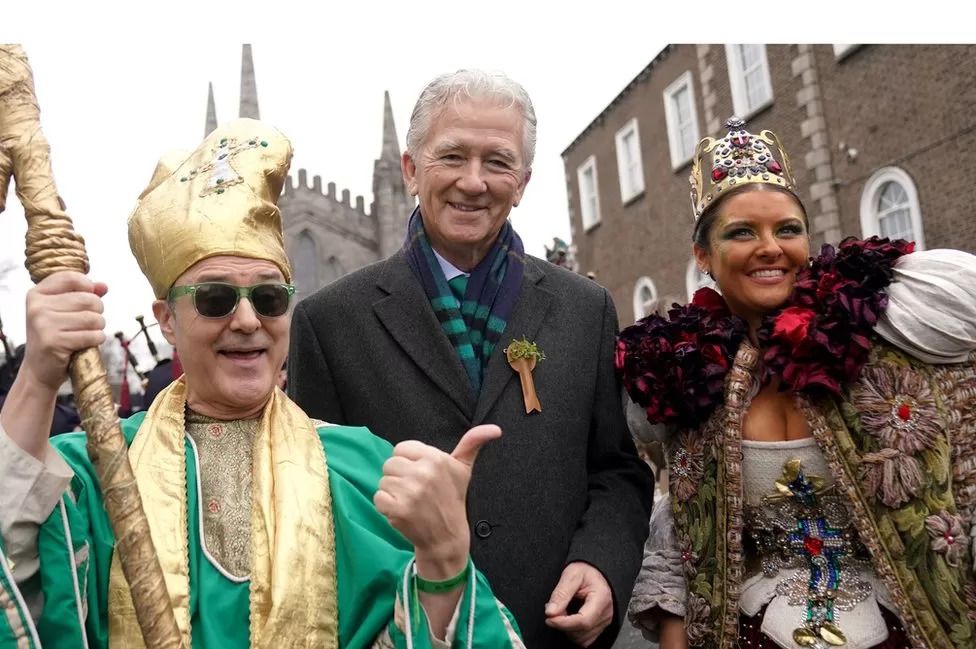 Actor Patrick Duffy, who played Bobby Ewing in the hit 1980s TV series Dallas, attended the parade in Dublin
Seamus O'Hara returned from a week in Los Angeles for the Oscars to take part in the parade in Newry

Seamus O'Hara, star of Oscar-winning Northern Ireland film An Irish Goodbye, took part in the Newry parade with his GAA club.

Originally from Glens of Antrim, he now lives in Killeavy in County Armagh.

After last week's Oscar success he was hoping to sing happy birthday to his son who turned seven on Friday.

Throughout Friday morning people visited what is believed to be St Patrick's grave in Downpatrick, County Down.

Among them were Sophie and Lucy, who said: "We're going to the parade later, our friend's mum is painting our faces and daddy is going to buy us treats."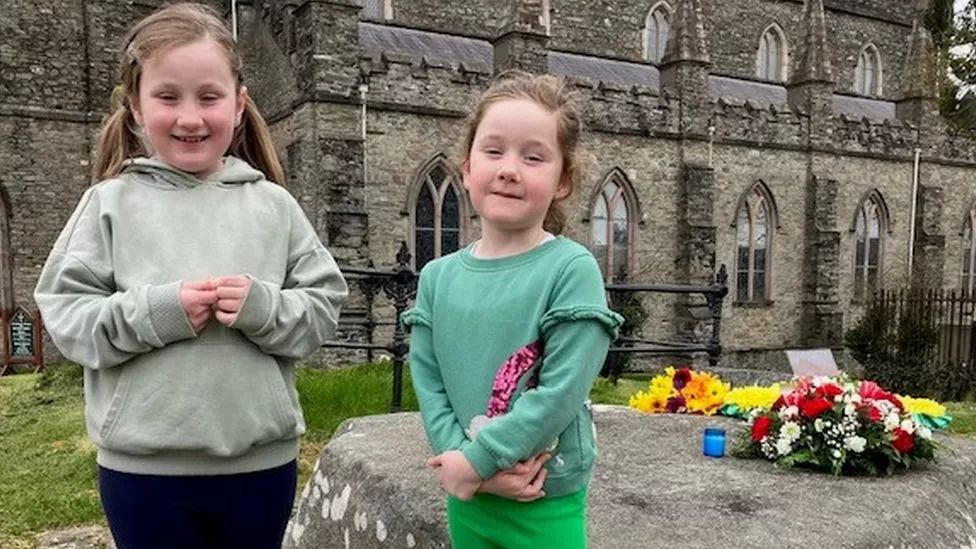 Sophie and Lucy were among the first visitors to what is believed to be St Patrick's grave this morning

An early-morning service was held at St Patrick's first church in Saul, County Down, and some of those who attended went on to climb nearby Slieve Patrick.

Stephen Moore and his son Phillip Moore travelled to the church in Saul from Banbridge in County Down.

"We've come a few times because we enjoy the fellowship and to celebrate St Patrick," said Stephen.

Orange Order events

Events were also held in Armagh, Broughshane and Derry by the Orange Order and the Apprentice Boys of Derry to celebrate St Patrick's Day.

Orange Order Grand Secretary, Rev Mervyn Gibson, said it was becoming an increasingly special day for the organisation.

"St Patrick is there for everybody on the island of Ireland to celebrate and we celebrate it from an Ulster-British perspective and that's what we'll seek to do in the institution," he told BBC Radio's Evening Extra programme.

He said people might be surprised by the Orange Order's involvement in St Patrick's Day events but he hoped attitudes would shift.

"People tended to think that the 12 July was just for the orange and St Patrick's Day was just for the green, but certainly I don't feel that way," he said.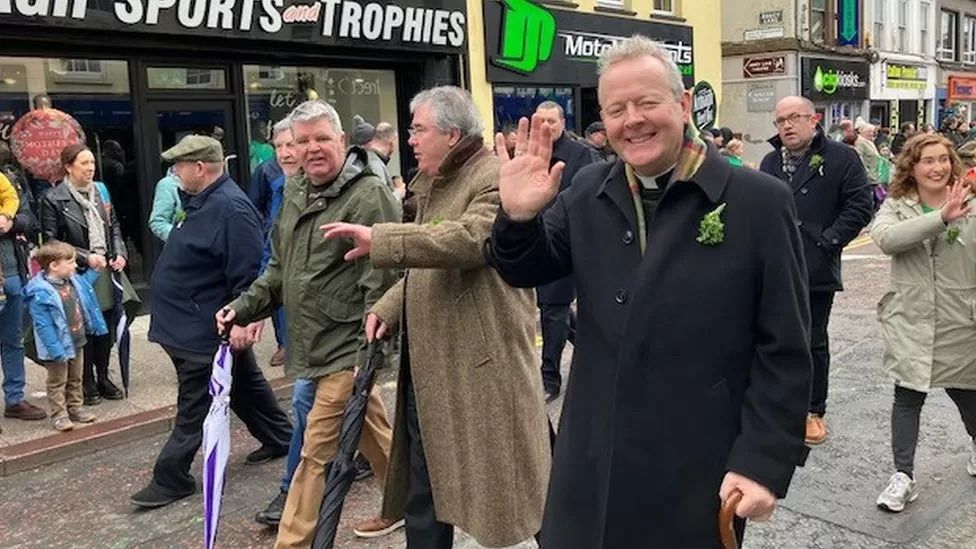 The leaders of Ireland's main Churches, Church of Ireland Archbishop of Armagh John McDowell (centre), and Catholic Archbishop Eamon Martin (right), were among those celebrating in Armagh

In the Republic of Ireland, up to half a million people descended on Dublin for a parade led by the women's national football team, Irish state broadcaster RTÉ reported.

The parade, the biggest on the island of Ireland, began at Parnell Square at 12:00 local time, with marchers making their way through the city.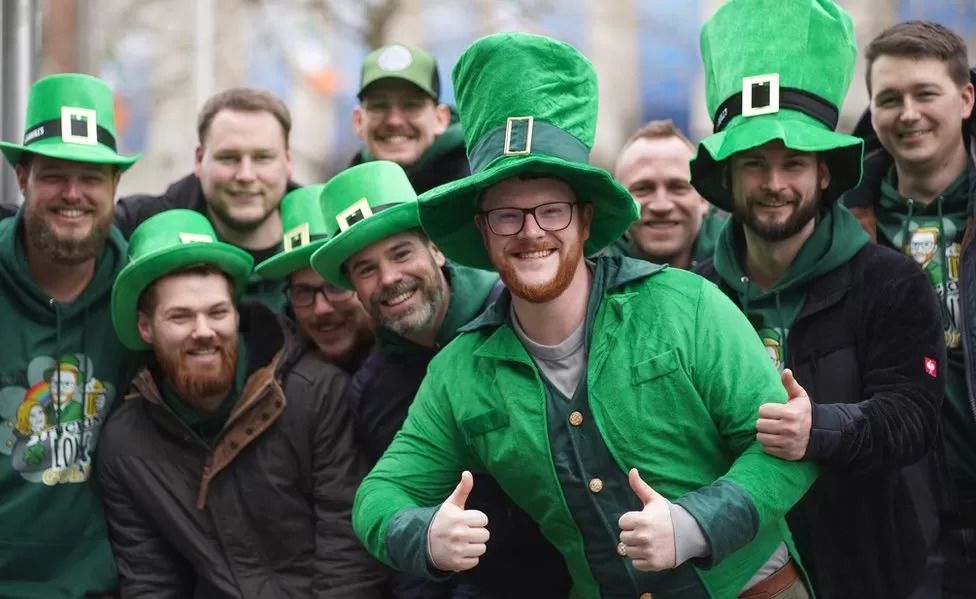 Crowds gathered early in Dublin for the Parade through the city centre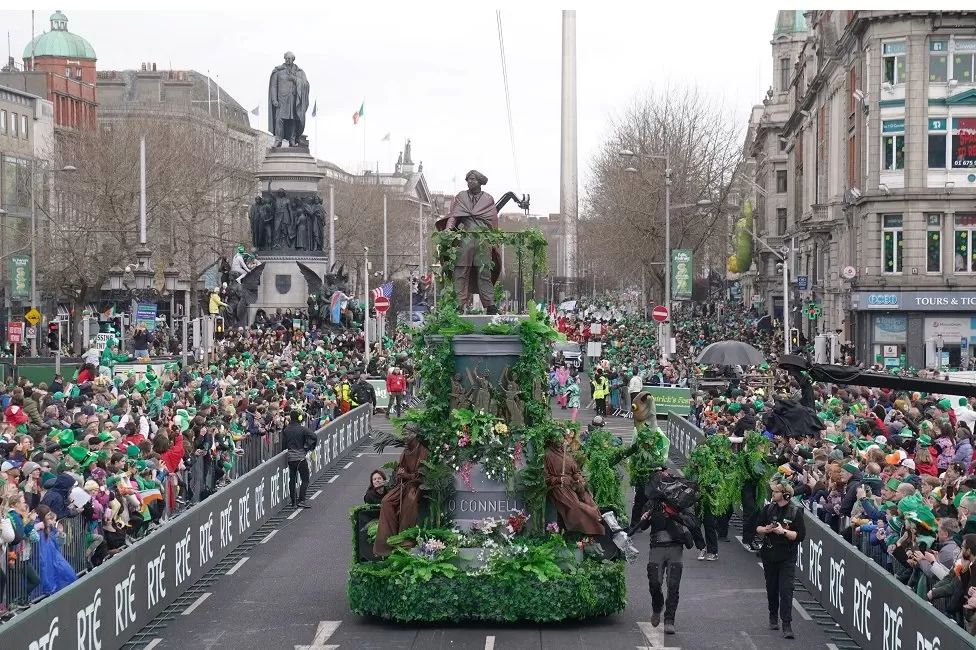 About half a million people celebrating in Dublin city centre this year