A fundraiser famous for walking in his tight blue Everton FC swimming trunks is set to start his last big challenge.
In eight years Michael Cullen, also known as Speedo Mick, has raised more than £800,000 through his challenges.

The 58-year-old said he hoped his final walk - spanning 1,000 miles (1,600km) from John O'Groats to Land's End - would take the total to more than £1m.

"That would just be a perfect ending to the Speedo Mick stomps, wouldn't it, a million quid?" Mr Cullen said.

Mick hopes to walk at least 15 miles a day for up to three months in aid of The SpeedoMick Foundation.

The charity will give grants to small charities that support mental health awareness, disadvantaged young people, and the homeless.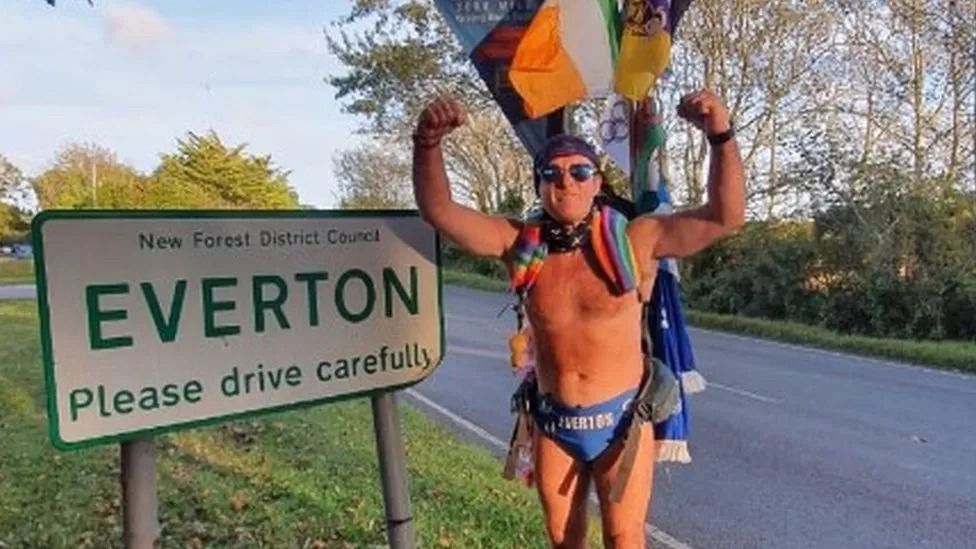 The Everton fan's fundraising challenges have raised more than £800,000
Mick first earned his nickname after fundraising £30,000 swimming the English Channel in 2014.
Two years later, he raised more than £50,000 for a Liverpool hospice by walking from Everton's Goodison Park stadium to Wembley Stadium.
In 2019 and 2020 he raised more than £300,000 after walking from John O'Groats to Land's End and in 2021 his 2,500 mile (4,023 km) Giving Back Tour raised almost £180,000.
"It's bittersweet," he said of his various challenges. "It's given me a purpose to be busy and to be positive and to give back as well.
"And every single person who's donated, shared my posts, said 'keep going'... every single person who has done that for me over the last eight years, they've all been part of this journey.
Mick, who has previously shared details of his own personal mental health challenges, has said his fundraising was a way to thank people who had helped him.
On his final walk, starting on 29 December, he plans to scale the Britain's three national mountain peaks - Ben Nevis, Scafell Pike, and Mount Snowdon - along the way.
While admitting he was not quite yet feeling up to his last trek, Mick said putting on his Speedos lets him "get into the groove".
"I get the energy from them," he said.
"When I get in my kit and I've got my bag on and all my flags are flapping about in the wind, that's when the challenge begins."
Speedo Mick spoke to BBC Breakfast about his battle with depression