The president of the SNP has said he does not think independence can be achieved "right now" as police continue investigating the party's finances.
The former minister also admitted his party is facing its biggest crisis in 50 years.

His comments follow the arrest of former chief executive Peter Murrell by police on Wednesday and the search of his home.

Mr Murrell, who is Nicola Sturgeon's husband, was released without charge.

The SNP's headquarters in Edinburgh were also searched and on Friday it emerged the party's accountants had resigned after a decade of working with the party.

The investigation is continuing.

Speaking to The Herald newspaper, Mr Russell said recent weeks had been "wearing" for the SNP, which recently selected Humza Yousaf to succeed Ms Sturgeon as party leader.

He said: "In my 50-year association with the party this is the biggest and most challenging crisis we've ever faced, certainly while we've been in government.

"But I have an obligation to this party and the movement for Scottish independence that's been such a massive part of my life for so long."

He added: "I don't think independence can be secured right now; we need to work towards some coordinated campaigning.

"But I think this is achievable. My main focus is how we can create a new Yes movement that allows for different visions but conducted in an atmosphere of mutual trust."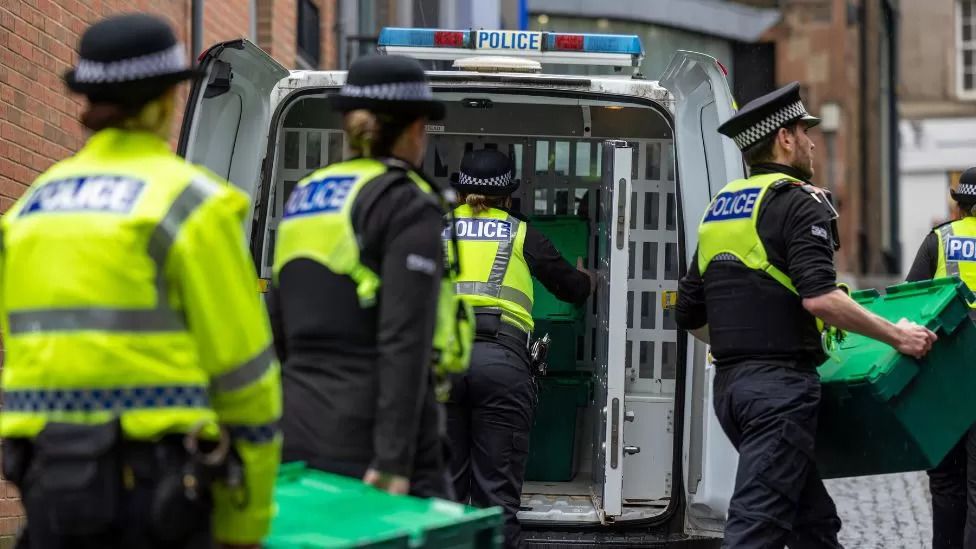 Police officers carried boxes out of SNP headquarters following the search

Mr Russell said there would be a wide-ranging review of the SNP's governance and transparency.

This was promised by Mr Yousaf, who was sworn in as first minister last week.

'Pretty wearing'

Mr Russell said he would support Mr Yousaf, who positioned himself as the "continuity candidate" in the leadership race.

He said: "I'll do as much as I can, but it's true that the last few weeks have been pretty wearing. All I can do is put my trust in working with others to get it right.

"Like it or not, the party has chosen Humza to do this and I want to help him in that as much as I can.

"Parties and institutions are fallible. In a sense though, it's a case of 'The King is Dead, Long Live the King'. That's the way it's got to be."

Police Scotland launched a formal investigation into the SNP's finances in July 2021 after receiving complaints about how donations were used.

Questions had been raised about the use of over £600,000 fundraised by the party for a fresh independence referendum campaign.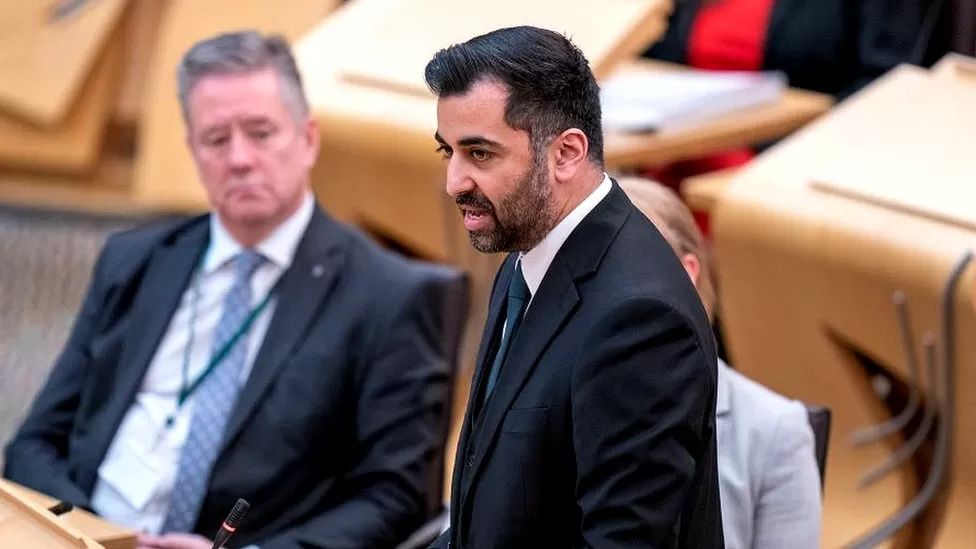 Mr Russell said he would help new party leader Humza Yousaf as much as he could

Last year it emerged that Mr Murrell gave a loan of more than £100,000 to the SNP to help it out with a "cash flow" issue after the last election. The party had repaid about half of the money by October of that year.

At the time an SNP spokesman said the loan was a "personal contribution made by the chief executive to assist with cash flow after the Holyrood election".

He said it had been reported in the party's 2021 accounts, which were published by the Electoral Commission in August last year.

Mr Murrell resigned as the party's chief executive last month after taking responsibility for misleading statements about a fall in party membership. He had held the post since 1999.

On Friday, it emerged that the accountancy firm which audits the SNP's finances had resigned after working with the party for a decade.

Accountants Johnston Carmichael informed the party of the decision before Mr Murrell's arrest.

The party's treasurer is now seeking another auditor in order to comply with Electoral Commission rules.

The SNP is required to prepare financial statements to comply with the Political Parties, Elections and Referendum Act 2000. It has until 7 July to present their accounts to the Electoral Commission.

If there is no report and no reasonable excuse, the commission has the power to appoint its own firm of auditors.