The Labour leader said the British people have had enough of a slowing economy under the Conservatives as he promised his party would take the country in a different direction with a "proper long-term plan for growth".
Sir Keir Starmer has told Sky News his plan to secure the highest sustained growth in the G7 would be implemented "in partnership with business... unlike what they've got from this government."

In an interview with Sky's economics & data editor Ed Conway, the Labour leader said that setting a growth target - as adopted by Liz Truss ahead of her notorious mini-budget - was the right thing to do.

But he said her-then government's approach was "Kamikazee" in nature, as it disregarded all of the institutions and lacked a stable, strategic plan.

He was speaking after revealing his party's economic "mission" in the City of London on Monday morning, where he said growth "depends upon stability and standing - global standing".

He said these fundamental facets have "undeniably taken a hit" by 12 years of a Conservative government as he promised to "not be anti-business".

And he claimed Labour's plan for growth is "the only show in town" in order to return the UK to being a "rock of economic stability".

He told Sky News: "What I want to see is raise living standards across the country. So in many places, the discussion in the local pub or cafe will not be about the strategic plan for growth, but it will be about my living standards."

He added: "Our model of growth has to be growth everywhere. But it has to be laser focused on living standards."

Sir Keir made his remarks after attending a roundtable discussion with business leaders including Tesco's chairman John Allan.

Outlining the new plan, Sir Keir said: "From chaos to certainty. From hoarding potential to unlocking power in every community. From lagging to leading - on science, technology, green growth and the opportunities of tomorrow.

"A labour market that moves from too many insecure jobs to good work for all.

"And a Britain that is resilient to global shocks and open to global trade."

Brandishing his mission document, he added: "So - here in this document - the mission: secure the highest sustained growth in the G7.

"A measurable goal. An invitation for the British people to judge us on whether they feel better off after five years of a Labour government."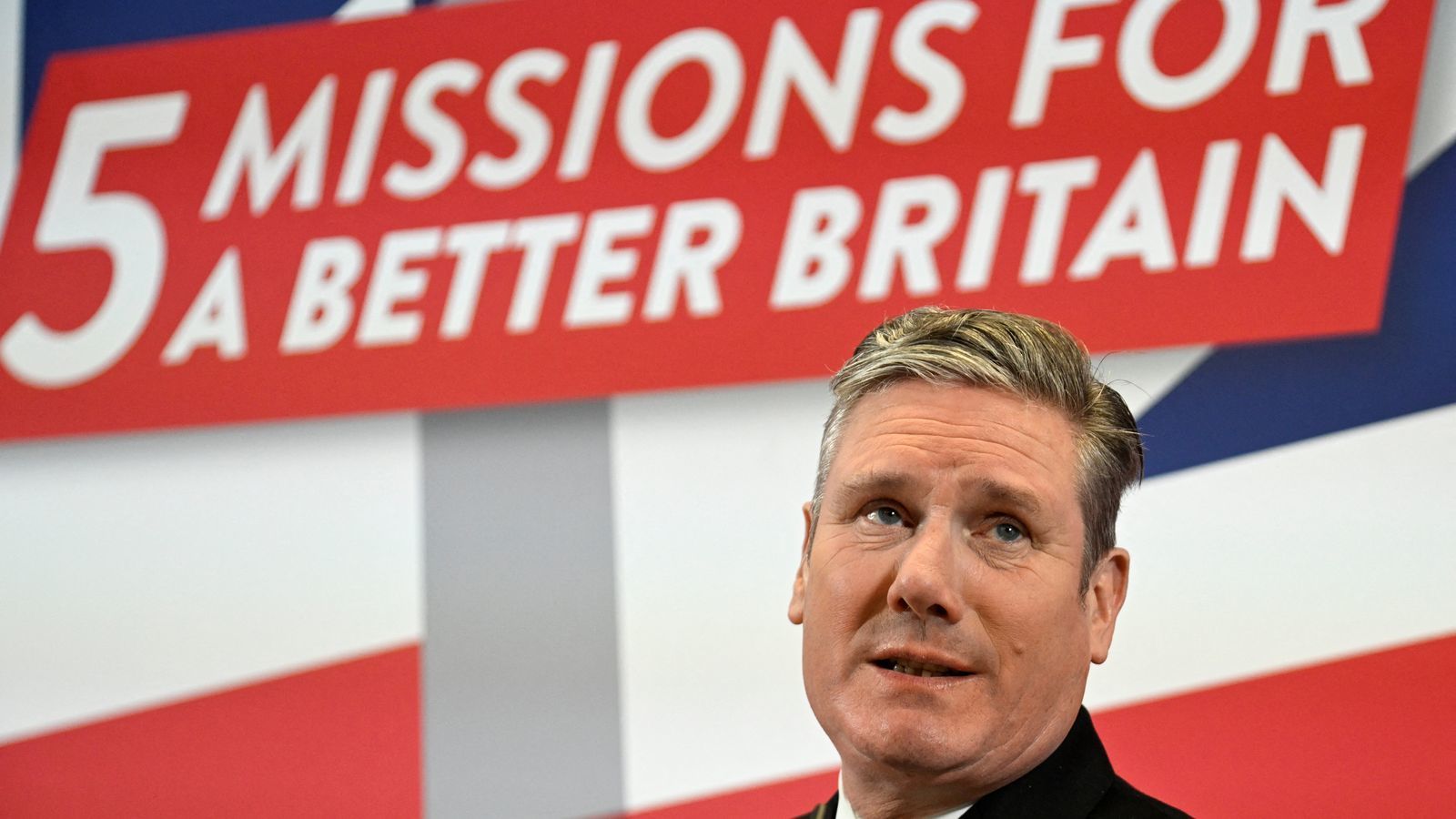 Sir Keir said the UK's economy will soon be overtaken by Poland, something he is not prepared to accept, as he insisted certainty through his new economic model is what the British economy needs.

And without a "proper long-term plan for growth", he said wages and living standards cannot go up - something he wants.

"Britain needs certainty yes, but also change and this is my real ambition, the goal that fires my imagination," he said.

"A new model for economic growth, growth from the grassroots.

"Where wealth is created everywhere, by everyone, for everyone."

The Labour leader sought to distance himself from the Tories by saying his party would encourage a "genuine partnership" between the state and free markets "working for the national interest".

"I don't want a Britain where young people, in our great towns and cities, are left with no option but to get out," he said.

"A brain drain - not just to London or Edinburgh, but to Lyon, Munich, and Warsaw.

"That's not the future our country deserves."

He also claimed if the Conservative government had the same growth as the previous Labour administration the UK would be "£40bn better off without raising taxes" as he dismissed claims Brexit is the reason growth has not been happening.


Northern Ireland Brexit deal

Speaking on the day a new Brexit deal for Northern Ireland is expected to be announced, Sir Keir reiterated that Labour would back a new agreement.

He said "a fixed Brexit deal" was needed, adding: "A reset relationship with the EU, with the whole of the country, not just Northern Ireland."

But he said Mr Sunak's biggest fight will be selling a new deal to his MPs, of which some are not happy.

Sir Keir added: "Many people will be frustrated that this is the loop we've been stuck in for a very, very long time and it's not something you would have with a Labour government because we don't have those divisions in our party on this issue."