Sadiq Khan was on Friday watching for the first signs of whether he had secured a second term as mayor as counting began in the City Hall elections.
Seven of the 25 London Assembly seats are due to be declared on Friday evening, including three marginal constituencies that have previously switched between Labour and the Conservatives.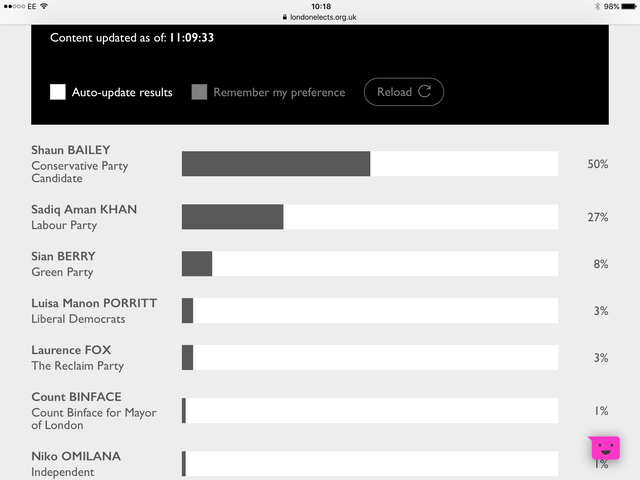 Rolling results: Shaun Bailey has taken an early lead
A live feed of results is being published on the London Elects website from 9am, giving a key indicator of share of vote and of turnout, which Mr Khan fears will be well below the record high of 46 per cent in 2016 that brought him to power.

His Tory rival Shaun Bailey took an early lead, due to the first results being from the Conservative strongholds of Bexley and Bromley and West Central.

The mayoral votes are counted at the same time as the assembly votes but the next mayor is not expected to be announced until Saturday evening at the earliest, with a Sunday morning declaration a possibility.

The first seven assembly seats due to declare today include Havering and Redbridge, which is held by the Tories on a 1,438 majority, making it the most marginal in the capital.

Others due today include Ealing and Hillingdon, held by Labour on a 15,933 majority but previously won by the Tories and including Prime Minister Boris Johnson's parliamentary constituency, and Brent and Harrow, where Labour's majority was 20,755 in 2016 but which has previously been held by the Tories.

The count, which is done electronically, with machines scanning the mayoral and two assembly ballot papers, is taking place at Olympia, Alexandra Palace and ExCeL. The victorious mayoral candidate will be unveiled at City Hall and will serve a three-year term.

More than one in five Londoners – a record total of 1,131,544 electors – applied for a postal vote. More than 5.99 million Londoners registered to vote – well below the expected 6.1 million.

This is thought to be due to people being discouraged from voting due to Covid, and because some EU citizens left the capital in the wake of Brexit.

By midday Thursday, there were reports that fewer than 12 per cent of people who voted in 2016 had made it to the polls, prompting Mr Khan to appeal to his supporters to encourage their friends to get out and vote.