London's mayor has said he will oppose the appointment of a new Met Police chief unless they have a "robust plan" to deal with the force's "cultural problems".
Dame Cressida Dick resigned from the role on Thursday over Sadiq Khan's lack of confidence in her plans for reform.

Writing in the Observer, Mr Khan said he was "deeply concerned" public trust in the force had been "shattered".

He said the new appointment needed to make things happen fast.

Dame Cressida's resignation comes after a series of crises engulfed the Met Police, including cases of sexism and misogyny among some officers.

Last week, the police watchdog found "disgraceful" examples of bullying and sexual harassment at Charing Cross police station in central London.

The mayor is due to work with Home Secretary Priti Patel to find a replacement.

While the Conservative home secretary holds the power over the appointment, she must take the Labour mayor's preference into account.

Mr Khan wrote: "I will not support the appointment of a new commissioner unless they can clearly demonstrate that they understand the scale of the cultural problems within the Met and the urgency with which they must be addressed.

"In short, they need to get it, and they need to have a proper and robust plan to deal with it."

Mr Khan warned that people's confidence in the force must be restored after the wave of recent scandals.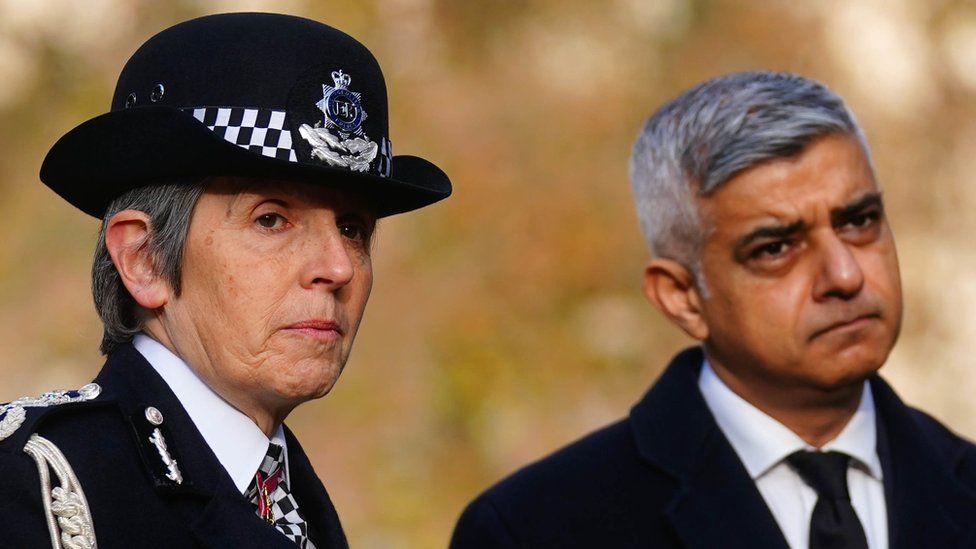 Dame Cressida Dick took the role as Met Commissioner in 2017

The mayor also said that reading the damning Charing Cross report reminded him of "the bad old days of the Met from my childhood".

Mr Khan wrote: "Growing up in the 1970s and 80s on a council estate in south London, it was commonplace to hear stories of racist, misogynistic and abusive conduct by police officers.

"Trust in the police was at rock bottom in some communities and one of the things I remember being told as a teenager by my dad was: 'Don't make eye contact with the police, don't give them an excuse'."

Earlier in the week, Ms Patel said the new commissioner must tackle "policing culture and conduct".

In a statement, she said: "Be in no doubt that a new leader must tackle these institutional issues."

Ms Patel said the new commissioner must be "focused on the basics", including tackling the abuse of women and girls, drugs and knife crime.

"Policing culture and conduct have rightly come under scrutiny," she said.

"Be in no doubt that a new leader must tackle these institutional issues."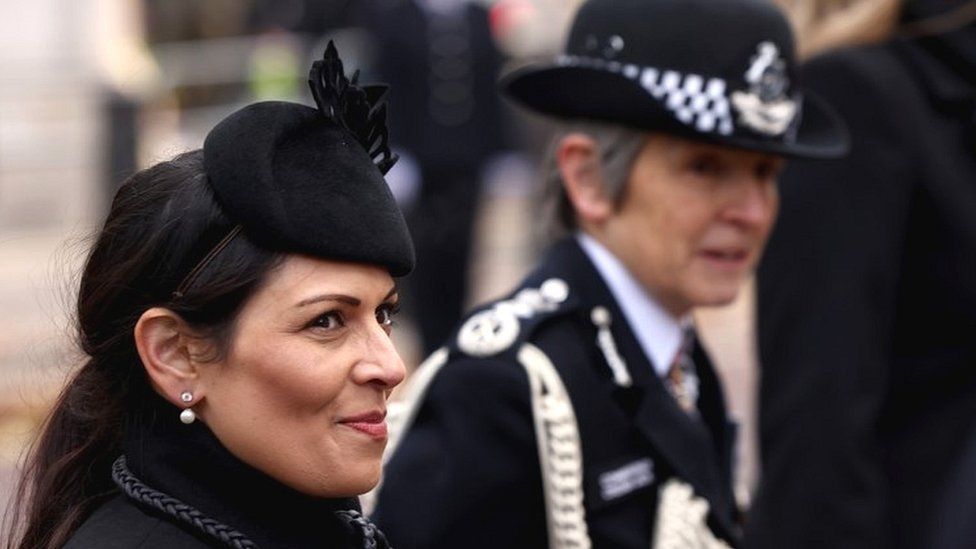 Home Secretary Priti Patel recently extended Dame Cressida Dick's contract

Yvette Cooper, Labour's shadow home secretary, said challenges facing policing were broader than one individual.

She told BBC One's Sunday Morning programme with Sophie Raworth: "Once that confidence was lost then the Met Commissioner was right to resign and I support the mayor's decision.

"But what I am concerned about in all of this debate is it's all focusing on one individual, one individual new appointment, and also one police force.

"I think the challenges for policing are much broader than this and there needs to be Home Office-led reforms in this area as well."

Northern Ireland Secretary Brandon Lewis described how Mr Khan had pressured Dame Cressida out of her role as "rather odd".

Asked on Times Radio whether he thought the mayor was playing politics, he responded: "Possibly, to be frank."

Controversies of Cressida Dick's career

* Officers based at Charing Cross police station were found by an inquiry to have joked about rape and exchanged offensive social media messages. The Met said it was "deeply sorry"

* The delay to the publication of Sue Gray's full report into lockdown parties at Downing Street was a "stitch-up" between the Met and No 10, the SNP and Liberal Democrats said. The Met's investigation is ongoing

* The rape, abduction and murder of Sarah Everard by a serving Met Police officer prompted a wave of criticism and scrutiny

* Further controversy came when clashes broke out between women and police officers at a vigil in her memory, held under Covid lockdown measures

* There was condemnation of how police handled the murder of two women, Nicole Smallman and Bibaa Henry, in a park in Wembley. Two constables were jailed for sharing photos of the murdered sisters' bodies and their mother said their disappearance would have been dealt with more urgently if they were white

* Dame Cressida also had to deal with the repercussions from the disastrous Operation Midland, the multimillion-pound investigation which saw detectives duped by false claims of a VIP sex abuse ring made by the paedophile and fantasist Carl Beech

* A report by an independent panel set up in 2013 into the unsolved murder of Daniel Morgan accused the force of institutional corruption, and found that the then-Assistant Commissioner Dame Cressida had initially refused to grant access to a police internal data system

* Before she became commissioner, she was in charge of the operation that led to the fatal shooting of Jean Charles de Menezes by officers who mistook him for a suicide bomber