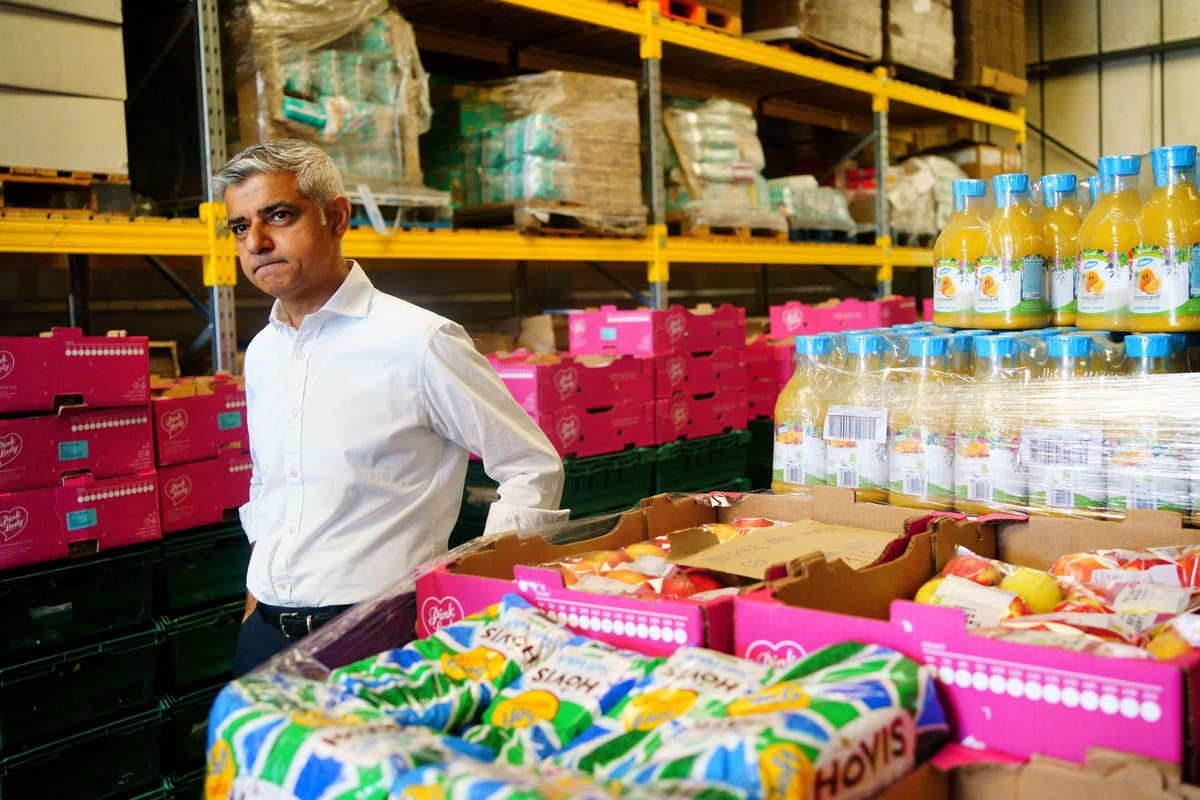 Sadiq Khan 'never known it so bad' in London as food poverty soars
Sadiq Khan has said he has "never known it so bad" in London after new figures revealed that the cost of living crisis is pushing food banks to breaking point.
The figures from anti-poverty charity The Trussell Trust revealed that more than 1.3 million emergency food parcels had been delivered across the UK to those facing hardship between April 1 and September 30, 2022 – an increase of more than 50 per cent compared to the same period in 2019.

In London alone, there were 163,524 emergency food parcels delivered in that period – more than any other region of the UK.

Speaking to Times Radio on Thursday, the Mayor of London said some Londoners are "working more than one job" and still relying on food banks in order to feed themselves and their families.

Mr Khan said: "I've lived in London my entire life; including the 80s during Thatcher's reign and the recession. I've never known it so bad. If we were speaking ten years ago, we'd be speaking about people who were out of work who required food banks, those in low paid jobs required food banks, now you've got nurses, you've got teachers, you've got firefighters, who are having to have more than one job, and rely on food banks.

"I speak to pensioners who are genuinely choosing between heating and eating. I speak to parents who are skipping meals themselves so their kids can eat. And I worry many families only just keep their head above the water and if rents go up, they could be made homeless, if interest rates go up, and they're lucky enough to have a mortgage, they could be facing homelessness."

The Trussell Trust has warned that, for the first time, demand for emergency food is outstripping the number of donations as the soaring costs of living is driving more people to food banks.

Of the 1.3 million emergency food parcels distributed across the UK between April and September, almost half a million were for children.

Emma Revie, chief executive of The Trussell Trust, has warned that "this winter will be the toughest yet for food banks and the people they support" and that "this is not right".

She said: "We know that with the right support and a stable and sufficient income, people don't need to turn to food banks for support. Over the last few years, the government has acted to protect people who are struggling, and this action has made a difference. They must now act again: with swift support now to help people through the winter, and with vision for the longer-term to ensure that social security is always enough to weather challenging times."

Prime Minister Rishi Sunak and Chancellor Jeremy Hunt will unveil the Government's autumn Budget next week, which was pushed back from its original date of October 31.

The Chancellor is expected to outline a range of measures to plug the £60 billion "black hole" in the country's finances when he addresses Parliament on November 17.