Russia's foreign minister defended the relentless bombardment of Ukraine saying it was an attempt to "knock out" the Western aid flooding in defend the country.

Sergey Lavrov accused the West of becoming directly involved in the conflict in Ukraine by supplying it with weapons and training its soldiers.

He said Russia's strikes on Ukrainian energy facilities and other key infrastructure that have left millions without power, heating and water were intended to weaken its military potential and derail shipments of Western weapons.

"You shouldn't say that the U.S. and NATO aren't taking part in this war, you are directly participating in it," Lavrov said in a video call with reporters.

"And not just by providing weapons but also by training personnel. You are training their military on your territory, on the territories of Britain, Germany, Italy and other countries."

He said the barrage of Russian missile strikes was intended to "knock out energy facilities that allow you to keep pumping deadly weapons into Ukraine in order to kill the Russians."

"The infrastructure that is targeted by those attacks is used to ensure the combat potential of the Ukrainian armed forces and the nationalist battalions," Lavrov said.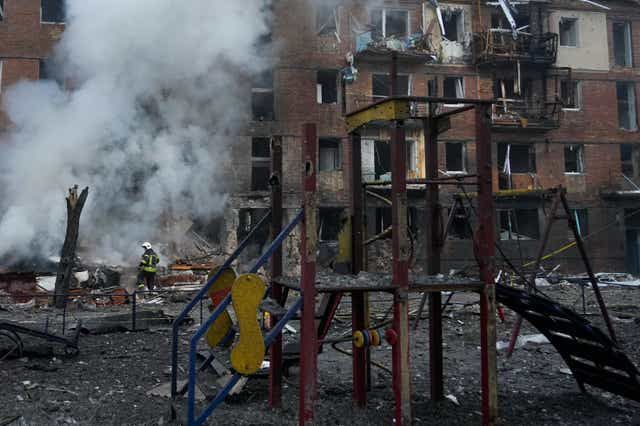 The results of a Russian missile strike in Ukraine

Ukraine and the West have accused Russia of targeting key civilian infrastructure in order to reduce morale and force Ukraine into peace talks on Moscow's conditions and Lavrov said Moscow remains open for talks on ending the conflict.
The Kremlin has urged Ukraine to acknowledge Crimea, which Moscow annexed from Ukraine in 2014, as part of Russia and recognize other land gains that Russia has made since sending its troops into Ukraine on Feb. 24.
It also has continued to push for guarantees that Ukraine wouldn't join NATO, along with vaguely formulated "demilitarization" and "denazification" goals.
Commenting on Russia's decision to postpone a round of nuclear arms control talks with the United States that was scheduled for this week, Lavrov said "it's impossible to discuss strategic stability nowadays while ignoring everything that is happening in Ukraine."