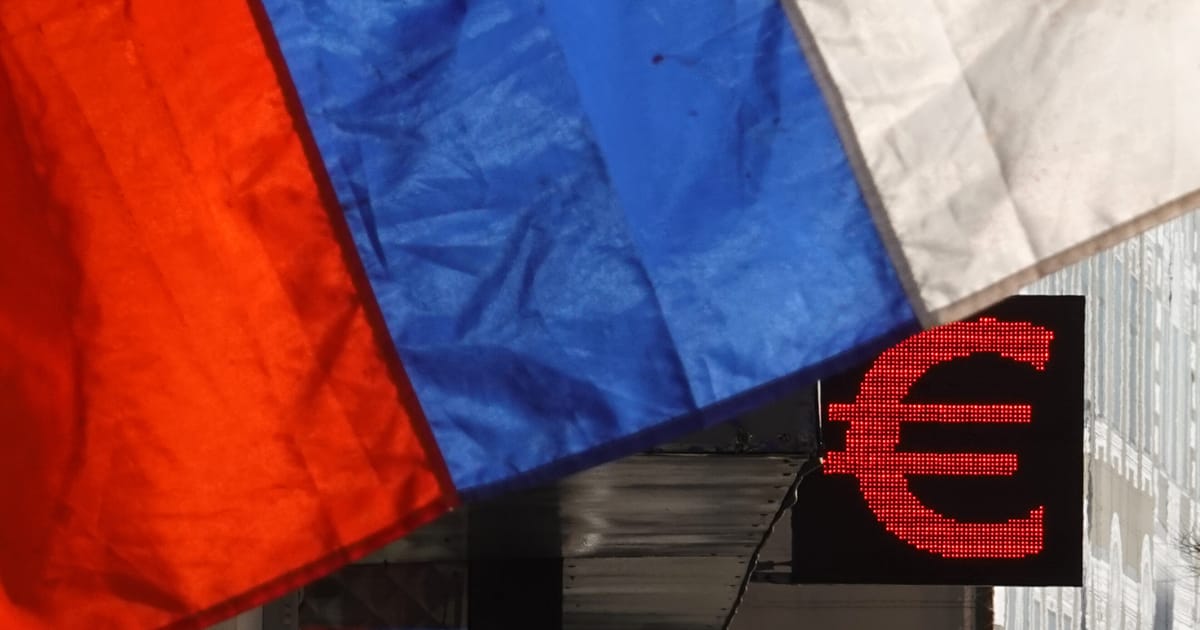 Russian banks and exports set to be hit in new EU sanctions
European Commission briefed ambassadors in small groups over the weekend on a 10th sanctions package.
The EU is set to hit Moscow with new financial sanctions, trade curbs and a ban on Russian nationals serving on boards of critical European infrastructure companies such as power grids, EU diplomats and officials told POLITICO's Brussels Playbook.

The European Commission briefed EU ambassadors in small groups over the weekend after the executive's president, Ursula von der Leyen, announced some elements of the 10th sanctions package at a joint press conference with Ukrainian President Volodymyr Zelenskyy last Thursday.

Brussels is set to include new financial sanctions against four Russian banks including the country's largest private bank, Alfa-Bank, founded by Russian-Israeli billionaire Mikhail Fridman.

The EU is also mulling a ban on Russian nationals serving on boards of critical infrastructure companies in the EU, such as electricity grids or gas providers.

There will also be new listings of some 130 entities and people. These include Russian military leaders, officials installed by Russia in the occupied territories in Ukraine, and journalists working for Russian state media outlets such as Russia Today. Also covered will be companies and individuals in other countries with links to Russia's war effort or the Wagner mercenary group, and Iran, which is accused of selling drones and components to Russia's military.

According to the European officials, the EU is preparing trade bans on imports of Russian rubber and asphalt, and on exports to Russia of EU goods including trucks, other heavy vehicles, construction machines, pumps and other equipment used in the construction sector. The package also includes additional export bans on electronic components that Russia could use to make weapons.

It's unclear, officials said, whether diamonds will make it into the package. Belgium, whose port city of Antwerp is a global hub for the diamond trade, is working with the European Commission and the G7 on an international traceability system for Russian diamonds. Belgian Prime Minister Alexander De Croo is under domestic political pressure to include a ban on Russian diamonds in the 10th sanctions package.

To tackle the circumvention of sanctions, Brussels is also planning to list a Dubai-based shipping company, suspected of helping Russia circumvent sanctions on oil exports. The company is believed to have bought several Russian oil tankers, which were no longer allowed to ship oil because of EU and international sanctions on Russian-owned entities. Under their new Emirati ownership, the tankers can again ship oil.

One EU country has now asked the EU to list that company in the new sanctions package, in order to prevent it from increasing Russia's capacity to export oil, two people involved in or briefed on the sanctions discussions told POLITICO.

But two diplomats and one official cautioned there had been some opposition from Mediterranean countries during the discussions with the European Commission. The tankers in the past operated under Cypriot flags, but are now believed to have changed their flags to a tax haven — so there should no longer be any logical reason for any EU country to oppose the move against those ships, one of them argued.

EU ambassadors are set to discuss the package at their meeting on Wednesday.