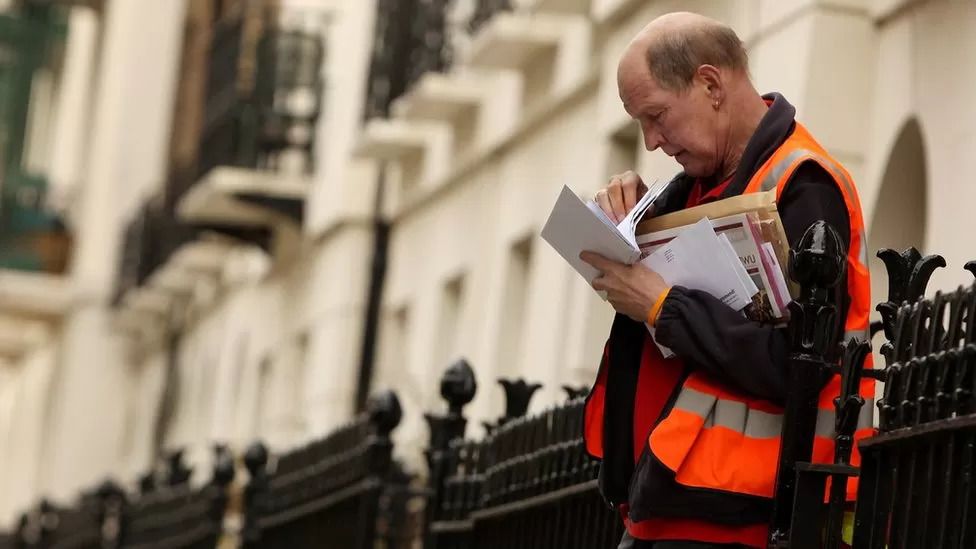 Royal Mail February strikes off after legal challenge
Postal workers will no longer go on strike later this month after a legal challenge from Royal Mail, the Communication Workers Union (CWU) says.
About 115,000 workers had planned to walk out from 12:30 GMT on 16 February, until 12:30 on 17 February in an ongoing row over pay and conditions.

But union bosses said late on Monday that they would not fight a legal challenge to the action.

Royal Mail said the cancelled strikes would mean "relief" for customers.

The company said it legally challenged the industrial action on grounds to do with the reasons the strikes had been called, citing what it described as a "legal error".

"We welcome the fact that the strike action has been called off," Royal Mail said. "It will be a relief to our customers and we intend to use this time and space for further discussions to try to agree a deal."

The CWU said its legal team had advised that "given the laws in this country are heavily weighted against working people", there was a risk that losing in court against Royal Mail's challenge could impact a new strike ballot.

"The postal executive do not believe it is worth risking the status of the new ballot to defend a ballot mandate that expires on 17 February," it said.

The union said it would re-enter negotiations with Royal Mail later this week, but added "the focus of the whole union must remain on winning" the ballot to give it a fresh mandate.

If the talks failed the CWU would "significantly step up the programme of strike action", it said.

Royal Mail workers staged several strikes at the end of last year, in a move which cost the firm millions at one of the busiest times of the year for parcel deliveries.

Workers have been offered a pay deal which Royal Mail says is worth up to 9% over 18 months.

But, the CWU says its members want more due to inflation - the rate at which prices rise - near a 40-year high.

The union also objects to Royal Mail's proposed changes to working conditions, including the introduction of compulsory Sunday working.

The CWU said Royal Mail's legal challenge was "the latest in a long list of deliberate, sustained and coordinated attacks" on members.

But Royal Mail claimed the mistake was not the first it attributed to the CWU, arguing six days of rolling strike days in October last year were cancelled because of "irregularities".