Rishi Sunak is under growing pressure to explain what he knew about bullying allegations against Dominic Raab when he appointed him deputy PM.
The prime minister's spokeswoman would only rule out him being aware of "formal complaints" when he gave his ally the job last year.

The PM is facing calls to suspend Mr Raab from his cabinet jobs while the allegations are investigated.

Mr Sunak clashed with Labour leader Sir Keir Starmer over the issue at PMQs.

Sir Keir accused Mr Sunak of being "too weak" to act and asked whether the PM was "the only person completely unaware" of the allegations.

But the prime minister insisted he acted decisively in appointing a senior lawyer Adam Tolley KC to investigate the allegations when he learned of "formal complaints".

Mr Raab, who sat next to Mr Sunak in Parliament, has denied bullying civil servants.

Eight formal complaints have been made against Mr Raab, who was appointed deputy prime minister and justice secretary last October.

The bullying complaints relate to Mr Raab's previous periods as justice secretary and foreign secretary under Boris Johnson, and his time as Brexit secretary under Theresa May.

A serving minister has told the BBC the prime minister will find it hard to keep Mr Raab in his posts when the inquiry into his behaviour reports.

The minister said it was hard to ignore the number of people who had complained about the deputy PM's conduct.

Mr Sunak has previously said he will wait for the outcome of the inquiry before taking any action.

Dave Penman, a civil service union leader, has called for Mr Raab to be suspended during the investigation into the allegations.

"If that was any other employee… they would in all likelihood be suspended from their job," the FDA general secretary told the BBC.

Responding to questions from reporters after PMQs, Mr Sunak's spokeswoman said the "usual processes were followed" when Mr Raab was appointed to his cabinet jobs.

"We were not aware of any formal complaints," the PM's spokeswoman added.

The Liberal Democrats have called for the prime minister's independent ethics adviser, Sir Laurie Magnus, to investigate what Mr Sunak knew and when, when he appointed his ministers.

Last November, in an interview with BBC political editor Chris Mason at the G20 summit in Bali, the prime minister repeatedly declined to say whether he had informal warnings about Mr Raab's behaviour before bringing him back into government.

Mr Sunak said then that he had not been aware of any formal complaints, adding: "I've been very clear that I don't recognise the characterisation of Dominic's behaviour."

Meanwhile, senior Conservative MP Sir Bernard Jenkin backed Mr Sunak for not suspending Mr Raab while the investigation continued, saying he was "entitled to due process whatever the hullabaloo".

Sir Bernard told the BBC Mr Raab was a "demanding person to work with", but officials should be prepared to work in very challenging situations.

At least three senior civil servants who worked with Mr Raab have given evidence to the inquiry into his behaviour as witnesses.

The BBC has been told that one is Simon - now Lord McDonald - the former top civil servant at the Foreign Office.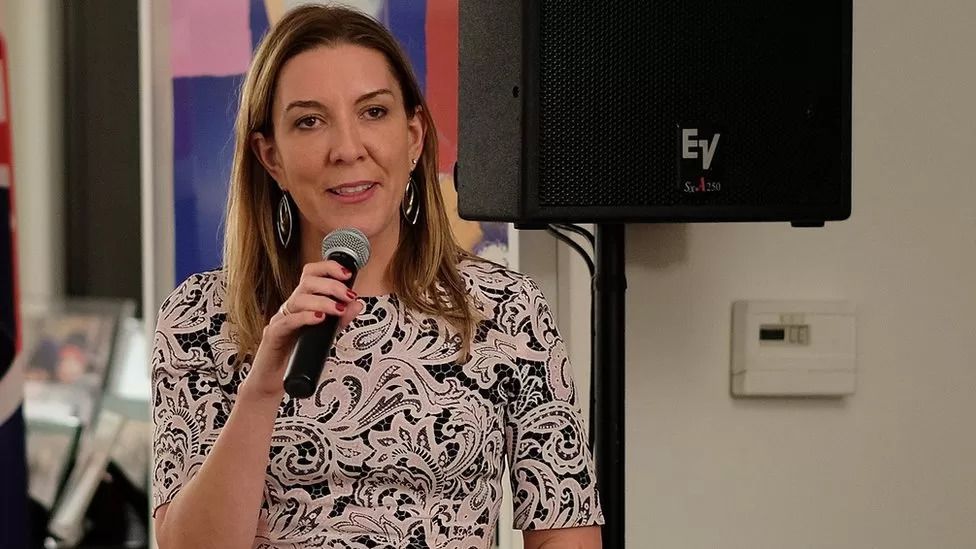 Antonia Romeo was appointed Permanent Secretary at the Ministry of Justice in January 2021
Another, the BBC understands, is Philip Rycroft, who ran the Department for Exiting the European Union when Mr
Raab
was Brexit secretary.
The third, the BBC has been told, is the current permanent secretary at the Ministry of Justice, Antonia Romeo.
Permanent secretaries are the UK's most senior civil servants and run government departments.
It is understood Mr
Raab
has had an initial meeting with Mr Tolley, but not yet sat down with him for a substantial conversation about the allegations against him.
Last week, the deputy prime minister told the BBC he was confident he had "behaved professionally throughout" but made "no apologies for having high standards".
Starmer: Is PM only person unaware of Raab allegations?
November 2022: Was Rishi Sunak aware of Dominic Raab complaints?