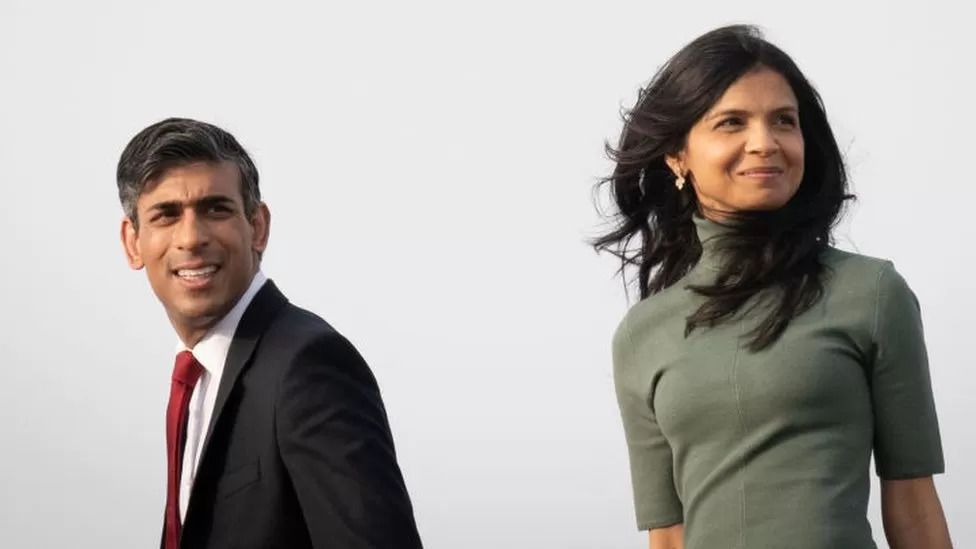 Rishi Sunak: Labour's personal attacks don't bother me
Prime Minister Rishi Sunak has said personal attacks from Labour on him and his family "don't bother me".
Mr Sunak told reporters the public were more interested in whether the government was improving their lives.

Labour's attacks on the PM have become increasingly personal in recent weeks, with the party accusing him of being out of touch because of his wealth.

It has also criticised Mr Sunak's wife, Akshata Murty, for previously benefitting from non-dom tax status.

Asked by journalists during his visit to Japan for the G7 summit whether comments about his wealth and upbringing were fair game, Mr Sunak said: "These things generally don't worry me.

"I don't think most people sitting at home actually are much bothered about these things either. What they care about is what am I doing for them to make their lives better."

He added: "I think we've moved beyond judging people by what's in their bank account. I think they're interested in whether I'm going to deliver for them and their families."

Asked whether it was hurtful when Labour leader Sir Keir Starmer talked about his family, Mr Sunak said: "These things don't bother me."

In recent sessions of Prime Minister's Questions, Sir Keir has accused the prime minister of being "clueless about life outside his bubble".

In the run-up to the local elections in England earlier this month, Labour also put out a number of adverts on Twitter attacking Mr Sunak personally.

The most controversial claimed the prime minister did not think adults convicted of child sexual assaults should go to prison.

Sir Keir defended the advert, saying it highlighted the government's failures on crime, but there was uneasiness about the move among some in Labour.

Another advert criticised Mr Sunak for raising taxes on working people, while his family benefitted from "a tax loophole" - a reference to his wife's non-dom status.

Last year, it emerged that Mr Sunak's wife had non-dom status, which allows people living in the UK to avoid paying UK tax on money made abroad.

She later said she would start paying UK tax on her overseas earnings.

At the time Mr Sunak, who was then chancellor, described criticism of his wife as "unpleasant smears", arguing it was unfair to attack a private citizen.

He has also previously admitted he found it "very upsetting" when his wife faced criticism over shares she owned in a tech company operating in Russia.