London's cheapest property hotspots, in particular those south and east of the capital, have seen the largest increase in residents with high-earning jobs
Wealthy London buyers may have once confined their house hunt to popular urban villages in Zones 1 and 2, but rising prices are even pushing those with higher-than-average salaries — and therefore more borrowing power — out to the south and east of the capital.
Dartford in Kent, its neighbouring London borough of Bexley and Newham in the east all recorded 34 per cent growth in the number of high-earning people living there in the decade leading to the 2021 Census, according to exclusive data from estate agent Savills.
People with high-earning occupations — 'wealth drivers' — are categorised as managers, directors, senior officials and those that have professional roles in the Savills research.
Bexley and Newham, consistently among London's cheapest areas to buy a home, along with Dartford all have average property prices well below the wider London figure of £542,000.
"London house prices are such that if people want to meet requirements for space, they will be pushed into areas where they can stretch their savings and borrowing potential further," says Lucian Cook, head of residential research at Savills.
"This has been particularly apparent over the past three years when the demand for homes with coveted private outdoor space, as well as a place for a home office has spiralled."
Prices in the Olympic borough of Newham more than doubled to hit £440,000, having seen price growth of 103 per cent since 2011.
In Bexley, property prices rose 84 per cent to £420,000, while in Dartford prices rose 75 per cent to £365,000.
Table: London and surrounding areas with the largest 10-year growth in high-earning residents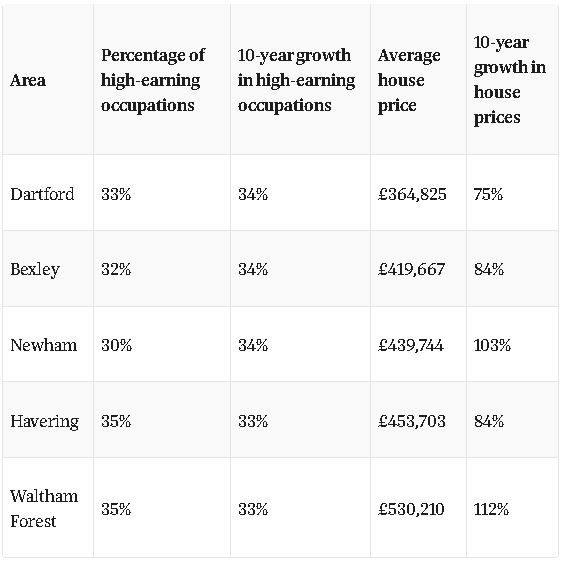 Some of London's most expensive boroughs are home to the greatest number of high-earning occupations. The City of London, Richmond upon Thames and Kensington & Chelsea have more than 54 per cent 'wealth driver' roles.
In the City, where 65 per cent of residents have high-earning jobs, the average property price is now £828,112. Although, with a small sample size of just over one square mile, property prices in the area are often skewed by limited stock or high-value listings.
Named London's happiest place to live for the eighth consecutive year in December, Richmond upon Thames has an average property price of £976,160 and more than half of residents there (55 per cent) work in high-earning roles.
The ultra-exclusive Kensington & Chelsea borough, which has an average house price of £2,409,454, comes in third place for high-earning occupations with 54 per cent of residents in manager or senior official roles.