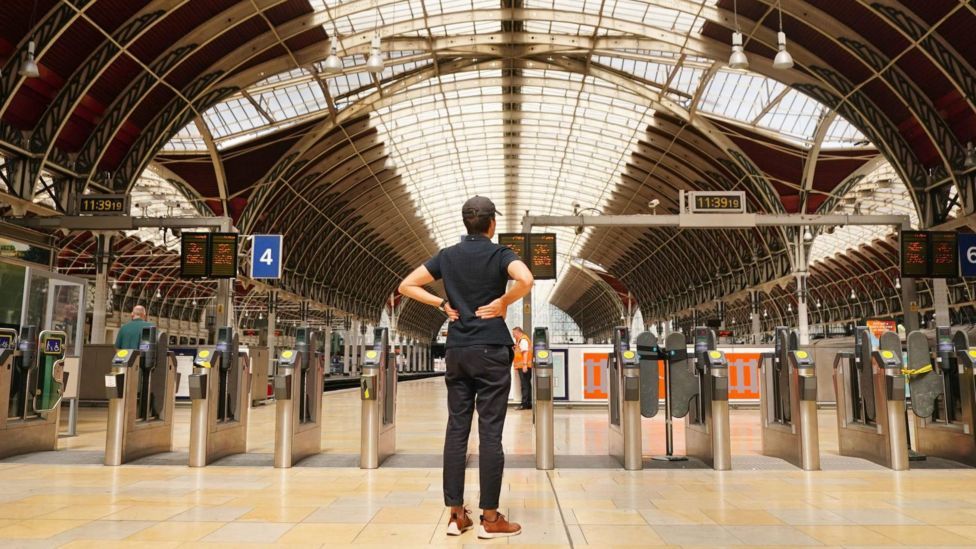 Rail strikes to go ahead next Wednesday
A strike by more than 40,000 rail workers will go ahead next Wednesday after no breakthrough in talks, the RMT trade union has said.
The walkout by staff at Network Rail and 14 train operating companies is part of a continuing row over pay, jobs, and terms and conditions.

The strike will affect the Women's Euro 2022 semi-final in Milton Keynes.

It follows a similar strike in June that saw rail services severely disrupted across three days.

The fresh walkout on 27 July will coincide with a strike at Avanti West Coast, which serves the Birmingham line, the day before the Commonwealth Games begin in the city.

Transport for London (TfL) said it expected disruption across lines and stations that share infrastructure with Network Rail.

The strikes look set to kick off a week of pain for travellers, with knock-on effects expected into Thursday 28 July and a separate walkout by train drivers at eight operators on Saturday 30 July.

RMT general secretary Mick Lynch said its members were "more determined than ever to secure a decent pay rise, job security and good working conditions".

He said Network Rail - the government-owned agency that maintains tracks and operates big stations - had not improved its pay offer.

"In fact Network Rail have upped the ante, threatening to impose compulsory redundancies and unsafe 50% cuts to maintenance work if we did not withdraw our planned strike action," he claimed.

Andrew Haines, Network Rail chief executive, said that despite its "best efforts to find a breakthrough, I'm afraid there will be more disruption for passengers next week" and accused the RMT of political campaigning.

He added: "It is frustrating to yet again ask our passengers to change their plans and only make essential journeys."

Thousands of workers walked out on three days in June, causing severe disruption to millions of passengers. As well as the two further days of action scheduled in July, the RMT is planning to strike again on 18 and 20 August if differences haven't been resolved.

The dispute centres around whether workers, including guards, signallers, catering staff and cleaners, will receive pay rises to keep up with the sharply rising cost of living.

But the railway workers' union has also highlighted proposed changes to pension schemes, working practices, and what it says is insufficient general funding for the transport system.

During the pandemic many workers adapted to working from home for at least part of their working week, reducing demand for rail services. The rail industry says working practices need to be updated to save money in the light of these new habits.

Tim Shoveller, Network Rail's lead negotiator, said the RMT had walked away from "ongoing and constructive talks".

"A two-year, 8% deal with a no-compulsory-redundancy guarantee and other benefits and extras was on the table and they have walked away without giving their members a voice or a choice," he said.

"We will now consider how we will move forward with our reform plans despite the RMT obstinacy."

The government has urged the union to end the industrial action.

A Department for Transport spokesperson said it was now "clearer than ever that the RMT has no interest in engaging in constructive discussions".

"The rail industry has to modernise and be brought into the 21st century for the benefit of passengers and staff. We're extremely disappointed to see that instead of staying at the table, RMT executives have chosen to walk away once more," the DfT spokesperson said.

The RMT's Mick Lynch said the government needed to "stop interfering" and that RMT would "continue to negotiate in good faith but we will not be bullied or cajoled by anyone".