A strike by Network Rail workers has been re-arranged to avoid a clash with the Royal British Legion's London Poppy Day appeal.
The Rail, Maritime and Transport union (RMT) said its Network Rail members would strike on 5, 7 and 9 November.

The union said having been made aware of the poppy appeal on 3 November, planned strike action that day had been moved to the 9th.

The appeal aims to raise £1m in a day and up to 2,000 volunteers fundraise.

The RMT said it would continue its industrial campaign until it reached a negotiated settlement on job security, pay and working conditions.

Last week, Network Rail said it had a two year, 8% pay increase deal "on the table ready to be put to our staff".

Network Rail chief negotiator Tim Shoveller said: "Unfortunately, the leadership of the RMT seem intent on more damaging strikes rather than giving their members a vote on our offer."

In separate disputes, London Underground and Overground (Arriva Rail London) workers who are RMT union members will strike on 10 November, which had also been planned for 3 November.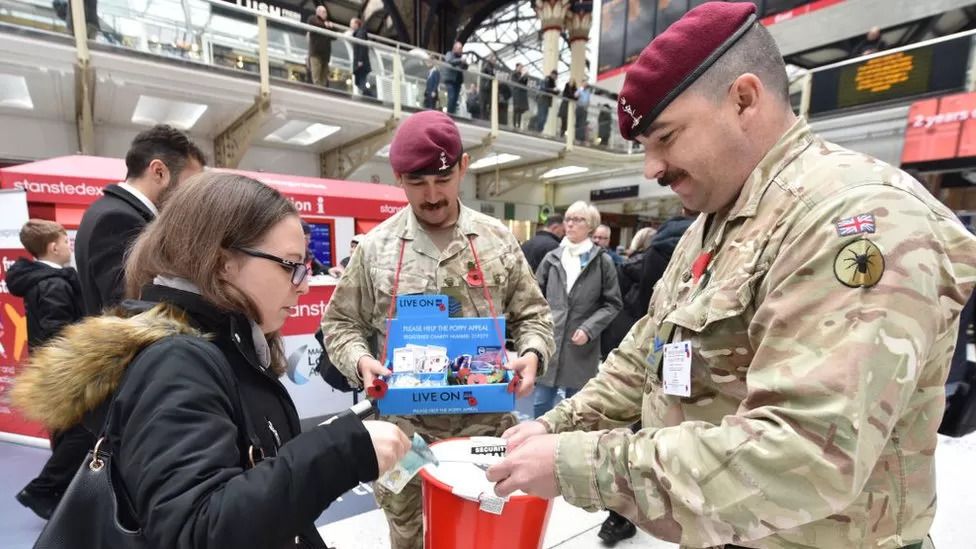 Fundraising events are due to take place at more than 70 Tube and train stations across London

RMT general secretary Mick Lynch said: "Our focus in this dispute is the rail employers who have yet to make an offer that will create the conditions for a negotiated settlement.

"I call upon the new Prime Minister Rishi Sunak to unshackle the rail industry so they can come to a settlement with RMT.

"We will vigorously pursue our industrial campaign until we achieve a deal."

The date change comes after the legion had to cancel its planned fundraiser due to fear of "one of the most important days in our annual remembrance calendar being a waste of time."

Commenting on the rearrangement, The Royal British Legion, said: "We are very grateful to the RMT union for cancelling its strike action on 3 November.

"We recognise and respect the right of all unions to take action for their members, and it was unfortunate on this occasion it would have had such a serious impact on our fundraising."

There have been a series of rail strikes in the UK over the past months, as unions have clashed with Network Rail, which maintains and operates the infrastructure, train firms and the government, over pay and conditions.