Prince William says online safety for young people should be "a prerequisite, not an afterthought" after an inquest into 14-year-old Molly Russell's death.
A coroner concluded that the teenager from London died from an act of self-harm while suffering depression and the negative effects of online content.

Molly's father Ian called for urgent changes to make children safer online.

The prince said: "No parent should ever have to endure what Ian Russell and his family have been through."

It is unusual for any member of the Royal Family to comment following any legal proceedings - but mental health is a topic on which the new Prince of Wales has campaigned on regularly in the past.

Prince William, who met Mr Russell in November 2019, tweeted: "They have been so incredibly brave. Online safety for our children and young people needs to be a prerequisite, not an afterthought."

Molly took her own life in 2017, and coroner Andrew Walker said the images of self-harm and suicide she viewed online "shouldn't have been available for a child to see".

After the hearing finished on Friday, Mr Russell said: "It's time to protect our innocent young people instead of allowing [social media] platforms to prioritise their profits by monetising the misery of children."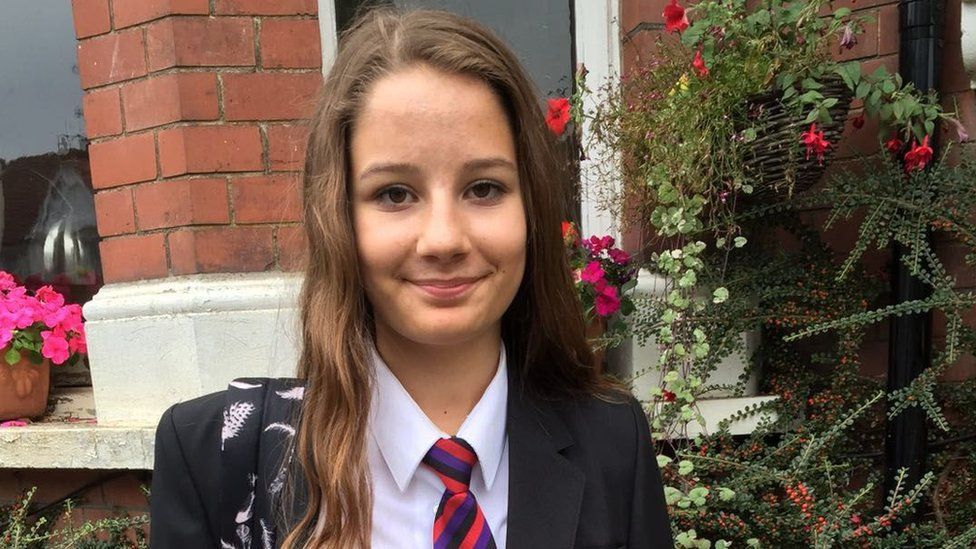 Molly Russell accessed social media posts on Instagram and Pinterest that were related to depression, self-harm and suicide

Mr Walker, the senior coroner for north London, said Molly appeared a healthy girl who was flourishing at school, having settled well into secondary school life, and displayed an enthusiastic interest in the performing arts.

However, Molly had become depressed, something common in children of this age, the coroner said. The inquest was told her condition worsened into a depressive illness.

Mr Walker told North London Coroner's Court: "It would not be safe to leave suicide as a conclusion.

"She died from an act of self-harm while suffering from depression and the negative effects of online content."

His narrative conclusion continued: "Molly subscribed to a number of online sites. She had access to images, video clips and text concerned with self-harm and suicide, or that were otherwise negative or depressing in nature."

The coroner added that the algorithms used by social media sites Instagram and Pinterest meant some content was selected and provided for Molly without her requesting it.

The content she then kept watching more and more of was likely to have had a negative effect on the teenager, and "contributed to her death in a more than minimal way", Mr Walker said.

After their meeting with Molly's father in London three years ago, Prince William and Catherine extended their condolences to the family.

Prince William asked Mr Russell if he thought social media companies such as Instagram were doing enough.

"My thoughts on Instagram are, we're grateful that they're doing something but I think they're only really inching along the road, and they need to do a lot more," Mr Russell responded.

Prince William has spoken openly in recent years about his own mental health and has campaigned for people to open up if they are struggling.

He created Heads Together, launched to help combat the stigma of mental health, in 2016 with his wife and Prince Harry.

The prince has also addressed the pressures faced by young people and warned of the need for greater protection for teenagers and vulnerable individuals online.

In a statement following Friday's inquest into Molly Russell's death, NSPCC chief executive Sir Peter Wanless said: "This should send shockwaves through Silicon Valley - tech companies must expect to be held to account when they put the safety of children second to commercial decisions.

"The magnitude of this moment for children everywhere cannot be understated."

At the conclusion of the hearing, the coroner said he would compile a report outlining his concerns. He is to write to Pinterest and Instagram's parent company Meta, as well as the government and Ofcom.

A spokeswoman for Meta said the company was "committed to ensuring that Instagram is a positive experience for everyone, particularly teenagers" and that it would "carefully consider the coroner's full report when he provides it".

Pinterest executive Judson Hoffman told the court that the platform "should be safe for everyone", and accepted that "there was content that should have been removed that was not removed" when Molly was using it.

The government said it will use "the full force of the law" though its Online Safety Bill to make social media firms protect young people.