The Prince and Princess of Wales have visited a charity that works with young people at risk of urban violence, as their US trip continues.
They are in America to hand out awards for their Earthshot Prize - given to innovative ideas for the environment.

But the trip risks being overshadowed by a racism row involving Prince William's godmother.

Lady Susan Hussey resigned after asking a black British charity boss where she was "really" from.

Prince William's spokesperson has said "racism has no place in our society".

This is the royal couple's first big international appearance since the death of the Queen, and since they became the Prince and Princess of Wales.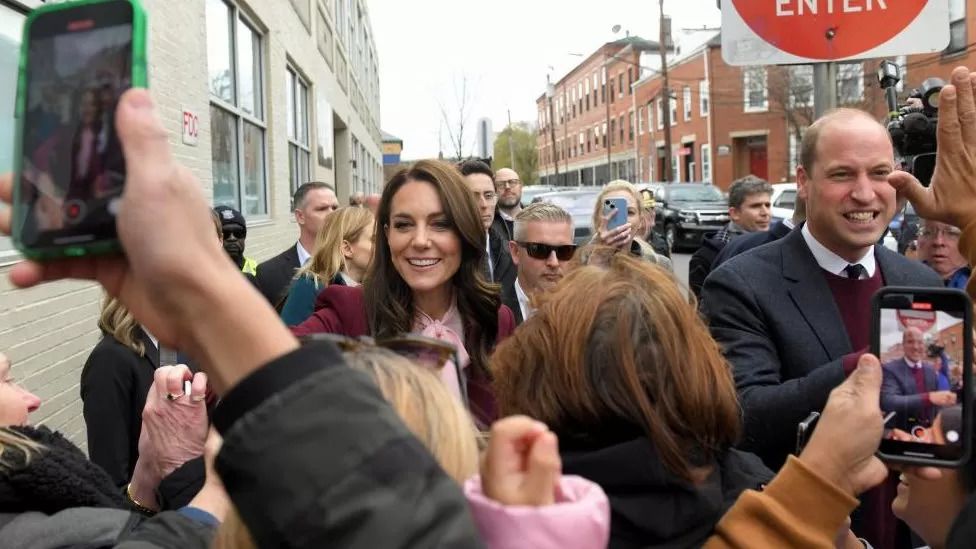 William and Catherine took their first walkabout of their US trip on Thursday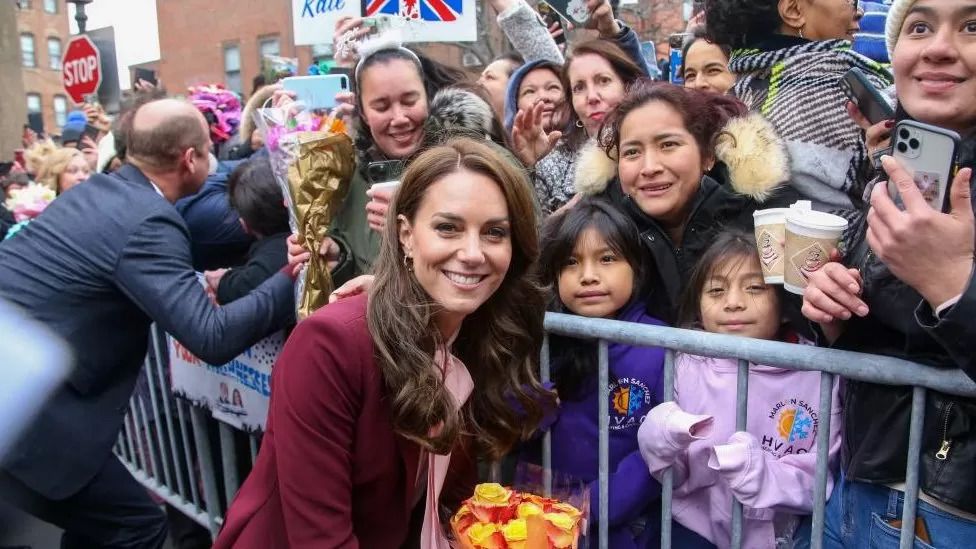 The couple met royal fans and posed for photos
Their trip will culminate in a star-studded prize ceremony on Friday, in Boston - home town of former US President John F Kennedy, on whose "Moonshot" challenge the Earthshot Prize is based.
The prince's brother Harry, the Duke of Sussex, and Meghan are not expected to attend the awards ceremony.
But on the second day of
Prince William
and Catherine's trip, the trailer for Harry and Meghan's "behind closed doors" Netflix series was released.
The minute-long clip features previously unseen pictures of the Duke and Duchess of Sussex, including tearful images of Meghan.
The BBC's Daniela Relph, who is in Boston, says not to expect the Prince and Princess of Wales to comment on the Netflix series during their US trip. Royal sources say they want to concentrate on meeting communities and local people.
Prince William
and Catherine visited Greentown Labs, near Boston, which brings together start-ups and investors that are trying to create technology that will support the environment.
It is described as a community for climate pioneers, and has supported more than 500 companies since it was founded in 2011.
During the visit, eight-year-old Henry Dynov-Teixeira, dressed as a guardsman complete with replica bearskin, handed the Princess of Wales a bunch of red roses.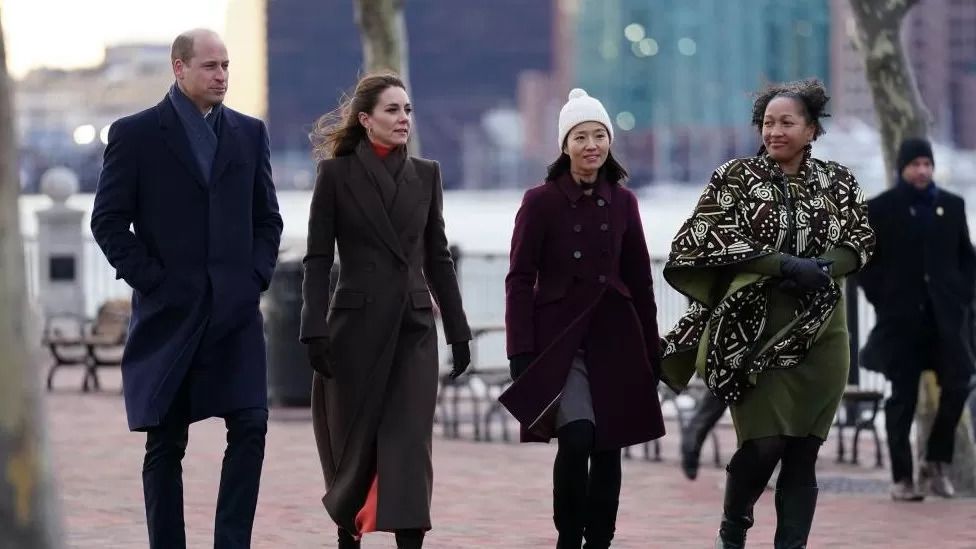 The royals visited Boston Harbour with the city's mayor and Reverend Mariama White-Hammond (right)

The royals later visited Roca, a charity supporting disadvantaged young people at risk of or involved with urban violence, praising their "incredible" work.

The couple were introduced to Molly Baldwin, chief executive officer of Roca, who founded the organisation in 1988 to work with a small group of high-risk young people.

William said: "It's trying to get the message across that there's a grey area between when you look at a young person and see a gap between the potential they have and the trouble they cause.

"As a society how do we tackle that? There is so much happens in between and there is so much potential there."

William and Catherine took their first walkabout of the trip in Chelsea, which is close to Boston, where they received an enthusiastic welcome, with one young woman collapsing in tears.

Later in the day, they toured the Boston Harbour Defences with the mayor of the city, to hear about how the area is contending with rising sea levels.

Five winners of the Earthshot Prize will be announced in Boston on Friday - each of whom will be given £1m ($1.2m) to develop their environmental projects.

The awards ceremony will be a mix of good causes and entertainment - performers include Billie Eilish, Annie Lennox, Ellie Goulding and Chloe x Halle.

Environmental campaigner Sir David Attenborough will voice the opening of the ceremony.

Prince William has said the Earth is at a "tipping point" and the awards are intended to support innovative ways of reducing environmental damage.
Watch: Gleeful 8-year-old meets William and Kate