Prince Louis has been driving a digger as part of volunteering efforts on the final day of Coronation celebrations.
The five-year-old, along with brother Prince George and sister Princess Charlotte, helped Scouts in Slough, while the prime minister made food in a village hall.

People across the UK are being urged to get involved in local projects such as beach cleaning and flower planting.

It is part of a drive to encourage a post-pandemic return to volunteering.

Tens of thousands of charities have been taking part in the Big Help Out, with a total of 30,000 organisations putting on 55,000 events across the UK.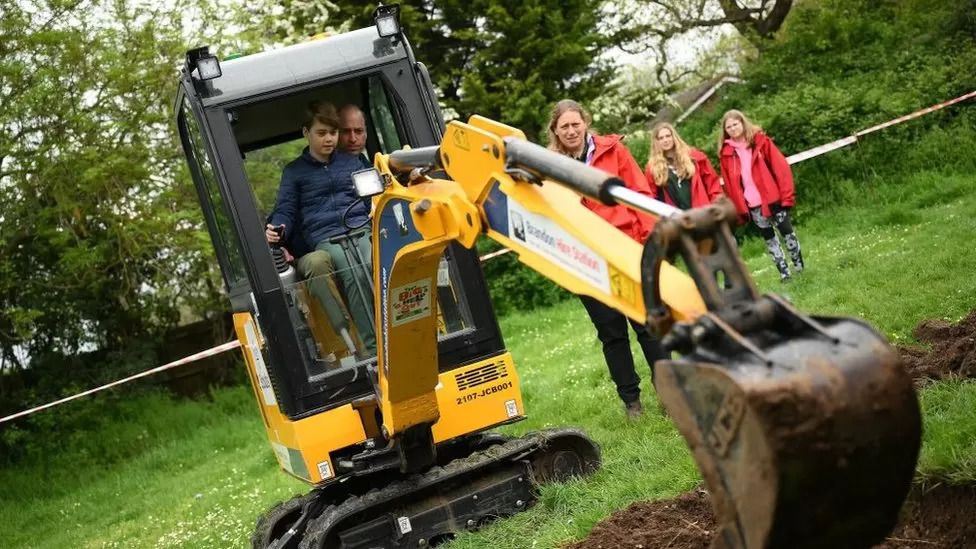 Prince George also joined his father Prince William in the digger

Joining events on Monday, Prince George and Princess Charlotte worked to improve the 3rd Upton Scouts Hut in Slough, while Prince Louis gave his father Prince William a helping hand driving a digger.

The Duke and Duchess of Edinburgh also took part in a puppy class at the Guide Dogs training centre in Reading, while Princess Anne and her husband Sir Tim Laurence were attending a civic service recognising local volunteers at Gloucester Cathedral.

Elsewhere, Prime Minister Rishi Sunak prepared food for the elderly at a Hertfordshire village hall, alongside his wife, Akshata Murthy.

Commenting on the weekend's Coronation events, the prime minister said "no other country in the world" could have put on such a "dazzling spectacle".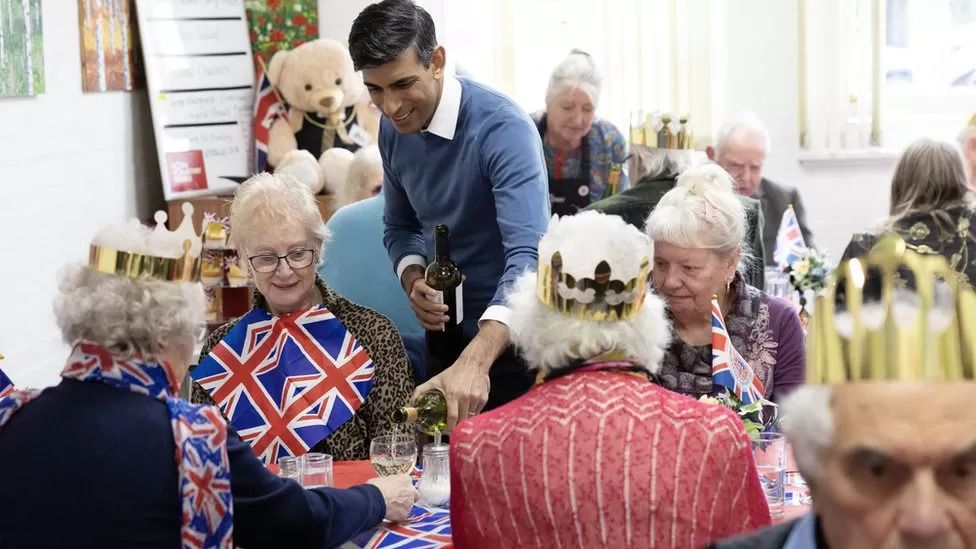 The PM helped out at a community lunch at Mill End Community Centre, Rickmansworth

Sunday saw street parties and the Coronation concert at Windsor Castle.

The King and Queen - who were not due to join Monday's events - enjoyed performances by stars including Take That and Katy Perry at the concert, with other senior royals and thousands of spectators.

It came after King Charles III was crowned alongside Queen Camilla at Westminster Abbey on Saturday, in a service watched by millions of people around the world.

But after the pomp and ceremony of the weekend, Monday has seen a shift of focus to local projects making a difference, and volunteers giving something back.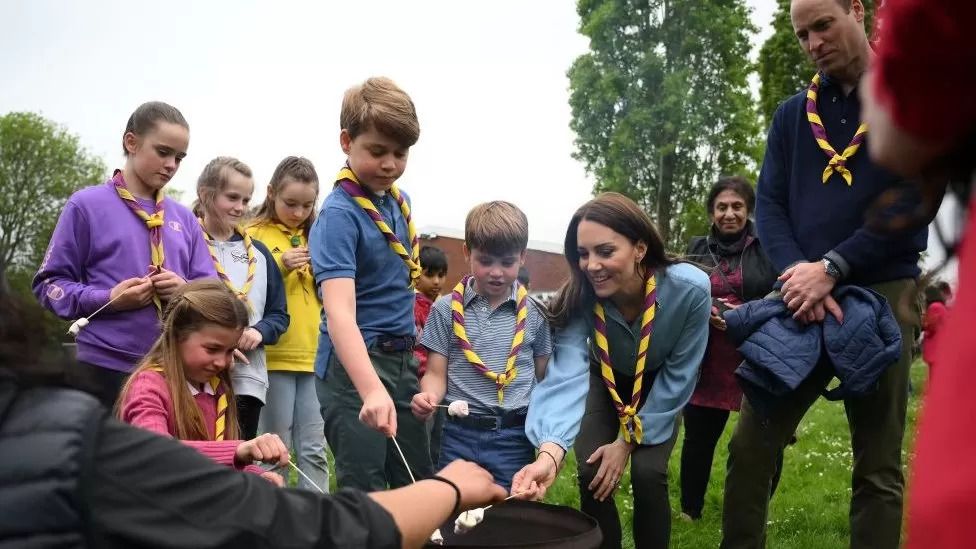 The Royal Family have taken part in a Big Help Out, hosted by Scouts in Slough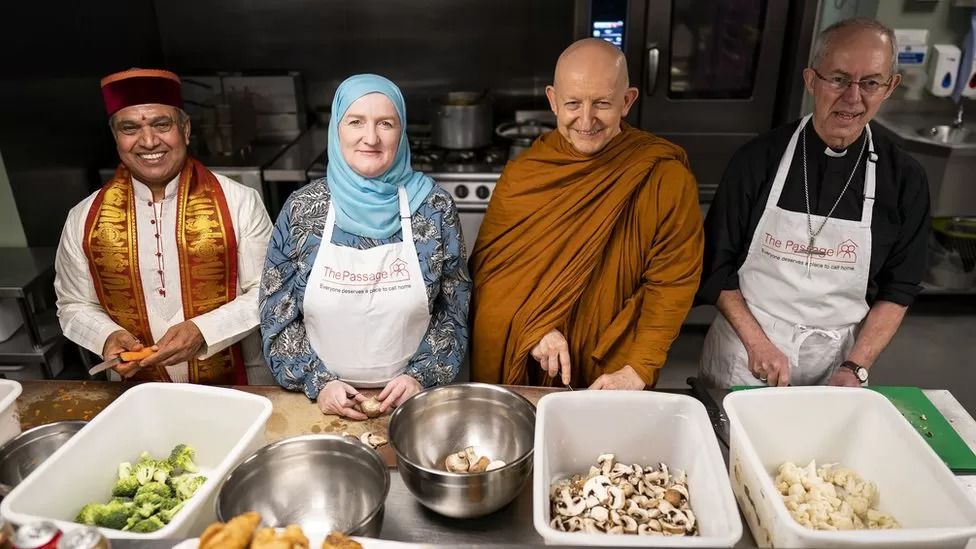 Krishan Kant Attri, Julie Siddiqi, Venerable Ajahn Amaro and the Archbishop of Canterbury Justin Welby prepare food as they join other faith leaders in taking part in the Big Help Out

The Archbishop of Canterbury Justin Welby was spotted helping other faith leaders to prepare and serve meals to the homeless at the Passage in Westminster, central London.

An app and website were set up to allow people to search for volunteering opportunities, which range from helping the elderly to working with environmental charities and supporting animal welfare.

Matt Hyde, co-founder of the Big Help Out and CEO of the Scouts, said it was "not too late" for people to sign up for activities in their area.

He told BBC Breakfast: "The whole theme of this weekend has been about service. We're not just spectators in that, we're part of the story."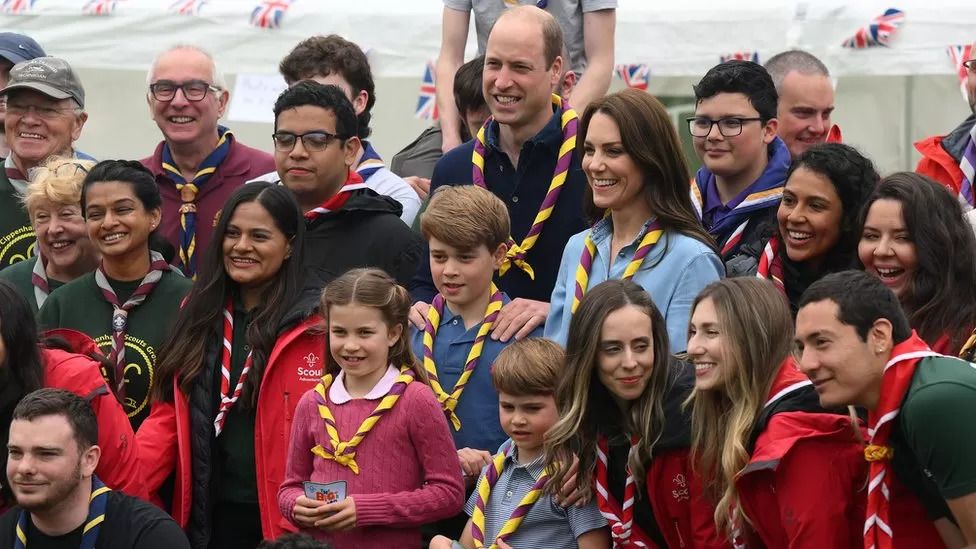 The Prince and Princess of Wales and their three children posed with volunteers for pictures

Brendan Cox, the co-founder of the Together Coalition who is also behind the event, said organisations like his "desperately need" volunteers.

He told BBC Radio 4's Today programme: "Over the Covid pandemic, volunteering rates dropped because organisations that normally recruit weren't recruiting, and people got out of the habit."

And 15-year-old Jay Dzuira - one of the Scouts who has organised an activities session for young people in Brent, west London - said he would "recommend volunteering to anyone".

"Being a Scout really helped me with my socialising skills. Before I didn't socialise a lot. Now I'm a youth leader and it is a really enjoyable experience."

In Brockham, Surrey, people have spent several months making a crown entirely of recycled materials, which will act as a focal point for a Coronation party this afternoon, the culmination of four days of events.

"I think it's important to keep history alive and to mark these events when they happen," David Challenger from the parish council told the BBC. "It's about bringing the community together, and we've found it's something people really embrace."

In Wales, international rugby players Leigh Halfpenny and Jamie Roberts joined a litter pick in Newport.

"I think the Coronation's a big event for the British public and it's a time when we should come together, and something like this is a way of doing it," said Roberts.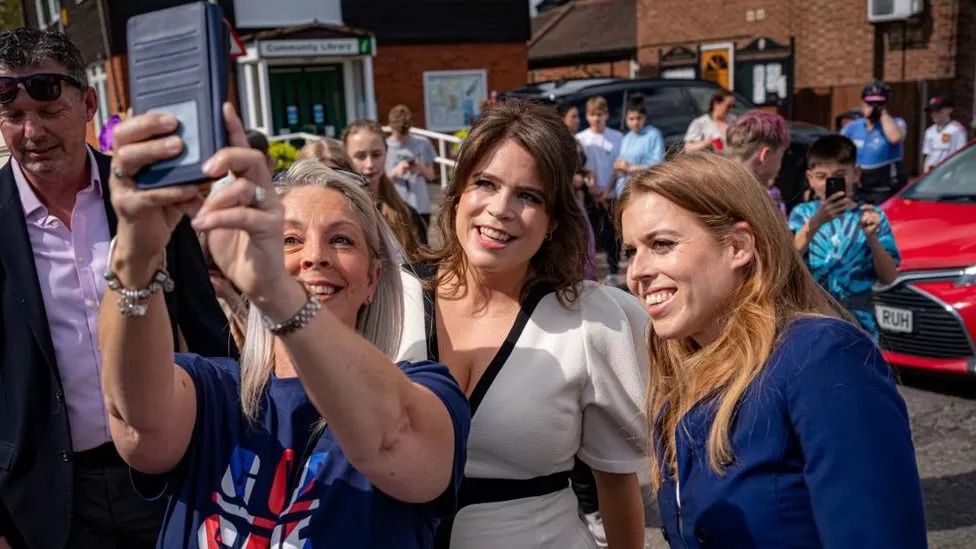 Princesses Beatrice and Eugenie posed for a selfie with a well-wisher while attending a street party on Sunday

A Buckingham Palace spokesperson said the King was "wholly supportive of the Big Help Out initiatives".

Queen Camilla is patron of the Royal Voluntary Service charity and has also been patron of the Big Lunch initiative since 2013.

The royals have been out in force over the weekend as they joined various Coronation events around the country.

Before Sunday's concert, Edward and Sophie attended a Coronation Big Lunch in Cranleigh, Surrey, while the Princess Royal and Sir Tim Laurence went to a community street party in Swindon.

The Duke of York's daughters Princess Beatrice and Princess Eugenie also attended a big lunch in Chalfont St Giles, Buckinghamshire.