Princess Diana would have been "heartbroken" about the conflict with his brother Prince William, Prince Harry has told a US television interview.
He told Good Morning America their mother would have been saddened at the arguments, which he said were fuelled by briefings to a divisive press.

Prince Harry said there had to be "accountability" before reconciliation.

He also ruled out a return to the UK as a working royal.

Prince Harry told ABC News TV interviewer Michael Strahan a return to such a life within the Royal Family in the UK would be "unsurvivable".

"That's really sad, because that's essentially breaking the relationship between us," said Prince Harry, in an interview about his memoir, Spare.


In the book Prince Harry speaks about the traumatic legacy of his mother's death in a car accident in 1997 - but says Diana would now be sad to see the dispute between her sons, with Prince Harry seeing William as his "arch nemesis" as well as "beloved brother" and describing a physical altercation between them.

"I think she would be looking at it long term to know that there are certain things that we need to go through to be able to heal the relationship," he said in the interview.

He also spoke about his relationship with Camilla, the Queen Consort, saying they hadn't spoken for a long time, but he didn't think of her as an "evil stepmother".

Prince Harry said he had compassion for her as the "third person within my parents' marriage".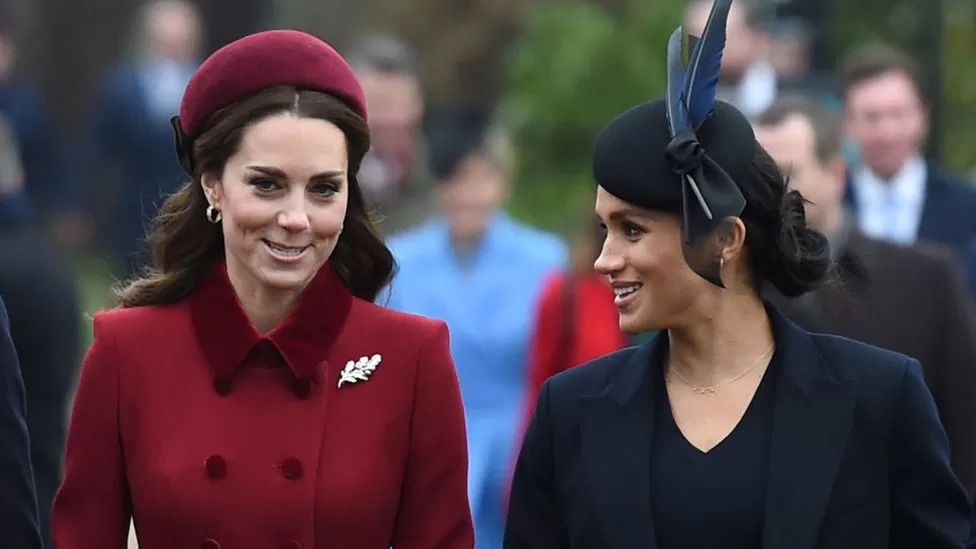 It was soon presented as "Meghan versus Kate", says Prince Harry about the sisters-in-law

"She had a reputation and an image to rehabilitate. And whatever conversations happened, whatever deals or trading was made right at the beginning, she was led to believe that would be the best way of doing it," he told the US news show.

These claims, presenting Prince Harry's view of events, have so far not drawn a response from Buckingham Palace or Kensington Palace.

In an ITV interview on Sunday, Prince Harry had accused the Royal Family of failing to defend his wife Meghan - with overnight viewing figures showing it had been seen by an audience of 4.1 million viewers, behind Call the Midwife and Happy Valley which drew over 5 million that evening.

Prince Harry highlighted the controversy over a Jeremy Clarkson newspaper column, saying the "silence is deafening" from the Royal Family about what he called the "horrific" Sun article.

He contrasted this with the quick action taken after a race row at a Buckingham Palace reception.

The Clarkson article about Meghan had described how the columnist was "dreaming of the day when she is made to parade naked through the streets of every town in Britain while the crowds chant 'Shame!' and throw lumps of excrement at her".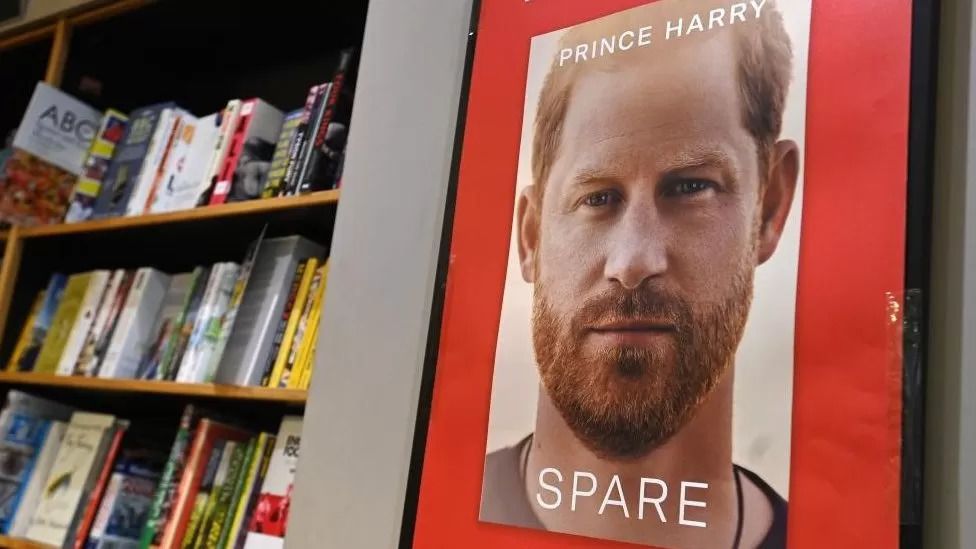 A poster in a London bookshop promoting Prince Harry's book

Later taken down by the Sun and prompting an apology from the paper and Mr Clarkson, the article was described by Prince Harry as "horrific and hurtful and cruel towards my wife".

"The world is asking for some form of comment from the monarchy. But the silence is deafening. To put it mildly," he said.

"Everything to do with my wife, after six years, they haven't said a single thing.

He also said he believed that stereotyping about Meghan - as an "American actress, divorced, biracial" - had been a barrier to Prince William and Catherine "welcoming her in" to the family.

"Very quickly it became Meghan versus Kate," he said of how the relationship was presented in the media, also saying it was fair to say "almost from the get-go" that the sisters-in-law did not "get on".

Prince Harry accused the Royal Family of "getting into bed with the devil" to improve its image - which he linked to relationships between "certain members of the family and the tabloid press".

The prince contrasted the lack of a royal response to the Clarkson article with the events that followed an encounter at Buckingham Palace between Lady Susan Hussey and Ngozi Fulani, just three weeks earlier.

While attending an event, Ms Fulani - a black British charity founder - was challenged repeatedly by Lady Hussey about where she was "really from".

The controversy that followed produced a rapid apology.

Prince Harry defended Lady Hussey, saying "she had never meant any harm at all". But he contrasted the reconciliatory meeting held between her and Ms Fulani at Buckingham Palace with the response to Prince Harry and Meghan's complaints.

Prince Harry also gave an interview to Anderson Cooper for 60 Minutes on CBS News, which aired a few hours after ITV's show, and saw him speaking about Camilla, the Queen Consort, and her relationship with the media.

Cooper asked the duke about comments he made in his memoir suggesting that Camilla would be "less dangerous" if she was happy.

Prince Harry said Camilla's need to "rehabilitate her image" and her "willingness" to forge relationships with the British press made her dangerous.

"And with a family built on hierarchy, and her on the way to being Queen Consort, there was going to be people or bodies left in the street because of that."

The ITV interview had also returned to Prince Harry and Meghan's previous claim - made in a 2021 interview with Oprah Winfrey - that a member of the Royal Family had raised questions about the skin colour of their future child.

Prince Harry again did not name the individual - and suggested this might have been a case of "unconscious bias" rather than racism.

Asked if he would see the questioning as racist, he said: "I wouldn't, not having lived within that family."

He rejected that he had accused members of the Royal Family of racism in the Oprah interview, saying the "British press had said that".

Prince Harry made repeated criticisms of the tabloid press - saying that it was his "life's work" to change the media landscape.