The Duke of Sussex has said the fight against HIV was a "big piece of my mum's legacy", in a message marking the 40th anniversary of the Terrence Higgins Trust sexual health charity.
Prince Harry, recalling his mother Princess Diana's ground-breaking awareness-raising efforts, said he was proud "to continue her advocacy".

He said Diana had shown empathy for those with HIV at a time of "fear".

At the height of the epidemic, she made high-profile visits to HIV patients.

"Like many, my mother grew up in a world where HIV was likely a death sentence," wrote Prince Harry in a message to the charity.

"Yet, in the midst of all that uncertainty, she led with empathy, finding the humanity in all around her and demonstrating the power of connection in the face of fear."

Prince Harry said the goal was to end transmissions of HIV - and emphasised the importance of testing and "eradicating stigma".

"Though the last 40 years have shown significant progress, we cannot slow down now, we must finish the job," wrote Prince Harry, in a message to the Terrence Higgins Trust.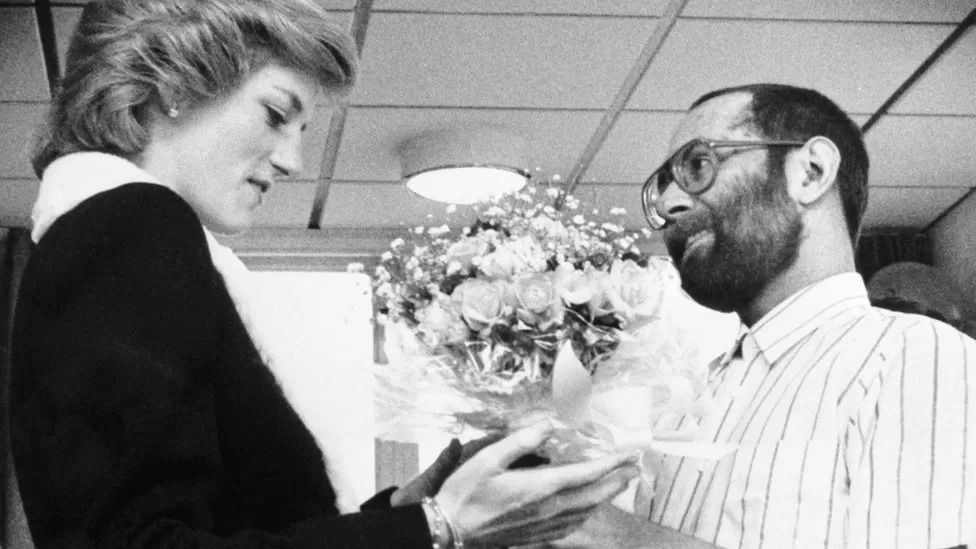 Princess Diana on a 1989 visit to a hospice for HIV patients

Leaders of the charity have previously spoken of the great importance of Princess Diana's role in tackling the taboos around HIV and Aids-related illnesses in the 1980s.

Former chief executive Ian Green described her "momentous impact on public perceptions of HIV".

"With every gloveless handshake and every hug, she helped to challenge the hysteria and fear which was rife at the time," said the charity head.

"HIV does not make people dangerous to know," Diana had said when opening the UK's first specialist HIV/Aids ward in London in 1987. "You can shake their hands and give them a hug,"

Prince Harry's memoir, Spare, highlighted his great sense of unresolved grief after Diana's death in a car crash in Paris in 1997, when he was 12.

In an online interview on Saturday with a trauma expert, Prince Harry spoke of his fears that therapy would mean "losing the feeling that I had of my mum... whatever I had managed to hold onto of my mother".

Prince Harry said that growing up he had always "felt slightly different to the rest of my family... and I know that my mum felt the same".

Since it emerged that Prince Harry and his wife Meghan would be invited to his father's coronation in May, there has been much speculation about whether the couple will attend.