Penny Mordaunt has become the first Conservative MP to officially announce she is standing to replace Liz Truss as Tory leader and prime minister.
She was one of the less well-known candidates in the summer Tory leadership contest, but made it through to the final three.

In the first four ballots of Tory MPs in July, she came a clear second behind Rishi Sunak. She eventually lost out to Mr Sunak and Liz Truss in the last round, before Conservative members had the final say.

Her strong showing was rewarded when she was named Leader of the House of Commons by Ms Truss in her first day in office.

Since then, she has impressed colleagues at Westminster with a series of sure-footed appearances and her use of humour in the Commons, at a time when crisis was engulfing the government.

Pressed by Labour shadow Thangam Debbonaire on why she had not even mustered a nod for Ms Truss during Prime Minister's Questions, Ms Mordaunt replied: "My resting face is that of a bulldog chewing a wasp, and people shouldn't read too much into that."

Ms Debbonaire also challenged her about comments she was reported to have made at the Conservative Party conference, that "our policy is great but our comms is shit". The shadow leader suggested the government's policies were "also shhh ... shocking, too".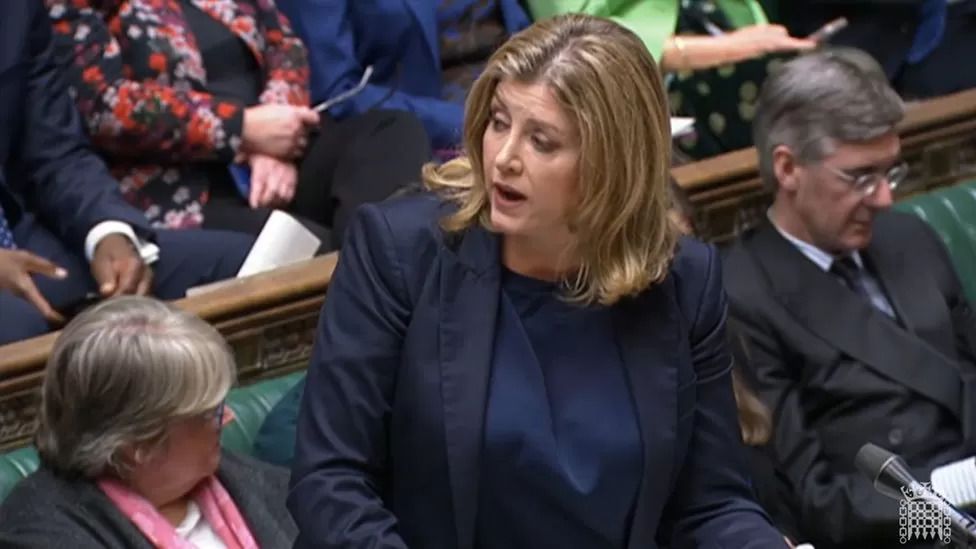 Leader of the House of Commons Penny Mordaunt answering an urgent question from Sir Keir Starmer

Ms Mordaunt said she had been "playing to the crowd as I was addressing a room full of communication professionals" - and added, to cheers from Tory MPs: "It is the anti-growth coalition whose policies are shhh ... shocking."

Just days before Ms Truss announced she was quitting, the Commons leader fronted up for her, answering an urgent question tabled by Labour for the the prime minister.

She denied Ms Truss was dodging scrutiny or hiding "under a desk" by sending Ms Mordaunt to cover for her.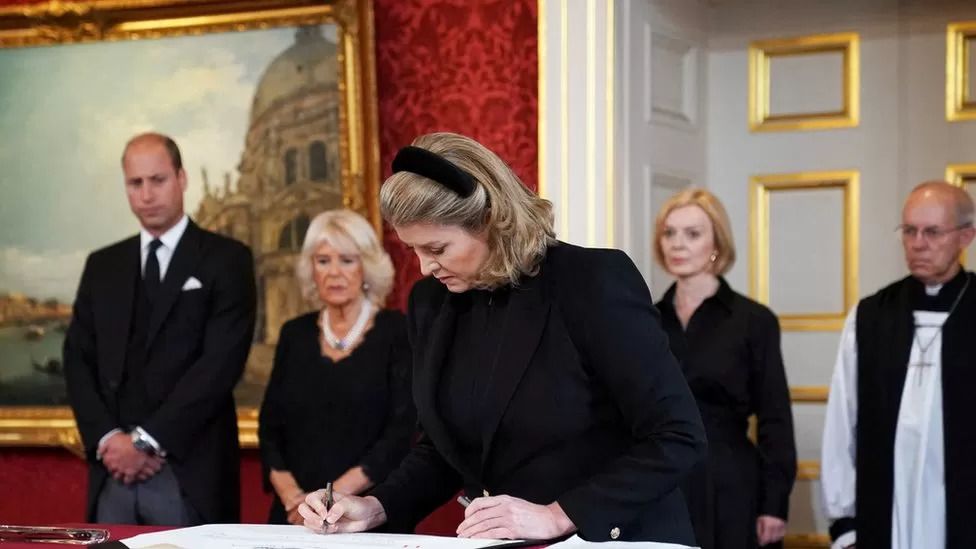 Penny Mordaunt signs the Proclamation of Accession of King Charles III

Meanwhile, Ms Mordaunt raised her profile with the wider public by leading the Accession Council ceremony of the new King at St James's Palace, two days after the death of Queen Elizabeth II.

Her role as Lord President of the Privy Council meant she played a central part in the event - which was televised for the first time.

Opinion polls have suggested Ms Mordaunt is popular with Tory members, and she has put in the work on the so-called "rubber chicken" circuit of Tory fundraisers and charity dinners.

The 49-year-old Portsmouth North MP has been in and around government for the best part of a decade and even had a brief spell as a reality TV star.

She was a prominent backer of Brexit in the 2016 EU referendum.

The daughter of a paratrooper and a special needs teacher, she was born in Torquay but grew up in Portsmouth, and, like Ms Truss, was educated at a comprehensive school, before going to university.

'Having a go'

In an eclectic career before politics, she worked as a magician's assistant, in hospitals and orphanages in post-Communist Romania, and for the Freight Transport Association.

She headed the Conservative Party's youth wing and was a press officer for William Hague when he was leader.

But she is probably best known outside Westminster for taking part in ITV's celebrity diving show Splash! in 2014.

She did not win but earned praised from Tom Daley and other judges for "having a go".

She was armed forces minister under David Cameron and became the first woman to serve as defence secretary. She held the role under Theresa May, but was sacked after a few months when Boris Johnson took over as PM.

Launching her leadership campaign back in July, Ms Mordaunt pitched herself as the candidate "Labour fear the most".

She promised to return to traditional Conservative values of "low tax, [a] small state and personal responsibility".

The trade minister committed herself to a 50% cut in VAT on fuel to help ease the cost-of-living crisis, but did not go as far as some other candidates in the leadership race in offering tax cuts.

And writing in the Daily Mail, Ms Mordaunt - a Royal Navy reservist - promised to honour the UK's Nato commitment of spending 2.5% of GDP on defence by 2030.

At her launch event in Westminster, Ms Mordaunt declined to describe Mr Johnson as a good prime minister, thanking him for delivering Brexit but pledging to restore "standards and trust".

She promised to put "power back into the hands of parents" through personal budgets allowing them access to subsidised childcare at any time before their child started school.

Challenged on trans rights

Supporters of other candidates criticised Ms Mordaunt for supporting trans rights when she was equalities minister and the so-called "culture war" issue was raised by journalists.

Asked where she stood on gender, the trade minister replied: "I think it was Margaret Thatcher who said 'Every prime minister needs a Willie [then Deputy Prime Minister Willie Whitelaw]'. A woman like me doesn't have one.

"I'm a woman, I'm biologically a woman. If you've been in the Royal Navy, and you have competed physically against men, you understand the biological difference between men and women."

Ms Mordaunt came under fire from former Brexit minister Lord Frost who said he had "grave reservations" about the idea of her becoming PM.

He told TalkTV: "She was my deputy - notionally, more than really - in the Brexit talks last year.

"I felt she did not master the detail that was necessary in the negotiations. She wouldn't always deliver tough messages to the European Union when that was necessary.

"She wasn't fully accountable, she wasn't always visible. Sometimes I didn't even know where she was."

During the Brexit referendum, Ms Mordaunt provoked a row when she told the BBC the UK could not veto Turkey joining the European Union.

An hour later, David Cameron told ITV that was "absolutely wrong".

Later that year she was in the headlines again for a speech she gave in the Commons on poultry welfare, which turned out to be an excuse to slip some very unparliamentary language into proceedings.

She admitted she had made the speech - with its liberal use of the words "lay", "laid" and "cock welfare" - for a bet.