The sporting hero, nicknamed "The King" because of his supreme footballing ability, died last week at the age of 82 following a long battle with colon cancer.
Thousands of football fans are saying a final farewell to Brazil football hero Pele at the home of his former club Santos.

The coffin of the three-time World Cup winner was carried to the centre circle of the Brazilian's club's Vila Belmiro stadium where he will lie in state for 24 hours.

The sporting icon, nicknamed "The King" because of his supreme footballing ability, died last week at the age of 82 following a long illness with colon cancer.

Pele played almost his entire club career at Santos, a satellite city of Sao Paulo, where he grew up.

He played 656 competitive matches for the side, helping them to numerous trophies, including six Brazilian league titles.

After lying in state at the Vila Belmiro stadium, Pele's casket will be carried through the streets of Santos to the home of his 100-year-old mother.

He will then be buried at the Memorial Necropole Ecumenical, a vertical cemetery in Santos, on Tuesday, with only his family present.

Such is Pele's influence in Brazil, and the wider footballing world, millions of people are expected to descend on Santos over the next few days.

Pictures showed fans sleeping outside the Vila Belmiro stadium overnight and lining the nearby streets to see Pele lie in state.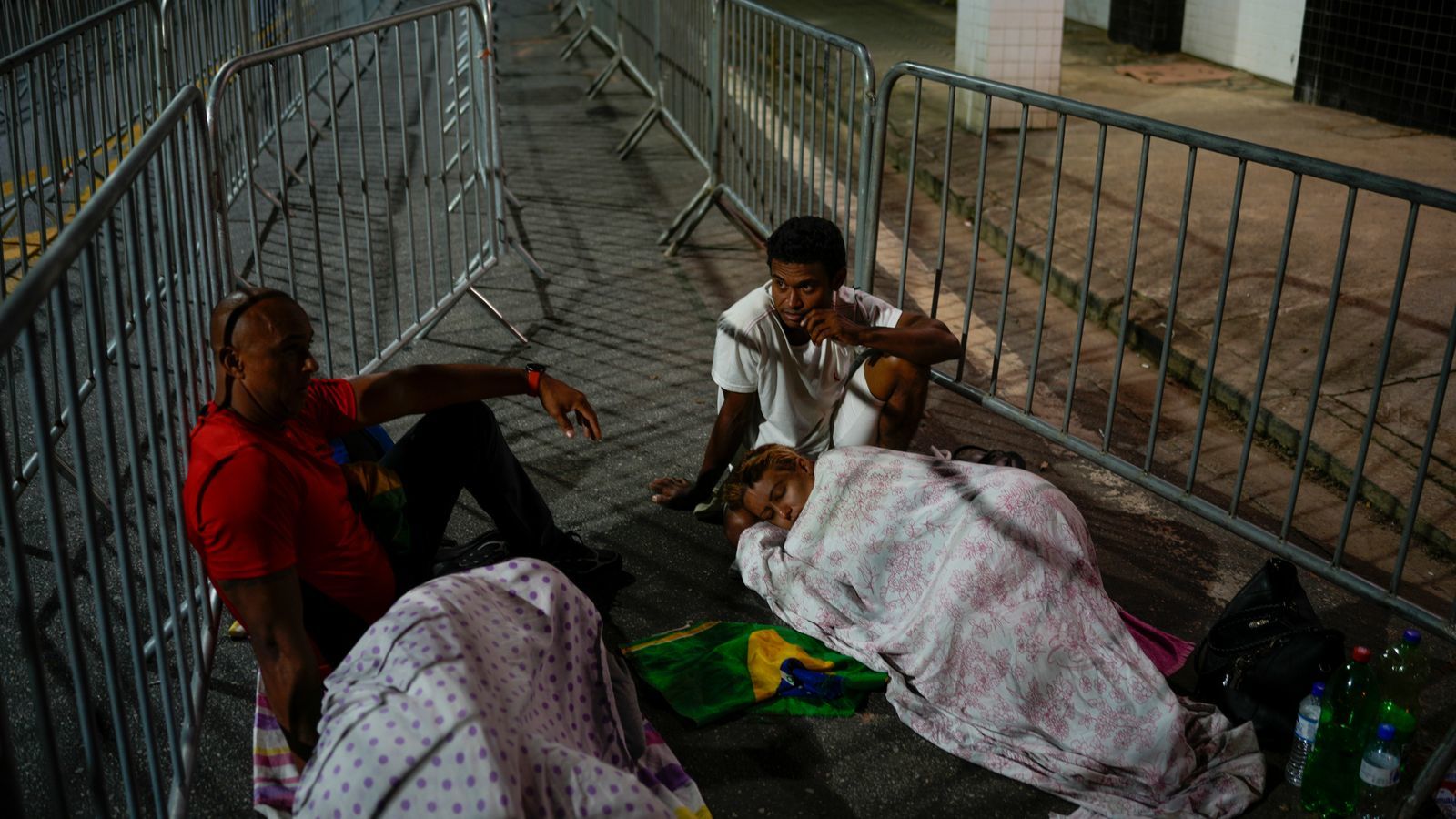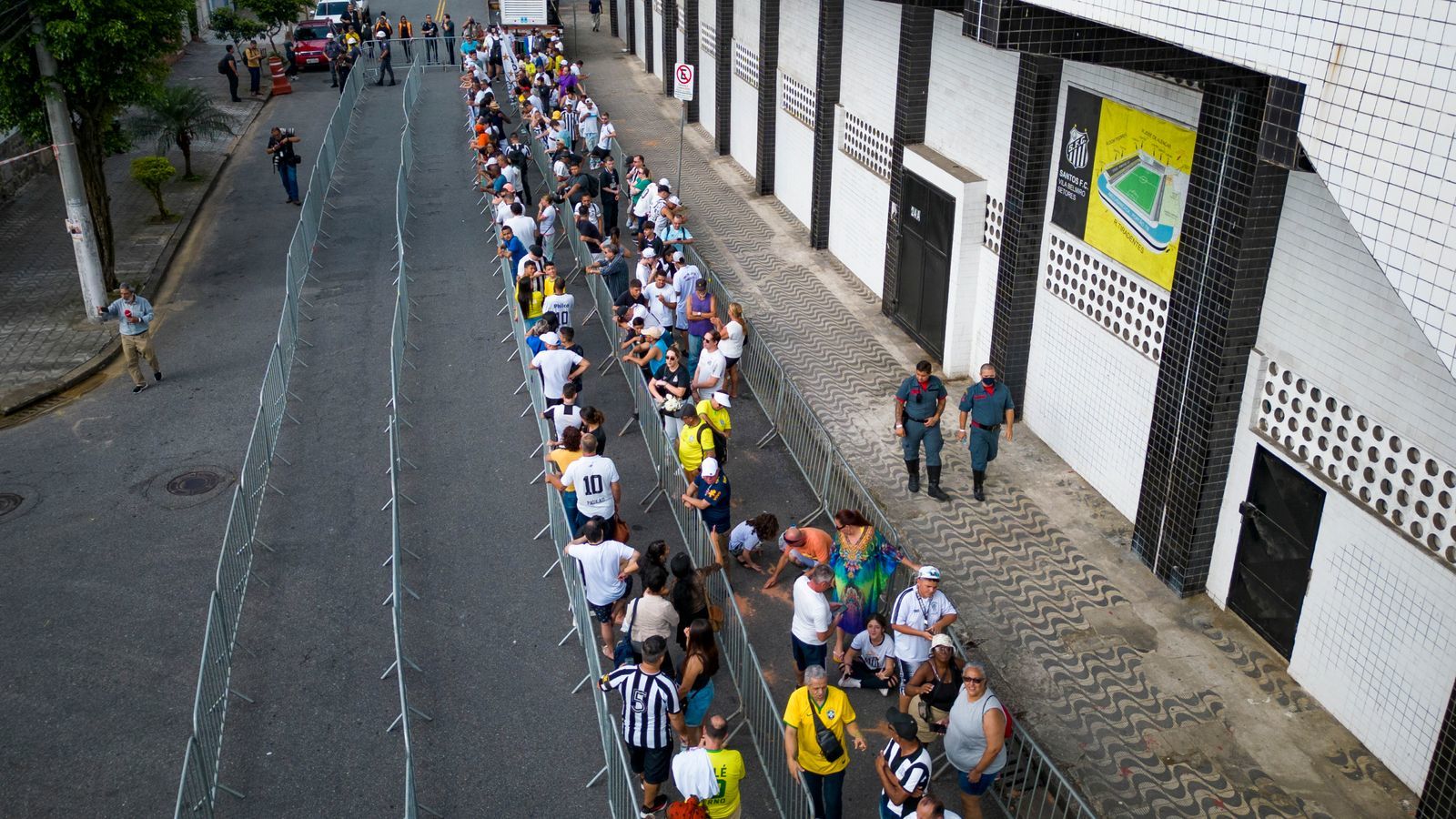 One of the mourners who came to pay his respects was Brazilian Supreme Court Justice Gilmar Mendes.
"It is a very sad moment, but we are now seeing the real meaning of this legendary player to our country," Mendes told journalists.
"My office has shirts signed by Pele, a picture of him as a goalkeeper, also signed by him. DVDs, photos, a big collection of him."
Mendes also said Pele was a humble man despite his global fame, and that he deserved every tribute.
"The expectation is huge, the whole world will be here," said local fan Roberto Santos. "Pele needs no presentation. Pele for us is everything."
He added: "I'll be here all day, 24 hours, from 10am to 10am. Pele deserves it."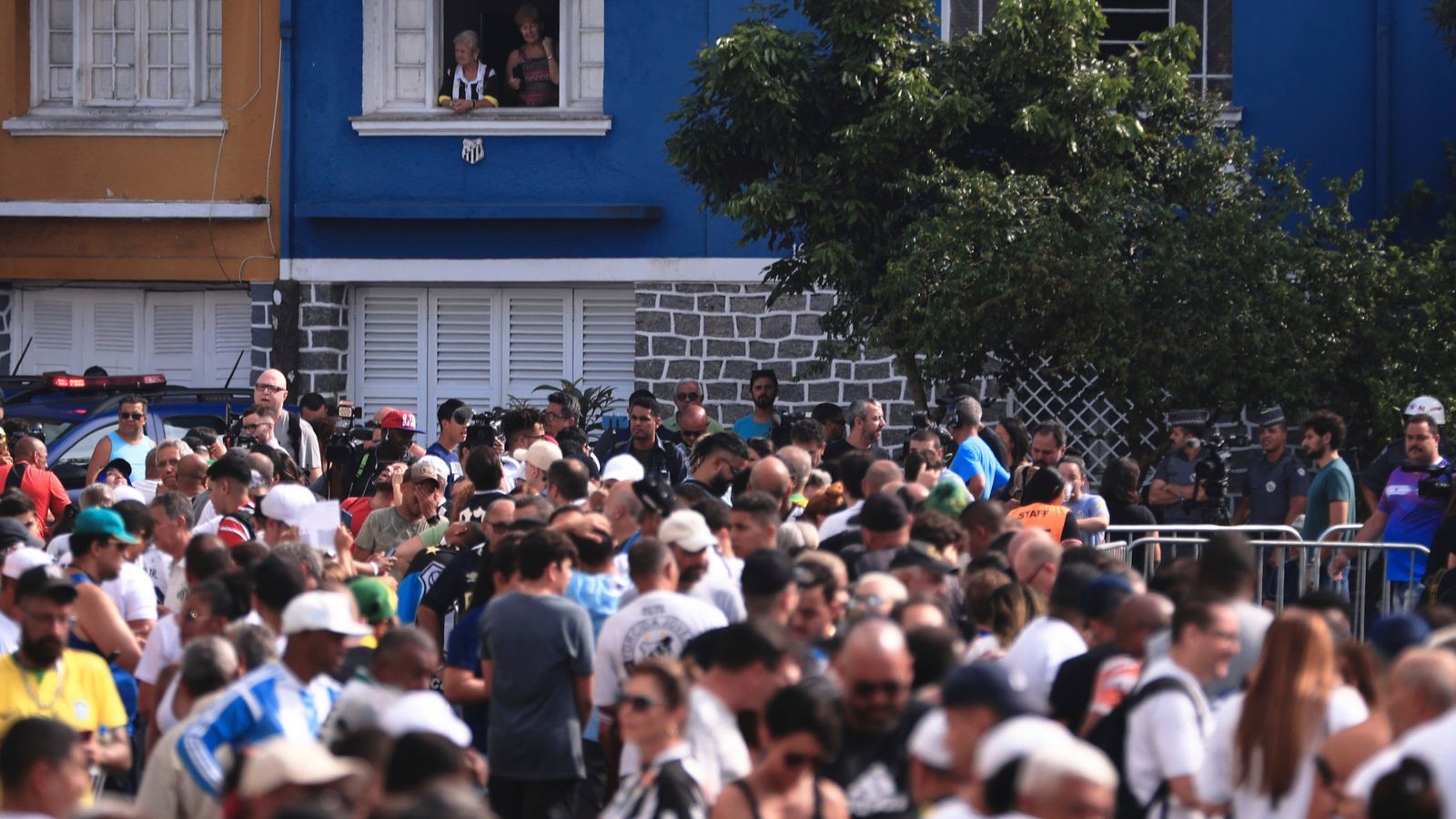 Several authorities are expected to attend the memorial, including newly sworn-in Brazilian President Luiz Inacio Lula da Silva and Vice President Geraldo Alckmin, a long-time Santos supporter.

FIFA President Gianni Infantino joined mourners on the pitch. FIFA will ask every country in the world to name a stadium in honour of Pele, Mr Infantino said on Monday.

He described Pele as an "exemplary sportsman" and added: "Pele had a magnetic presence and, when you were with him, the rest of the world stopped.

"His life is about more than football. He changed perceptions for the better in Brazil, in South America and across the world. His legacy is impossible to summarise in words."

Tributes were paid from across the world following his death on Thursday, while Brazil took part in three days of national mourning.

In England, commemorations were held at every Premier League football match across the weekend.