Paul O'Grady's funeral has taken place near his home in Kent after fans lined the streets to pay their respects - many with their dogs.
The comedian and presenter, who died last month at the age of 67, was laid to rest following a private service.

Fellow comic Julian Clary and actor Michael Cashman delivered readings.

Hundreds of mourners, and their pets, turned out in the village of Aldington to view the cortege and say farewell to the host of ITV's For the Love of Dogs.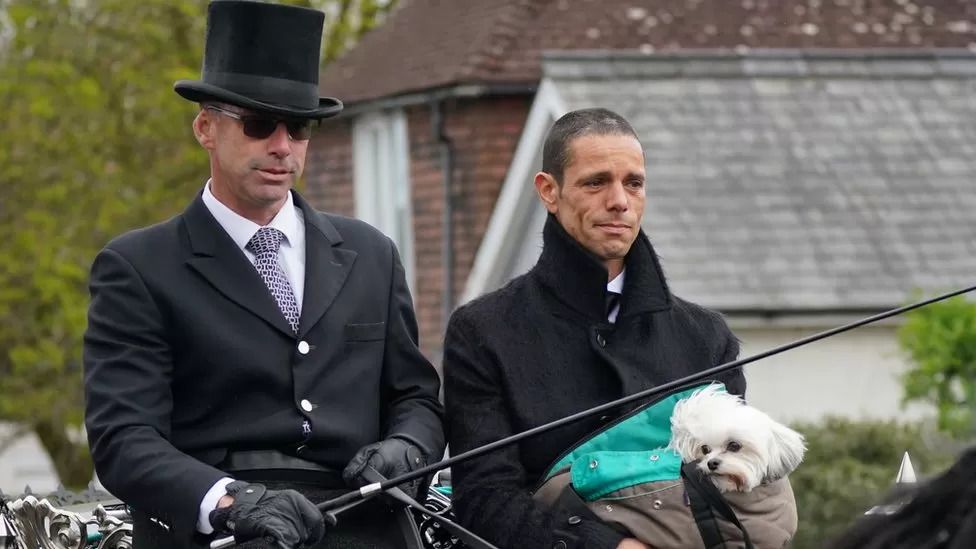 O'Grady's husband Andre Portasio (right) rode with their pet Conchita on the funeral carriage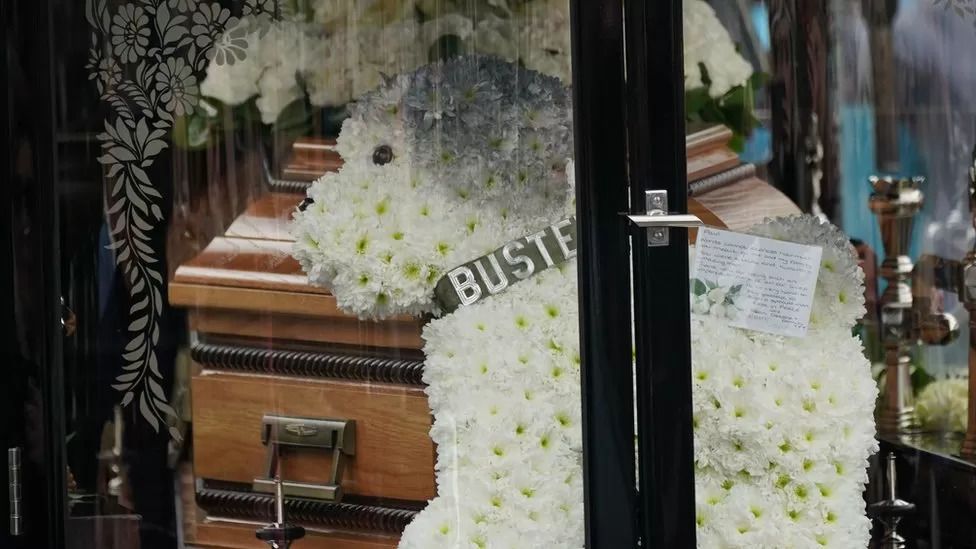 One of the floral tributes was of O'Grady's beloved dog Buster

A horse-drawn carriage carried O'Grady's wooden coffin, along with husband Andre Portasio and their dog Conchita, through Aldington and to St Rumwold's Church in nearby Bonnington.

O'Grady's daughter, Sharyn Mousley, entered with a young man, reported to be O'Grady's grandson, holding the wig of Lily Savage - the comedian's drag alter ego.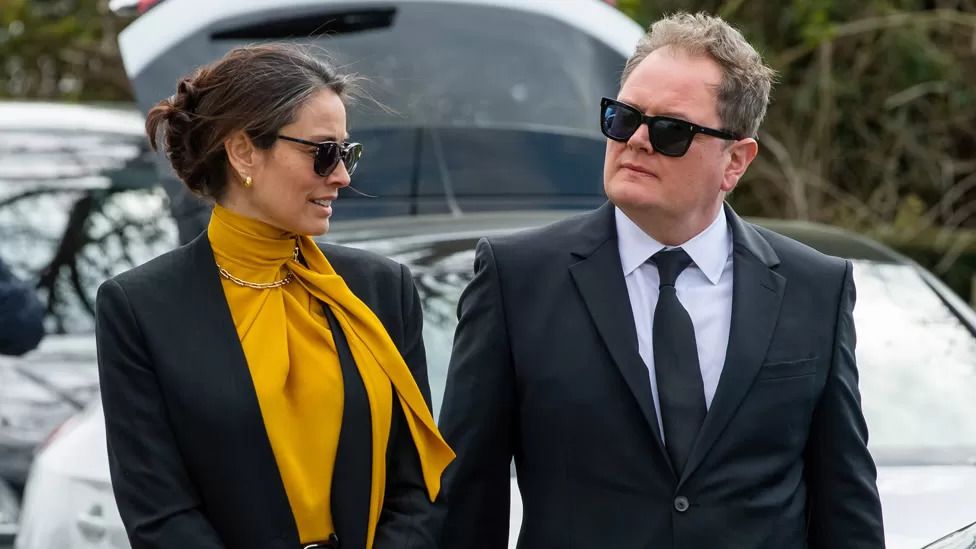 Melanie Sykes and Alan Carr attended the funeral

His coffin was then placed next to the grave of his former partner Brendan Murphy, who died in 2005.

The funeral was also attended by Rolling Stones guitarist Ronnie Wood, actress Dame Sheila Hancock and comics Alan Carr and Jo Brand.

Coronation Street's Sally Lindsay, TV presenter Gaby Roslin, celebrity chef Andi Oliver, LGBT rights campaigner Peter Tatchell and EastEnders actresses Cheryl Fergison and Linda Henry were also there.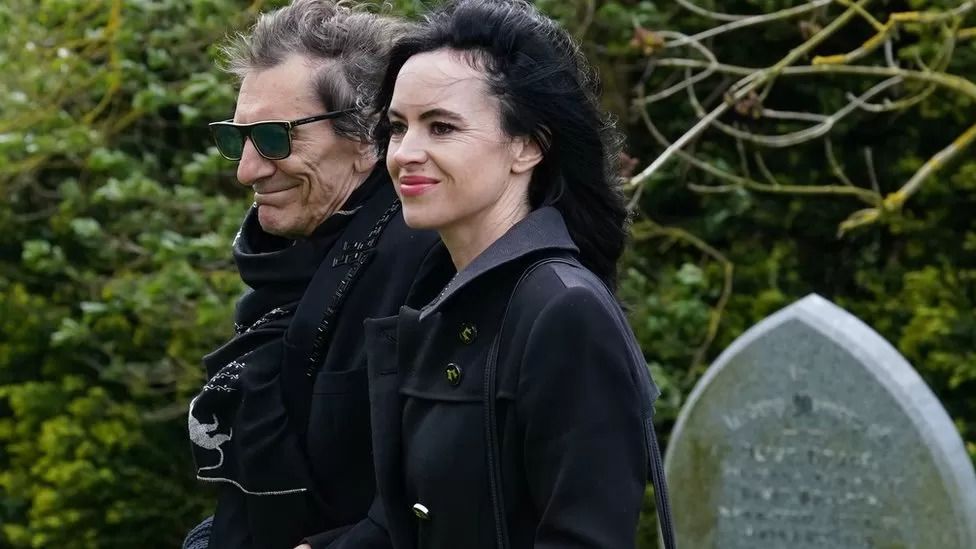 Rolling Stones star Ronnie and wife Sally were among those at the service

A dog called Ernie, from Battersea Dogs and Cats Home, where O'Grady filmed his ITV series, greeted people arriving for the funeral.

Ali Taylor, head of canine behaviour at Battersea, said: "Ernie met Paul two years ago when he was about five weeks old. He's met him several times. We felt he should come along today.

"We're here to really honour Paul and everything he has done for everyone, all the different communities, and especially Battersea."

Another mourner, Astrid Allen, travelled with her dogs from Margate to line the streets in Aldington.

She told the BBC that O'Grady had "put rehoming dogs on the map, and did so much for Battersea, for the LGBT community".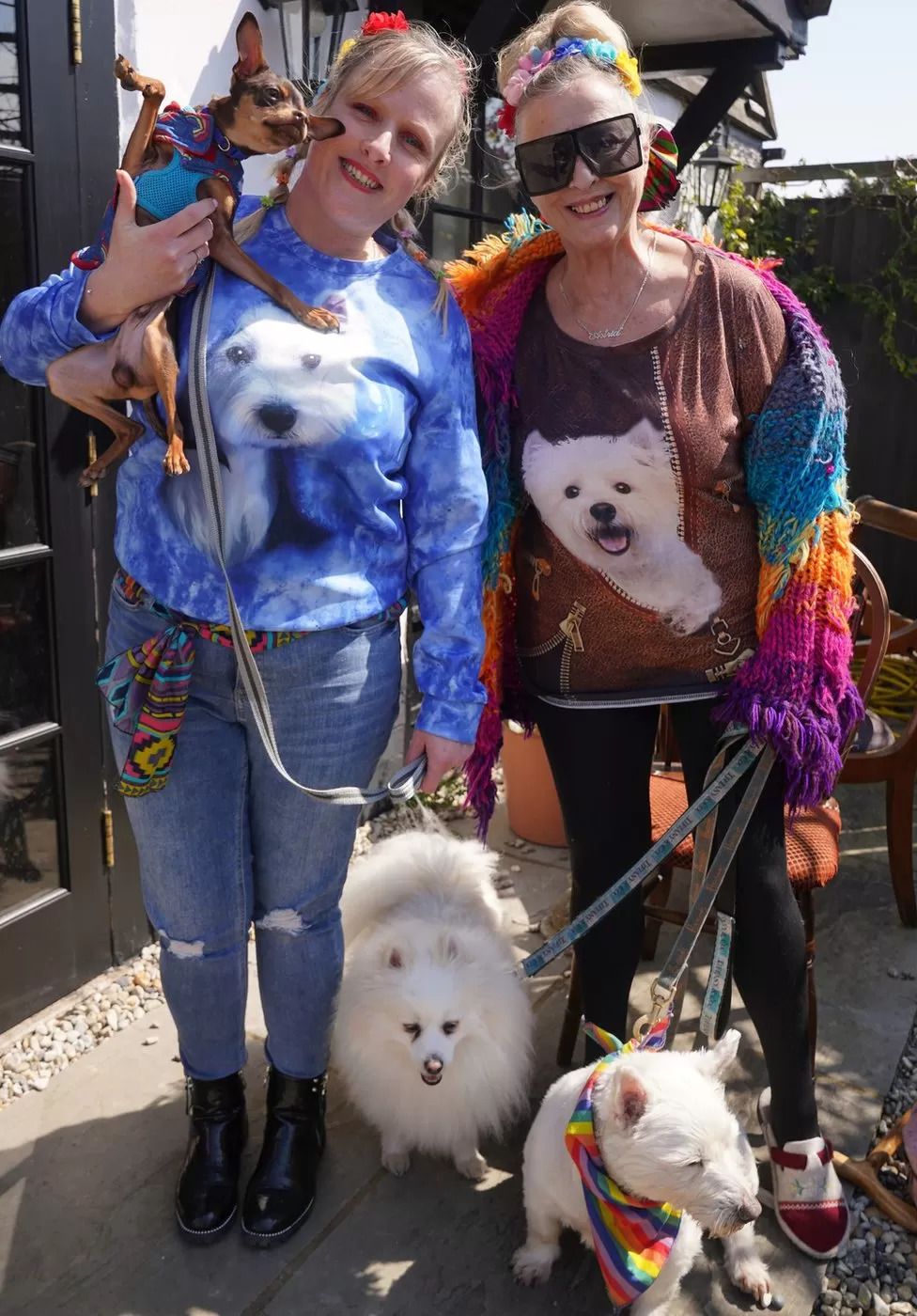 Fleur Boyd (left) and her mother Astrid Allen travelled from Margate

The Reverend Canon Roger Martin described the funeral as a "very fitting send-off" to O'Grady.

The vicar told the PA news agency: "The mood was very jolly. There were some recordings of Paul, favourite clips, a good selection of varied music, it was light-hearted. It was a moving occasion."

The eulogy from Clary as "very entertaining", he said, while Lord Cashman read Shakespeare's Sonnet 18, which begins "Shall I compare thee to a summer's day?"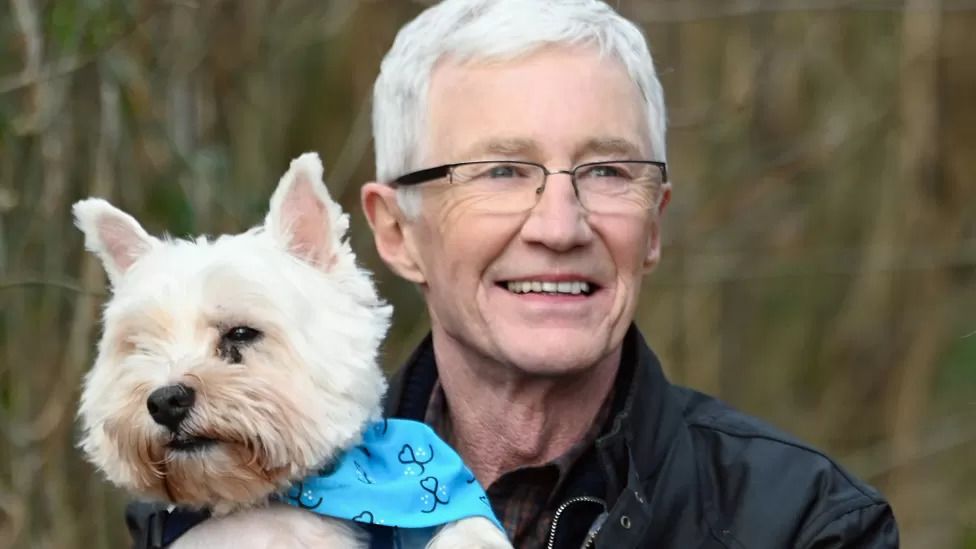 O'Grady reportedly died of sudden cardiac arrhythmia

The music included You Gotta Get A Gimmick from Stephen Sondheim's 1959 musical Gypsy, which O'Grady famously performed as Lily Savage alongside Cilla Black and Dame Barbara Windsor at the 2001 Royal Variety Performance.

The other musical choices included Meditation from the opera Thais by French composer Jules Massenet, which was O'Grady's favourite when he appeared on BBC Radio 4's Desert Island Discs in 2003.

The closing music was Looking For Trouble by Elvis Presley.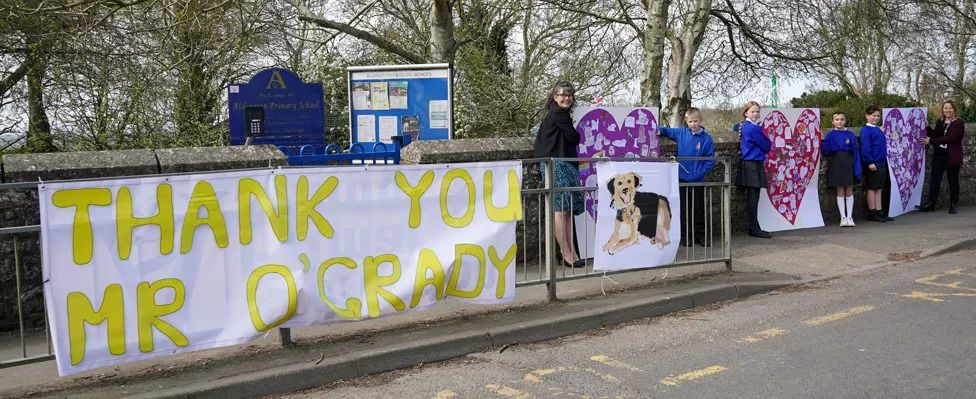 A sign saying "Thank you Mr O'Grady" and collages of dog drawings were placed outside Aldington Primary School

Pupils from Aldington Primary School paid their respects by displaying banners and pictures.

Co-headteacher Ben Dawson recalled: "Everyone who met him would say, what you see on the screen is what you see in real life. He was a larger-than-life character who lit up a room.

"As a community, we took him into our hearts and he took us into his."

Claire Gates, a year two teacher, said: "He was lovely and very, very appreciative of teaching, and always said how he could never do it. He could have lived up the top of the hill and had nothing to do with us, but he didn't. He made a conscious effort."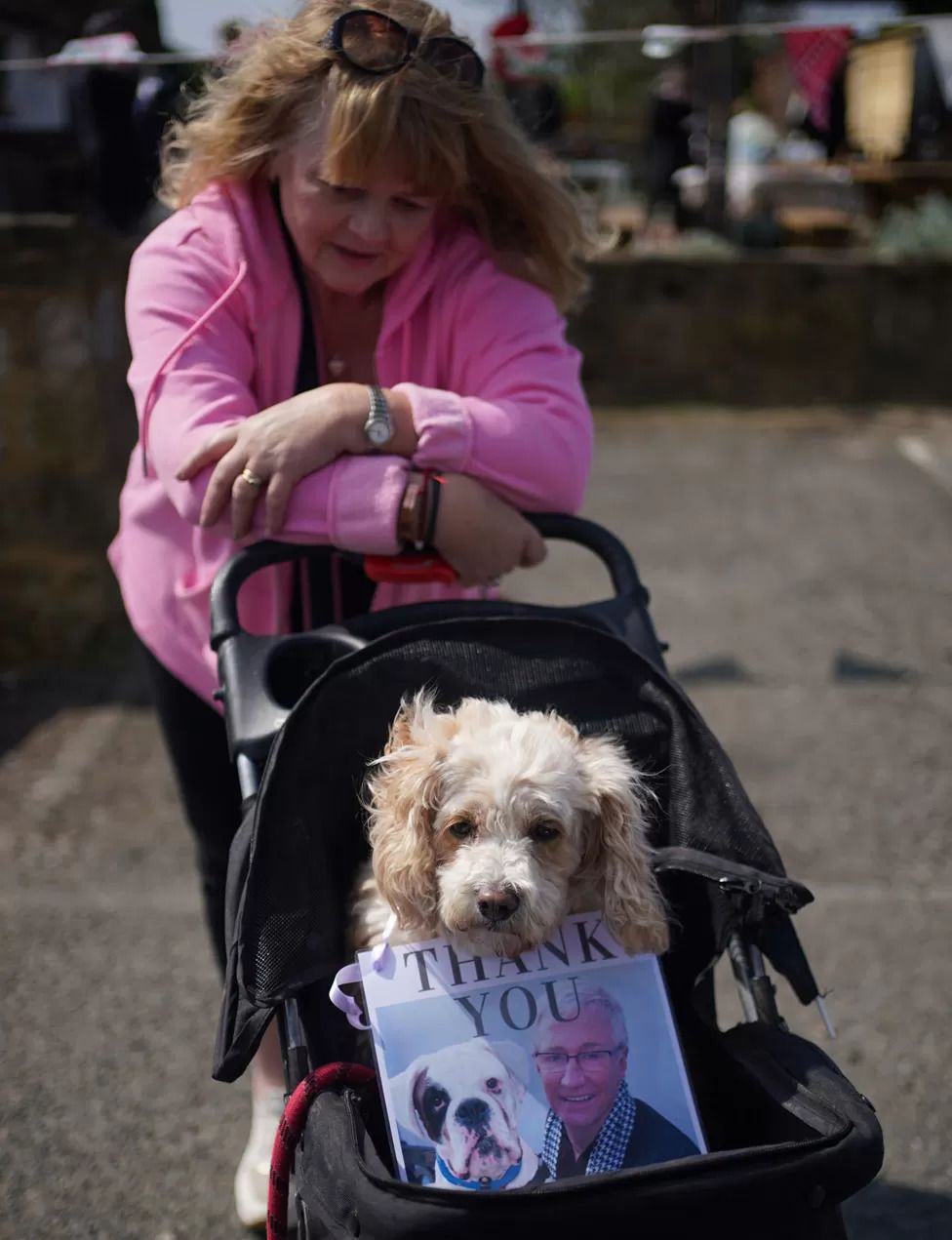 O'Grady had a strong connection with animals, including those on his TV show

The presence of a number of dogs from Battersea signified O'Grady's role as an ambassador for the animal home, as well as the connection through his popular TV series.

Following his death, Battersea set up a "tribute fund", which has raised more than £270,000 for the charity.

Mourners also gathered with their dogs as part of a community event in Birkenhead in Merseyside, where the star was born and grew up.

They had a minute's applause before a sing-along to songs like Who Let The Dogs Out, with fans shouting "Paul!" in response.

As well as For The Love of Dogs, O'Grady was known for his appearances as Lily Savage and for hosting chat and game shows.

According to multiple reports, he died of sudden cardiac arrhythmia. The British Heart Foundation describes sudden arrhythmic death syndrome - or SADS - as when a person dies suddenly following a cardiac arrest where no obvious cause can be found.