Paul Merson has warned Chelsea, Arsenal and Manchester United that January transfer target Joao Felix would flop in the Premier League.
Felix has been heavily linked with a move to the English top-flight with Chelsea, Arsenal and Man United all interested.

The Portugal international is viewed as one of the most highly-rated players in Europe but has endured a turbulent spell under Atletico Madrid boss Diego Simeone and is reportedly open to leaving.

Chelsea want to bolster Graham Potter's attacking options, having scored just 19 goals in 15 Premier League games this season.

Arsenal are also keen to sign a new forward following the injury star striker Gabriel Jesus suffered during the Qatar World Cup.

Manchester United will be in the market for a new striker in January having released Cristiano Ronaldo during the World Cup.

But the Premier League giants have been warned against signing Felix, with Merson claiming he is too 'lightweight' for the Premier League and incapable of 'bullying' defenders.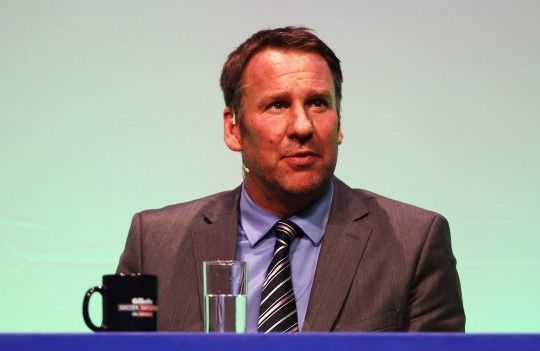 Paul Merson believes the Portugal star would flop in England
Discussing the state of play at Chelsea, Merson told the Daily Star: 'Graham Potter needs two things to be a success at Chelsea – time and money.
'It looks like they are going to back him in the transfer market this month, and I think they badly need a centre forward. But even if he doesn't get them into the top four this season, they should stick with him.
'It's going to take Graham Potter as much time to settle at Chelsea as it would a new player coming to a different league. And he's had a bit of bad luck to be honest.
'Chelsea have a £100m player in Romelu Lukaku out on loan, and two of their most important players are injured.
'They need a striker because they can't blow teams away at the moment. But even if they buy a striker it's a big ask to get in the top four now.
'I've seen Joao Felix linked with them but I think he'd be a bit lightweight in this league and a bit too similar to Kai Havertz. They need to find someone more dynamic who can bully defenders and score goals. But those are hard to find.

'Chelsea need to build a team that can challenge for the title on a consistent basis. But for me they've got to be patient.

'They chased Graham Potter down because they saw how he got Brighton playing over time, and I think they need to give him time too.

'Just be patient. He's buying younger players so he's looking at this as a four or five-year plan, I would have thought. It's no good chopping and changing the manager if you're doing that.'