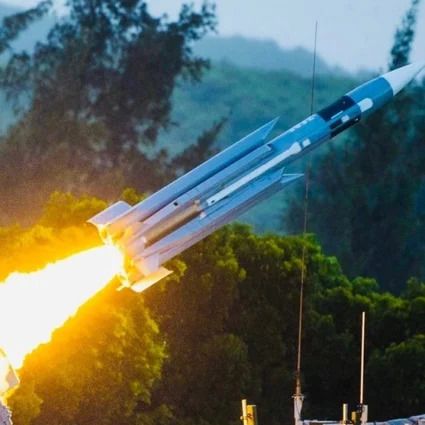 Part of Taiwan's most advanced anti-ship missile sent to mainland China for repairs
The Swiss manufacturer Leica has a repair facility in Shandong province and it was sent there after it was returned to the maker for repairs
Taiwan's top military research unit on Wednesday denied there had been any data leaks after it confirmed that a key component of its most advanced locally developed missile has been sent to mainland China for repairs.

Earlier local media had reported that a theodolite – a precision optical instrument – from the Hsiung Feng III anti-ship missile had been sent to Shandong province for repair.

On Wednesday, the National Chung-Shan Institute of Science and Technology (NCSIST) said the theodolite had been bought in 2021 from Swiss company Leica and it was sent back to the manufacturer for repair recently.

The agency said the unit's memory storage cards had been removed before it was sent back and it had asked the agent to send the part to Switzerland.

But after the repaired theodolite was returned, it was found that the unit had been sent to Taiwan from an airport in Shandong.

Leica explained that its maintenance centre for Asia is in the east coast city of Qingdao so it had been sent there for repairs, the NCSIST said.

"The NCSIST immediately ran an information security check on the equipment and made sure no malware had been installed, thus effectively clearing security concerns," the statement said.

The NCSIST also said that it was discussing measures to make sure that similar sensitive equipment would not be sent to mainland China for maintenance in the future for national security reasons.

A theodolite is a precision optical instrument for measuring angles between designated points.

Following local media reports that the part might contain information such as the locations of missile positions, the NCSIST stressed that the theodolite in question is used to launch the missiles, not for flight control positioning.

The incident underscores the interdependence of economies in a globalised environment.

Taiwan's Chinese-language Mirror Media Weekly, which broke the story, said that Chinese-made semiconductor chips and parts were used in other NCSIST products, including a surveillance system.

The NCSIST however said no essential components for its other products were sourced from mainland China.

The Hsiung Feng III, or Brave Wind 3, is a supersonic anti-ship cruise missile and has been touted as the island's best way of deterring an attack from the PLA Navy.

The missile has an operating range of 400km (320 miles) and is believed to be able to reach a maximum range of 1,500km with boosters. It can also attack targets on land.

The Hsiung Feng III was first tested in 1997, and it has been deployed on the Taiwanese navy's Kang Ding and Cheng Kung-class frigates since 2007.

In 2016, a Hsiung Feng III misfired during a training exercise, hitting a fishing boat about 75km away, killing the captain and injuring its three crew members.