P&O Ferries has sparked outrage after sacking 800 staff with plans to replace them with cheaper agency workers.
Staff were told in a video call that Thursday was their "final day of employment", but some refused to leave their ships in protest and were removed.

P&O said it was a "tough" decision but it would "not be a viable business" without the changes.

But the government called the workers' treatment "wholly unacceptable".

"Reports of workers being given zero notice and escorted off their ships with immediate effect while being told that cheaper alternatives will take up their roles shows the insensitive way in which P&O have approached this issue," said Robert Courts, parliamentary under secretary for transport.

"I am extremely concerned and frankly angry at the way workers have been treated by P&O," he said.

Mr Courts said the company had told him it will be suspending services for "a week to 10 days while they locate new crew" on the Dover to Calais, Larne to Cairnryan, Dublin to Liverpool and Hull to Rotterdam routes.

P&O Ferries services scheduled for Thursday included 14 between Dover and Calais, three between Liverpool and Dublin and seven between Larne in County Antrim and Cairnryan in Dumfries and Galloway.

The RMT union is threatening legal action against P&O, calling it one of the "most shameful acts in the history of British industrial relations".

Protests on Friday are being organised in Dover, Liverpool and Hull.

The BBC has seen details of a contract for handcuff-trained security professionals which began two days before they were deployed to Dover to remove staff from ferries.

TUC General Secretary Frances O'Grady said P&O's "secret plan" to sack staff with no notice was "reprehensible".

P&O passengers were told to use DFDS while services were suspended.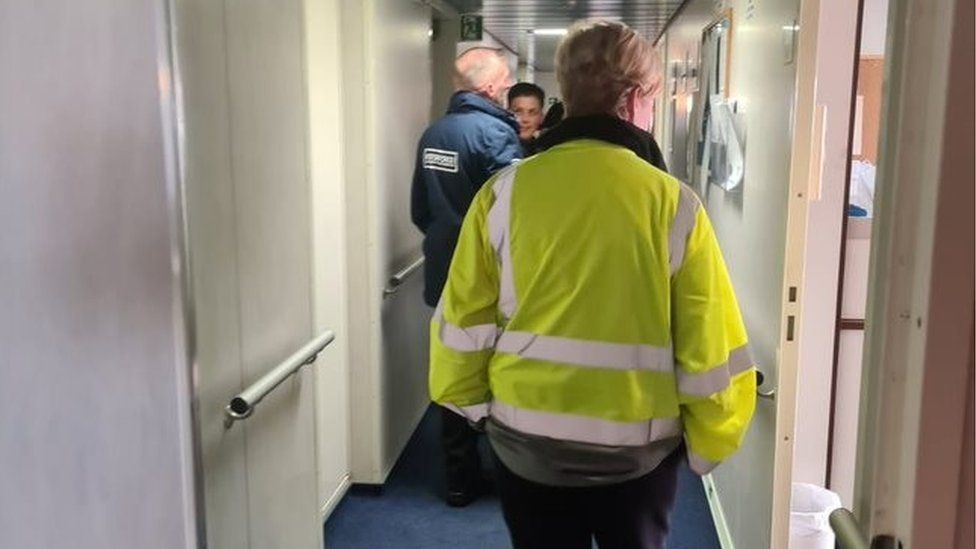 Security staff on board the Norbay in the Port of Liverpool

Crew on one ship docked at Larne Harbour in Northern Ireland had lifted the gangway after private security officers arrived to remove them.

The crew has now left the ship and Gary Jackson, a full time officer and RMT union member onboard the Pride of Hull, said they were "absolutely devastated".

"At 11am ratings and officers were informed there was going to be a pre-recorded Zoom meeting. After that two to three-minute call all the crew were made redundant," he said.

"I've seen grown men crying on there because they don't know where they're going to go from today."

James, who has worked for P&O Ferries in Dover for around four years, said he felt abandoned by the company after all he received "was a three minute pre-recorded message saying we are out of a job. Nothing else."

"It was a complete surprise. I would have understood if it was at the height of Covid, but now we're seeing the end of travel restrictions and the start of summer bookings. So this has come completely out of the blue," James said.

Mark Canet-Baldwin, from Hull, was one of the agency workers brought to Cairnryan to take over from the crew that were being sacked, but after talking it through with his wife, he said: "I felt I can't do it."

"I felt sick to my stomach. And I walked off. Two others came with me. It's just wrong."

Are P&O's actions legal?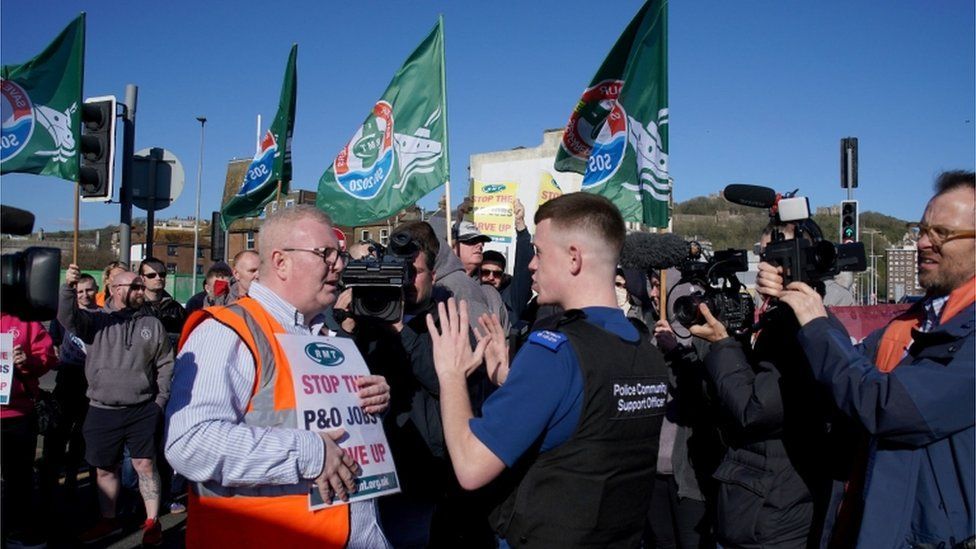 RMT union members blocked traffic in Dover today in response to the 800 redundancies announced by P&O Ferries

Workers are reported to have been escorted off their ships while being told that cheaper alternatives will take up their roles.

"The approach adopted by P&O is not unheard of, but it is exceptional to forego appropriate notice and consultation processes," said Nathan Donaldson, employment solicitor at Keystone Law.

He said a government review of firing and rehiring in November 2021 did not outlaw the practice but emphasised "that it should be a process of last resort".

Rustom Tata, chairman and head of the employment group at law firm DMH Stallard, said P&O's actions would affect the brand's reputation due to the "apparently wholly planned approach being taken to such a large proportion of its workforce ignoring some of the basic fundamentals of employee relations."

Ann Francke, chief executive of The Chartered Management Institute, said P&O had "got it very wrong".

"It's shocking and appalling. It's like management behaviour from another era," she said.

P&O said its survival was dependent on "making swift and significant changes now".

"We have made a £100m loss year on year, which has been covered by our parent DP World. This is not sustainable. Without these changes there is no future for P&O Ferries."

The cross-Channel operator said on Twitter that sailings between Dover and Calais scheduled for Thursday will no longer run, and customers with tickets were instructed to sail with rival ferry company DFDS.

P&O Ferries is one of the UK's leading ferry companies, carrying more than 10 million passengers a year before the pandemic and about 15% of all freight cargo in and out of the UK.

However, like many transport operators it saw demand slump in the pandemic.

The firm claimed almost £15m in government grants in 2020, which included furlough payments for its employees.

P&O is owned by DP World, the multi-national ports and logistics company based in Dubai. It paid a £270m dividend to shareholders in 2020.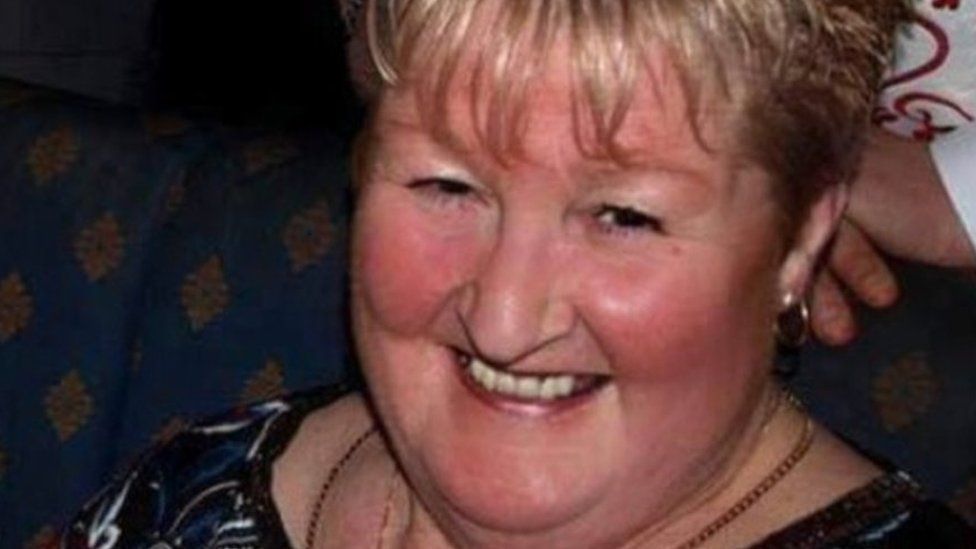 Diane Riley has travelled to Rotterdam for a Northern Soul event
'It was a shock'

Diane Riley has travelled with a friend from Hull to Rotterdam with P&O for a Northern Soul event.

She was on a day trip to Amsterdam on Thursday when she heard from her daughter in the UK that P&O had suspended its services.

"It was a shock," says Diane, adding: "I thought she was joking at first."

She got a text from the company at around 4pm, advising her to return to the ferry to spend the night.

She says passengers have been told they may be put on a DFDS ferry to Newcastle on Friday morning, and will then be taken back to Hull by coach.

"We don't know anything for certain - we'll have to wait and see what happens when we get back to the ferry," she says.

Meanwhile, Lauren Shaw and her husband told the BBC they were booked with P&O to travel on a ferry from Cairnryan to Larne at 4pm on Thursday.

"We had a phone call at 10am to tell us there would be no sailings today and that they hadn't been told a reason why," she said.

They travelled to the port in the hope getting a ferry, but said: "It's really frustrating."
P&O Ferries workers were told via video that it "was their final day of employment"
Sacked P&O employee Andrew Smith said he felt "utter dismay" at losing his job after 22 years' service
Robert Courts says he is "frankly angry" at the way P&O Ferries staff have been treated