Figures for England and Wales show that in year to April 2021, 92% of complaints resulted in no action
Only one in every hundred complaints against police officers has resulted in misconduct proceedings, new figures disclose.

Data released on Wednesday by the Home Office showed that 14,393 complaints were made against officers in England and Wales in the year to 1 April 2021.

Of those, 92% faced no action and only 1% were referred to a formal process to hear cases, initiated when an officer has a case to answer for misconduct or gross misconduct.

Of those subjected to complaints, 1,675 were deemed to be "conduct matters" – where there was a claim that the officer had broken the law or should be disciplined.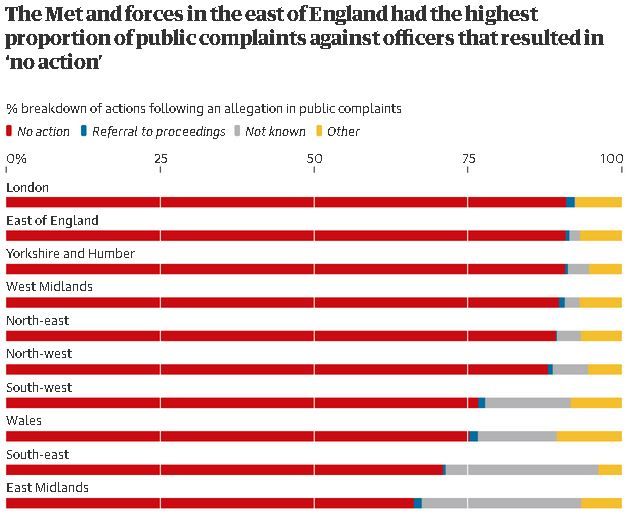 Another 940 complaints accused an officer of conduct that had an adverse effect on a member of the public, including sexual offences, serious assaults or death or injury.

The figures have been released as the conduct of officers faces intense scrutiny in the wake of allegations of high-profile sex crimes by officers as well as the unauthorised strip searches of children.

Nicholas Taylor, an ex-detective at West Midlands police, was last week found guilty of gross misconduct after selling sexual services to strangers via an adult website, including threesomes at an hourly rate of £150.

The Metropolitan police officer David Carrick is due to go on trial in February charged with 44 offences against 12 women, including sexual assault, rape, and coercive and controlling behaviour.

Two teenage girls, known as Child Q and Olivia, were strip-searched by officers while they were menstruating in December 2020. Details of the cases prompted outrage and concerns that they had been treated differently because of their ethnicity. Child Q is black, and Olivia (not her real name) is of mixed ethnicity.

According to the data release, if a complaint was sent to a misconduct meeting – which hears less serious matters – the most common outcome was a written warning, with 67% of meetings involving officers resulting in this outcome.

Of the allegations against police officers that went to a misconduct hearing or accelerated hearing because of an allegation of gross misconduct, the most common outcome was dismissal, with 36% and 49% respectively resulting in this outcome.

Police officers have criticised the length of internal inquiries and the stress that they are often put under by the process.

Sgt Simon Kempton, of Dorset police, was given a final written warning for "gossiping" about the defence case submitted by the former police officer Wayne Couzens, who was subsequently found guilty of the murder of Sarah Everard.

A senior figure in the Police Federation, which represents rank and file members, Kempton shared details he was given by a journalist in an online group chat and was found guilty of misconduct in February after a yearlong inquiry.

Kempton's misconduct hearing was told the officer started one message to his colleagues on the chat app Signal by saying, "Wait until you hear what his defence was."

In an interview this week with Policing TV, Kempton said the "key thing" the Independent Office for Police Conduct (IOPC) should do was to focus on proportionality and timeliness of its investigations.

"It drives a wedge between the officer and the police service, so I've had to be very careful to make sure that wedge doesn't force us too far apart," he said. "It would be very easy to throw your hands up in the air and say: 'Not for me any more.'"

A panel at the Police Federation's annual conference last month was told that there are more than 300 cases with the IOPC that have been ongoing for more than 12 months.

Representing senior officers, Chief Constable Craig Guildford of Nottinghamshire police told the conference he was optimistic about the future of the complaints system. "We are committed to fairness and timeliness in conducting and concluding misconduct hearings. Every individual case of delay faced in misconduct hearings needs to be called out by federation representatives," he said.