The biggest ever strike by nurses looks set to go ahead.
The Royal College of Nursing is due to unveil the results of its ballot, which ended last week, in the next few days.

The final results are being counted but RCN sources say a large majority of nurses have voted in favour of action in a dispute over pay.

The RCN had recommended to its 300,000 members that they walk out. If strikes take place, they would affect non-urgent but not emergency care.

The vote has involved a series of individual workplace-based ballots across the UK and if nurses do not back action at a local level it is possible some hospitals and services will not be involved.

The government had appealed to nurses to "carefully consider" the impact on patients.

But Pat Cullen, RCN general secretary and chief executive, said: "Huge numbers of staff - both experienced and newer recruits - are deciding they cannot see a future in a nursing profession that is not valued nor treated fairly.

She added: "Our strike action will be as much for patients as it is for nurses. We have their support in doing this."

Cabinet minister Oliver Dowden said the government had "well-oiled contingencies in place" for dealing with any strike action by nurses.

Speaking on Sky News, Mr Dowden said essential services would be prioritised, "but of course there would be an impact as a result of a strike like that".

"I would continue to urge nurses and others to resist to going out on strike even if they have voted to do so", he added.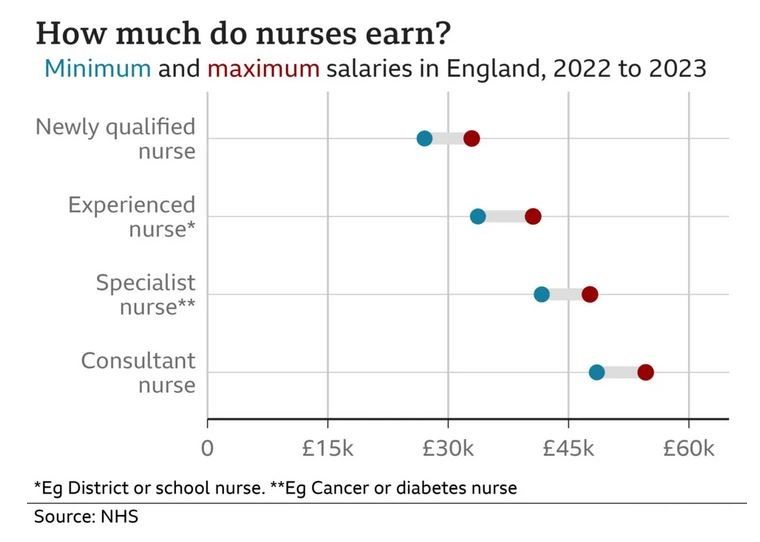 The RCN had called for a rise of 5% above the RPI inflation rate which currently stands at above 12%, but no UK nation has offered close to that.

In England and Wales, NHS staff, including nurses, have been given an average of 4.75% more, with extra for the lowest paid.

In Scotland, 5% was initially offered to NHS staff, but that has been changed to a flat rate of just over £2,200, which works out at just over 8% for a newly-qualified nurse. In Northern Ireland, nurses are yet to receive a pay award.

During the ballot, the RCN had argued this year's below-inflation pay award came after years of squeezes on nurse's salaries.

Research commissioned by the union has found average pay fell by 6% between 2011 and 2021 - once inflation was taken into account - compared with a 4.6% drop for the whole economy.

Starting salaries for nurses in England are currently just above £27,000, rising to nearly £55,000 for the most senior nurses.

The RCN said the average pay for a full-time established nurse was just above £32,000 last year - similar to average pay across the economy.

But the government has argued it has met the recommendations of the independent NHS Pay Review Body in giving its award.

And it followed a 3% pay rise last year, in recognition of work during the pandemic, despite a public-sector pay freeze.

This is the first time the RCN has balloted all its members for strike action in its 106-year history.

In 2019, RCN members went on strike in Northern Ireland over pay, while nurses who are members of Unison in England walked out in 2014 over pay.

A host of other major health unions, including Unison, the Royal College of Midwives, GMB and Unite, have all started to, or are planning to, ballot members.