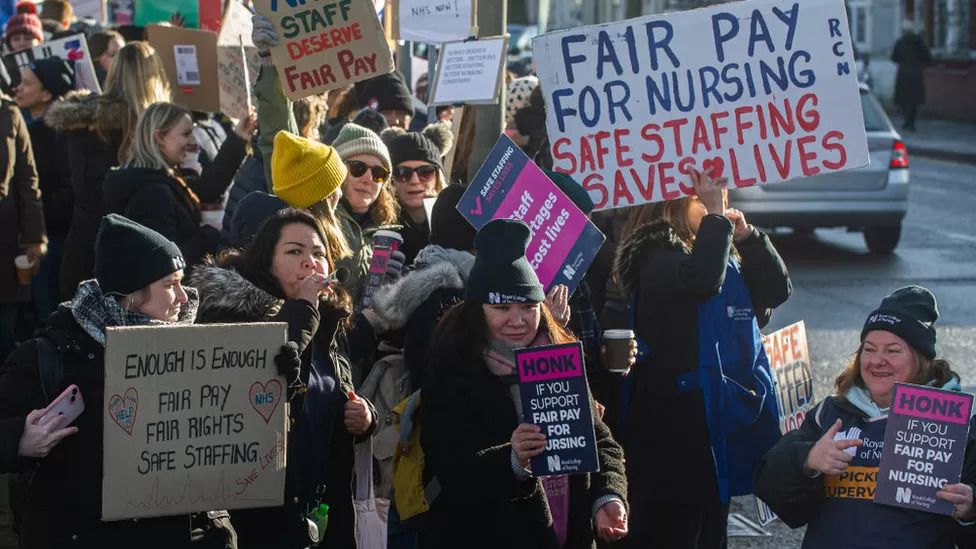 Nurses offer to call off strikes in England if Sunak makes fresh pay offer
The head of the UK's biggest nursing union has urged Rishi Sunak to make a new pay offer to avoid next week's planned strikes in England going ahead.
In a letter seen by the BBC, head of the Royal College of Nursing Pat Cullen said she was "appealing directly" to Mr Sunak for the first time.

Citing pay negotiations in Wales and Scotland, she said a renewed offer or fresh talks could halt the action.

Downing Street has been approached for comment on Ms Cullen's letter.

It comes after Welsh NHS staff suspended strike action following an improved offer from ministers.

"Yesterday, the Welsh Government made an offer of an additional 3% for the current financial year," she wrote.

"Consequently, we cancelled our strike action in Wales for Monday and Tuesday. In Scotland, negotiations continue over additional funding for the current year too and there are no planned strikes.

"Your government looks increasingly isolated in refusing to reopen 2022/23," she said, adding she had made it clear in meetings with England's Health Secretary Steve Barclay "that opening negotiations and making meaningful offers can avert strike action".

Referring to the prime minister's comments in an interview this week to mark his 100th day in office - in which he said nurses should be treated as "an exception" - Ms Cullen said the prime minister "appeared to demonstrate a change in tone in respect of the strike by nursing staff".

Ms Cullen urged Mr Sunak to "use this weekend to reset your government in the eyes of the public" and show it is "on the side of the hardworking, decent taxpayer" by bringing the dispute to an end.

In England, most NHS staff have already received a pay rise of roughly £1,400 this year - worth about 4% on average for nurses. The RCN is calling for a 19% pay rise, although it has indicated it may meet the government "halfway".

Unions representing ambulance workers and physiotherapists also want above-inflation pay rises, but have not specified a figure.

The government says the demands are unaffordable, and that pay rises are decided by independent pay review bodies.

Union members in England are planning to strike on 6 and 7 February.