Rescheduled appointments due to strike action are set to hit half a million next week, the NHS warned
Nurses will be allowed to provide cover for intensive care units after Union bosses agreed to derogations just before thousands walked out for the biggest-ever strikes to hit the NHS.

The 28-hour strike over pay began at 8pm on Sunday night triggering warnings of "exceptionally low" staffing levels until the walkout ends on Monday at midnight.

Royal College of Nursing (RCN) general secretary Pat Cullen said on Sunday that measures were in place to keep patients safe after concerns were raised on the impact of the strike action on emergency services.

The union initially said it would not agree to derogations – broad areas of care where staffing is guaranteed despite industrial action – but granted some exemptions on Friday in an apparent U-turn.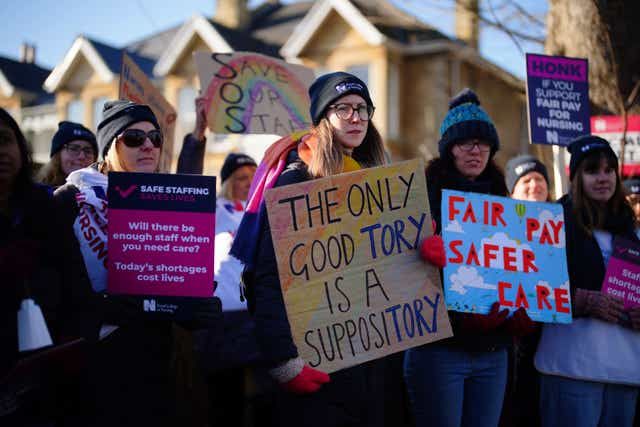 Royal College of Nursing general secretary Pat Cullen joins members on the picket line

Great Ormond Street Hospital (GOSH) is among organisations where nurses have agreed to derogations after it voiced "serious concerns" about patient safety during the walkout.

Bosses at the world famous children's hospital said they were "incredibly grateful" to RCN members for offering assurances but took the decision not to stand down a "business continuity incident" until it was confident it could staff services during the strike.

Health Secretary Steve Barclay blasted the strikes as "premature" and "disrespectful" to other unions as they come before a crunch meeting on Tuesday to discuss a 5 per cent pay offer.

It came as NHS England warned that staffing levels in some areas of the country will be "exceptionally low, lower than on previous strike days".

It added the number of rescheduled appointments due to strike action is set to hit half a million next week.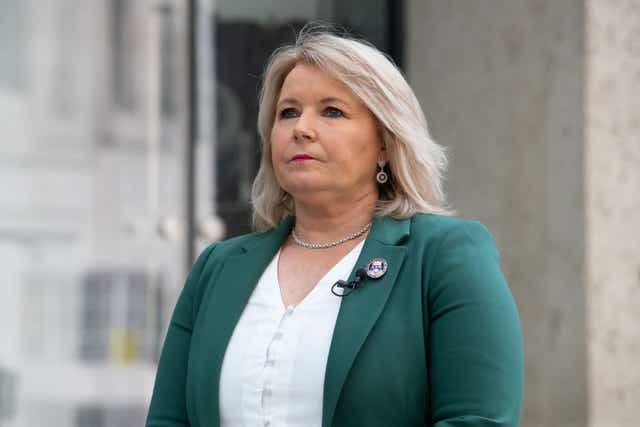 General secretary of the Royal College of Nursing Pat Cullen speaks to media outside BBC Broadcasting House in London

RCN's Pat Cullen said: "After a three-month pause, strike action by nursing staff regrettably recommences tonight.

"The government wants to bring NHS strike action to a close this coming week but with several big unions - and nursing as the largest part of the NHS workforce - still in dispute, it has to do better.

"Only negotiations can resolve this and I urge ministers to reopen formal discussions with the College over pay specifically. Nursing staff are looking for a fair settlement that shows the government values and understands their profession. We appear a long way from that currently but I remind ministers it is entirely in their gift."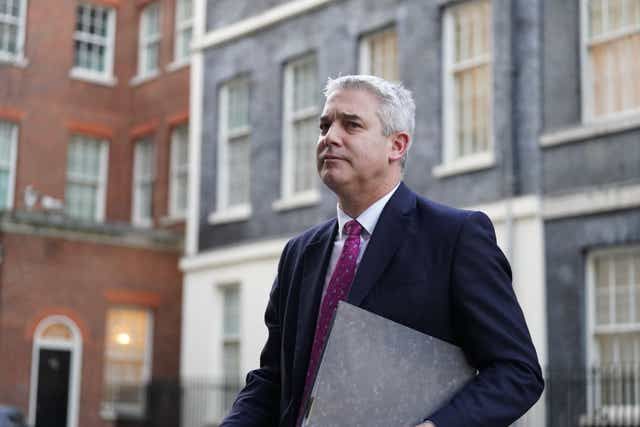 Health Secretary Steve Barclay

Health Secretary Steve Barclay will attend a meeting of the NHS Staff Council on Tuesday, where associations will discuss the Government's 5 per cent pay offer.

He told broadcasters: "I think this strike is premature and is disrespectful to those trade unions that will be meeting on Tuesday."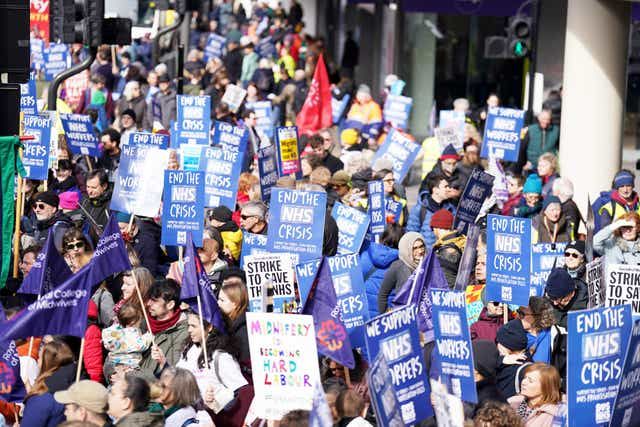 People gather in London ahead of a Support the Strikes march in solidarity with nurses, junior doctors and other NHS staff

Labour leader Sir Keir Starmer refused to say whether he would support nurses going on strike without exemptions for emergency care.

He told the Sophy Ridge On Sunday programme on Sky News: "I don't want to see strikes go ahead.

"The way to avoid strikes is to get in the room with the nurses and resolve these issues."

Nurses make up a quarter of NHS staff and are the biggest proportion of the health service workforce.

Dame Ruth May, chief nursing officer for England, said: "We are grateful to the RCN for agreeing a process of safety critical mitigations and we continue to support all nurses, those who work and those who take industrial action.

"These mitigations do not represent a return to standard staffing. The industrial action will still have a very significant impact on services during the strike period and patients can expect to see longer waits for care.

"The public should use the NHS wisely, with those needing non-urgent care using pharmacies and 111 online as their first port of call. And if you have a life-threatening emergency, please seek help in the usual way by dialling 999."

Mr Barclay, writing in Mail Plus, said he echoed NHS leaders' fears about the impact on patient safety.

"There will be disruption. The NHS will be doing everything possible to mitigate this and will prioritise resources to protect emergency treatment, critical care, neonatal care, and trauma," he wrote.

The strike was called after RCN members rejected a government offer to nurses in England of a 5 per cent pay rise for 2023-24 and a one-off payment of at least £1,655 to top up last year's salary, depending on staff grade.

NHS workers will also take part in a protest march in central London on Monday.