Michael Gove has said no-one raised security issues with him about Lord Lebedev after reports security services had long-held concerns about him.
The Sunday Times claimed the head of MI6 was worried about the Russian-born businessman, and concerns were raised with Boris Johnson in 2020.

But the PM has denied he intervened to ensure Lord Lebedev's peerage.

Housing Secretary Mr Gove told the BBC the process for appointing peers was "rigorous".

He said he had dinner with Lord Lebedev at Boris Johnson's house before the Brexit referendum, but did not know of any possible security concerns.

But Labour leader Sir Keir Starmer said the PM had "serious questions to answer" about the appointment, and has asked the House of Lords Appointment Commission to release the vetting advice they gave to Mr Johnson.

And speaking at his party's spring conference, Liberal Democrat leader Sir Ed Davey called for a full public inquiry into the PM's decision to give Lord Lebedev a peerage.

He told party members: "The cosy relationship between Putin's oligarchs and the Conservative political elite has been the dirty secret of the British establishment for far too long."

Lord Lebedev was given his peerage in July 2020.

He has denied posing a "security risk" to the UK, writing an article in the Evening Standard newspaper - which he owns - saying: "I am not some agent of Russia."

The son of billionaire Russian banker and former KGB officer Alexander Lebedev, who moved to the UK as a child, has condemned President's Putin's actions in his newspaper, writing: "I plead with you to stop Russians killing their Ukrainian brothers and sisters."

And he has warned it is "crucial we do not descend into Russophobia" during the war in Ukraine.

Newspaper claims

An article in the Sunday Times last week claimed security services withdrew their assessment that giving the honour to Lord Lebedev posed a security risk after the PM got involved.

The newspaper said that in March 2020, the commission that vets peerage appointments advised the prime minister against granting the newspaper owner a seat in the House of Lords, due to security concerns.

But Mr Johnson, who ultimately decides who gets a peerage, is said to have responded to the advice by claiming it was "anti-Russianism".

The PM denied the report, saying it would "obviously be extraordinary" if he had intervened, "but that's not the case".

But in another Sunday Times article, the newspaper claimed the head of MI6 had held concerns about the businessman for as long as a decade.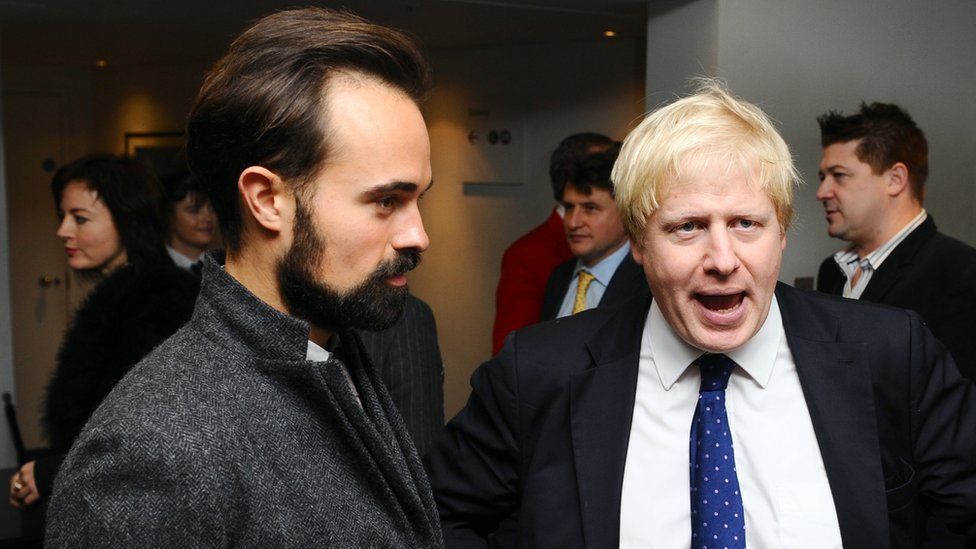 Boris Johnson - pictured here with Lord Lebedev in 2009 - denied he intervened over security concerns with the peer

Asked on the BBC's Sunday Morning programme about the reports, Levelling Up Secretary Mr Gove said he was "not aware of any of the concerns that had been expressed until they appeared in the newspapers".

He added: "Of course there are questions that are going to be asked, but no one has ever said to me that there are any specific security concerns that they have about Lord Lebedev."

The government minister also pointed to the fact Lord Lebedev was a British citizen, adding: "I think it is important to draw a distinction between Evgeny Lebedev's father, who obviously... worked for the KGB, and Lord Lebedev himself, who is someone who has made his home in this country.

"There is a distinction to be drawn between the actions of parents and the actions of children."

But Labour leader Sir Keir has written to the chair of House of Lords Appointment Commission, Lord Bew, asking for vetting information to be made public, and for him to "commit to a review of the propriety of Lord Lebedev's place in the House of Lords".

Speaking to Sky News' Sophy Ridge, he said: "I think the prime minister has got serious questions to answer. What did he know? And did he override security advice?

"Let's have a process to look into what actually happened, what did the prime minister know and what did he do in response to that. I think that is the least we are entitled to in relation to this appointment."