A double rapist who was sent to a women's prison last week is "almost certainly" faking being trans, Nicola Sturgeon has suggested.
Isla Bryson was convicted of attacking two women while known as a man called Adam Graham.

One of the victims later said she was sure Bryson was pretending to be trans to "make life easier".

Bryson was moved from Cornton Vale to the male prison estate after a public outcry.

A "pause" was subsequently placed on the transfer to women's jails of trans inmates with convictions for violence after it was reported that another transgender woman, Tiffany Scott - who was convicted of stalking a 13-year-old girl before her transition and has a history of violence - was due to be moved to a female prison.

The Bryson case was raised at First Minister's Questions by Scottish Conservative leader Douglas Ross on Thursday.

Mr Ross said: "I believe a double rapist, anyone who rapes a woman, is a man. They cannot be considered anything else.

"When a man rapes two women, we don't think that he should be considered a woman just because he says so. We should call out criminals like this who are abusing the system.

"Adam Graham, who wants to be know as Isla Bryson, raped two women. He is an abusive man seeking to exploit loopholes in the government's current policy."

Mr Ross asked the first minister: "Is this double rapist a woman?"

Ms Sturgeon initially said she did not have enough information to say whether Bryson's claim to be a woman was valid or not.

She added: "I don't think Douglas Ross and I are disagreeing here, because what I think is relevant in this case is not whether the individual is a man or claims to be a woman or is trans.

What is relevant is that the individual is a rapist. That is how the individual should be described, and it is that that should be the main consideration in deciding how the individual is dealt with.

"That is why, of course, the individual is in a male prison, not in the female prison, these are the issues that matter."
Mr Ross went on to read a quote from one of Bryson's victims, who said: "I don't believe he is truly transgender. I feel as if he has made a mockery out of them using it. As far as I'm concerned, that was to make things easier for himself. I'm sure he is faking it."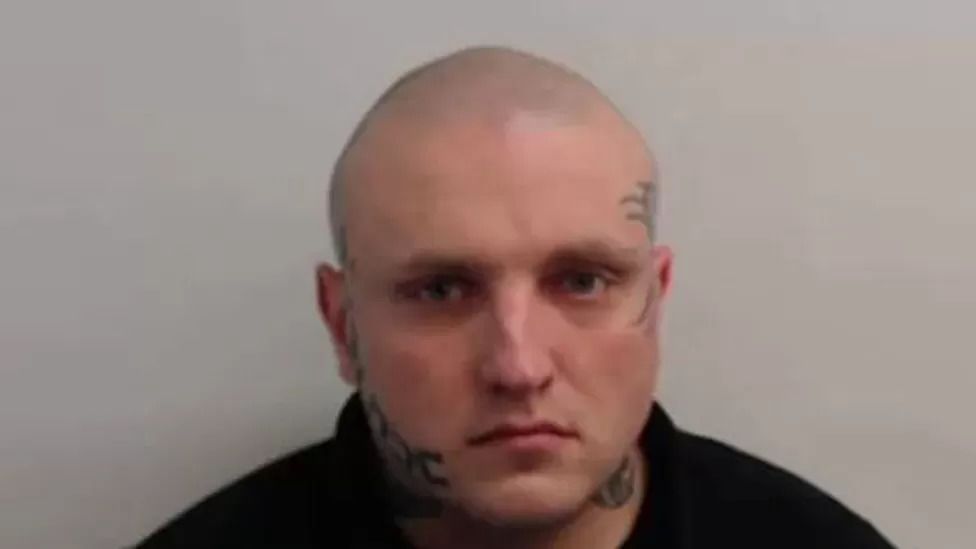 Bryson was convicted of rapes while known as Adam Graham
The first minister responded: "My feeling is that is almost certainly the case, which is why the key factor in this case is not the individual's claim to be a woman.
"The key and in fact only important factor in this is that the individual is convicted of rape - the individual is a rapist - and that is the factor that should be the deciding one in decisions about how that prisoner is now treated."
Ms Sturgeon went on to say it was "really important" to "look seriously" at the issues thrown up by the Bryson case, adding: "But that in doing so, we bear in mind two things.
"Firstly, as I've said, that we do not further stigmatise trans people generally - I think that is important - but secondly that we don't cause undue concern amongst the public."
Ms Sturgeon added that there were exemptions under the current UK equality law that "even if it wanted to this parliament couldn't change" that enabled trans women to be excluded from some single sex spaces.
When asked about the Bryson case on Monday, Justice Secretary Keith Brown told BBC Scotland's The Nine: "We have to accept people identify - in this case - as women. I think that is commonly accepted and that's the starting approach we take."
But Mr Brown stressed that this did not mean they would automatically have the right to go to a female prison, with a "rigorous" risk assessment being carried out first.
However, when asked earlier in the week why the gender claims of prisoners were accepted at face value, Ms Sturgeon said: "That is the case for trans people but if you take the two cases that have been in the media, for my point of view it's not so important what gender they are, it's the crimes that they have committed."
Bryson was found guilty last month of raping two women in 2016 and 2019 before she changed gender after being arrested.
While awaiting trail, she enrolled on a beauty course Ayrshire College, where she was known as Annie, and remained there for three months before being asked to leave.
Her classmates were almost exclusively female and much younger than Bryson, and were not aware of the rape allegations.
One former classmate told BBC Scotland last week that she felt "violated" after learning of the crimes Bryson had committed.
Scottish government legislation aimed at allowing people to self-identify their legal sex has been blocked by the UK government over its potential impact on equalities laws.
The UK government said during a Westminster debate on Thursday that it was up to the Scottish government to bring forward a new Gender Recognition Reform bill that addresses the legal issues which caused the bill to be blocked.
Cabinet Office minister Alex Burghart said the decision to block the legislation using what is known as a Section 35 order was used very carefully and reluctantly in order to preserve the balance of powers between Scotland and England.
SNP MP Patrick Grady said the UK government should publish its own amendments to the Bill to make it acceptable and claimed the Conservatives were undermining the Scottish Parliament.
And backbench Conservative MP said he believed the legal arguments used by the government for halting the legislation were "shaky".
The first minister is challenged to say whether she believes a double rapist is a woman
Justice Secretary Keith Brown told The Nine it had been accepted that trans prisoners Isla Bryson and Tiffany Scott were women