Irish Foreign Minister Simon Coveney is set to hold talks with the Northern Ireland secretary in Belfast later.
It comes as uncertainty continues over whether Chris Heaton-Harris will set a date for a fresh Stormont election.

He met political parties on Tuesday to discuss next steps, after last week's deadline to restore power-sharing was missed.

The Irish government has previously said calling another election would not be helpful.

The current legislation states that a poll must be held within 12 weeks from last Friday - when a deadline for reforming a power-sharing executive passed without resolution.

Sinn Féin wants clarity about a vote, while the Democratic Unionist Party (DUP) had said more talks were "pointless".

Protocol protest

In the coming weeks, Mr Heaton-Harris could have to pass legislation to delay the requirement for another election, if he decides not to press ahead with another poll.

The previous assembly election in May resulted in Sinn Féin winning the most seats for the first time.

That meant Michelle O'Neill was entitled to the role of first minister.

The DUP was returned as the second-biggest party, but it refused to nominate a deputy first minister, meaning a ruling executive for Northern Ireland could not be formed.

The DUP has blocked the restoration of power-sharing in its protest against post-Brexit trading arrangements for Northern Ireland known as the protocol.

The protocol keeps Northern Ireland aligned with some EU trade rules to ensure that goods can move freely across the Irish land border.
Most politicians elected to the Northern Ireland Assembly want the protocol to remain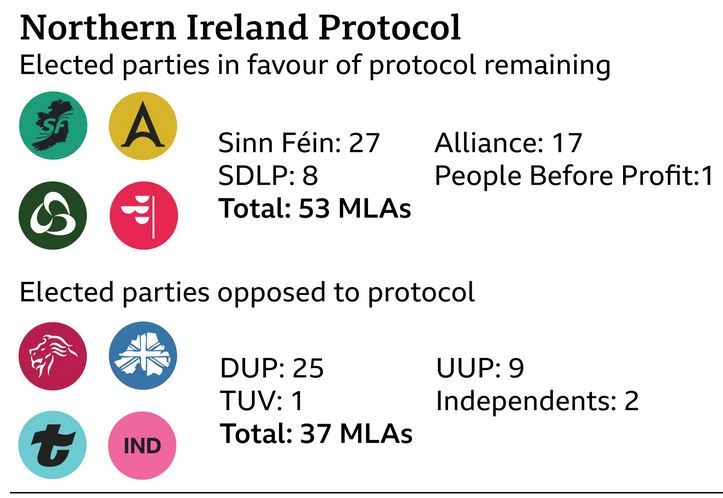 The DUP has said it will not re-enter government until the protocol is changed and has urged Number 10 to have "a razor-like focus" in getting a solution with the EU.

The government could also have to pass a budget for Northern Ireland at Westminster, if the deadlock continues.

Parties have also urged Mr Heaton-Harris to provide senior civil servants within Stormont departments with additional powers to ensure some decisions can still be taken.

If an election is to happen before Christmas, the secretary of state will need to make a final decision on it within the next week.

The last date that an election could happen within the current legislation would be 19 January.