When Steve Parsons's grandfather collapsed at his Monmouthshire home, his family immediately dialled 999.
However when they were told there were no ambulances available, they had to take measures into their own hands.

In desperation, Mr Parsons drove and then carried the 83-year-old, who had suffered a cardiac arrest, into the Grange Hospital near Cwmbran, Torfaen.

A passing nurse helped save the elderly patient and the ambulance service and health board have both apologised.

Aneurin Bevan University Health Board (ABUHB) and Welsh Ambulance Service Trust (WAST) admitted the incident did not match the service they wished to offer - but said it was indicative of the "unprecedented" pressures both organisations were under.

'Yelling for help'

Mr Parsons said: "It was horrible. They're on the phone, you're there and he's grey in the face and looks horrendous. You just panic."

By the time Mr Parsons drove to the hospital, his grandfather had gone into cardiac arrest. He then carried his relative on his shoulder across the car park "yelling for help".

A passing nurse heard his calls and was able to help save the 83-year-old's life using CPR.

"It could've been the difference of 30 seconds and I think my grandfather wouldn't be here," said Mr Parsons.

"I thank the staff at the Grange [hospital] for doing what they did, because without them he wouldn't be here."

His grandfather is now recovering at Nevill Hall Hospital in Abergavenny, but Mr Parsons said his family has been traumatised.

"It makes me feel angry," said the 31-year-old.

"If my grandfather had that ambulance, had that oxygen, I fully believe he wouldn't have gone into cardiac arrest and my family wouldn't have gone through what they've gone through these past seven days."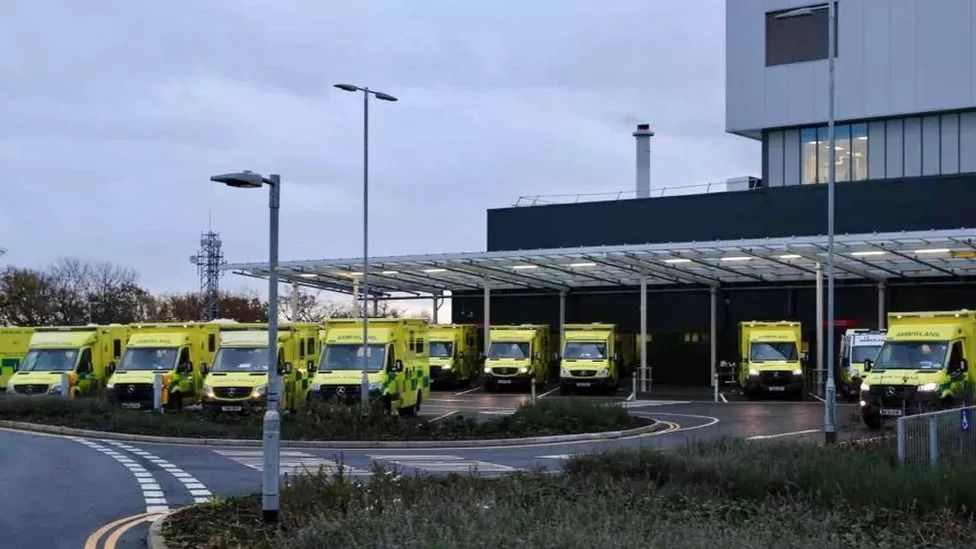 Ambulances often face long waits to discharge patients at The Grange Hospital's A&E department

WAST said it was not the level of service it wishes to provide.

However, Jeff Morris, its head of emergency medical services for the central region, added: "Demand has been such that we have had no option other than to ask some patients to make their own way to hospital, as was the experience of this family."

The Welsh NHS Confederation, which represents all Welsh NHS organisations, has previously warned that the NHS was struggling to cope, and the Christmas period had "tipped it over the edge".

ABUHV admitted the experience must have been "traumatic" for the family and praised the actions of the nurse as an example of how staff "go above and beyond" to keep services running.

However it said a "significant" increase in respiratory viruses was not only raising demand but also causing high levels of staff sickness.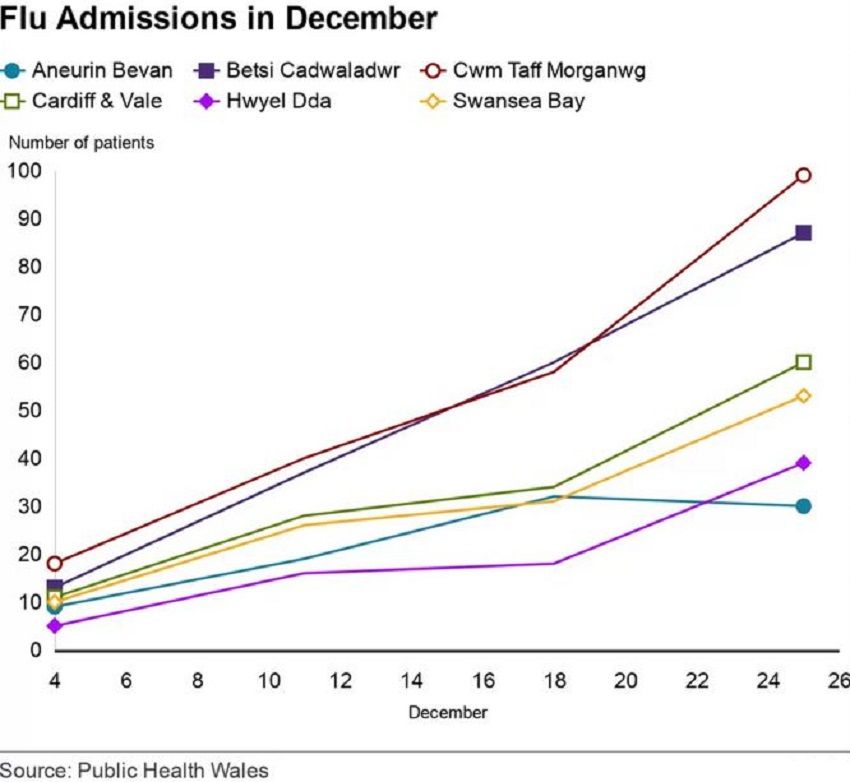 Flu hospital admissions in Wales have risen sharply over December

A spokesman added: "We take great pride in offering the best possible care to our patients, but this is becoming increasingly difficult at the moment.

"Our services are facing the same extreme pressures that are being reported across Wales and the UK, with large numbers of patients presenting with respiratory viruses - particularly flu and Covid-19."

The health board has urged people to use services "appropriately" and to seek care for less severe problems at minor injury units, GPs or pharmacies.

The Welsh government called the situation in the NHS "unprecedented".
'No-one should have to carry a loved one into hospital'