An improved pay offer averaging 7.5% has been made to NHS Scotland health workers threatening industrial action.
The Scottish government's £515m deal will now be considered by unions.

First Minister Nicola Sturgeon and Health Secretary Humza Yousaf were involved in "extensive" talks ahead of this latest proposal.

Unite and GMB have both suspended action by ambulance staff and confirmed that the offer will be put to members in a ballot.

Unite's Scottish Ambulance Service members had planned a work-to-rule on Friday and 1,700 GMB members were scheduled to begin a 26-hour strike on Monday.

The RCN, which had delayed a formal announcement on strikes while negotiations took place this week, confirmed that its board members would consider the detail of an offer that "still does not meet our members' expectations".

It had asked for at least 5% above inflation, which is currently 11.1%.

However, the Scottish government said the new deal was a "record high pay offer" for front line employees, including nurses, paramedics, allied health professionals and healthcare support staff.

Annual pay rises under the latest deal would range from a flat rate payment of £2,205 for staff in Bands 1 to 4 and up to £2,660 for staff in Bands 5 to 7, backdated to April.

This represents an increase of 11.3% for the lowest paid workers and delivers an average uplift of 7.5%, a government spokesperson said.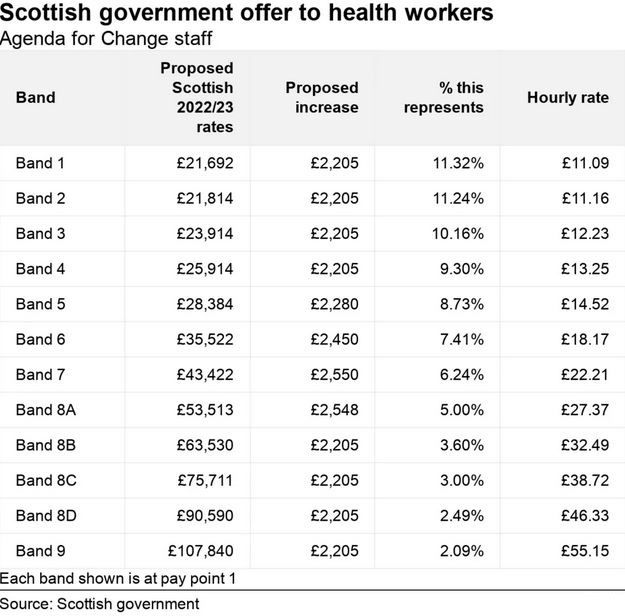 The new offer for staff on Agenda for Change contracts also included a review into reducing the working week from 37.5 hours to 36 hours with no loss of pay.
Mr Yousaf said no stone had been left unturned to reach its "best and final pay offer".
He said: "We have made the best offer possible to get money into the pockets of hard working staff and to avoid industrial action, in what is already going to be an incredibly challenging winter."
What are the unions saying?

*  Royal College of Nursing - Colin Poolman, RCN Scotland director, said the offer was "disappointing" but their board would "consider the offer in the usual way".

*  Chartered Society of Physiotherapy - described the deal as an "encouraging forward step" and said a committee would consider their next move.

*  Unison - recommended that its 50,000 members - including nurses, midwives, health visitors, healthcare assistants, paramedics, occupational therapists, cleaners and porters - accept the deal. Wilma Brown, chair of its Scotland health committee, said she recognised that the new package was the best that could have been negotiated, but they would have wanted more.

*  GMB - suspended a 26-hour ambulance strike and will put the new deal to members in a vote. Senior organiser Keir Greenaway said staff needed to be valued to "tackle the chronic understaffing crisis across NHS frontline services" after a decade of cuts and the Covid pandemic.

*  Unite - suspended work-to-rule action by ambulance staff and will put the new deal to members in a vote.
Humza Yousaf said he hoped health workers would accept this "final" offer