Chancellor Scholz says deliveries of heavy weapons depend on coordination 'with our transatlantic partner.'
Britain's moves toward supplying Ukraine with battle tanks are a headache for Olaf Scholz — but it's still unlikely that the German chancellor will overcome his reluctance to sending heavy German armor without taking his lead from Washington.

Scholz's spokesperson said Wednesday that plans by London to deliver British-made Challenger 2 tanks to Ukraine won't change the position of the German government, which has so far rejected growing calls for Berlin to hand powerful German Leopard 2 tanks to Kyiv.

Warsaw has proposed that the German-made Leopards could be delivered via a broader alliance of European countries. "A company of Leopard tanks for Ukraine will be transferred as part of international coalition building. Such a decision is already [taken] in Poland," Polish President Andrzej Duda said in a tweet. The big obstacle to these transfers is that Berlin needs to give the green light for re-export of German-made weapons.

"There is no change in the situation now because of the step that the British government has announced," spokesperson Steffen Hebestreit told a press conference in Berlin. He added that, as previously stated on Monday, he was not aware of any official requests by partner countries to jointly supply Leopard tanks to the Ukrainian army.

Speaking on the condition of anonymity, two German officials said that Scholz's position depended heavily on U.S. President Joe Biden, with whom the chancellor already closely coordinated when issuing a joint statement last week announcing the joint delivery of German and American infantry fighting vehicles to Ukraine.

At a regional election rally in Berlin on Monday, Scholz emphasized the importance of discussing arms with the U.S. president, saying that tank deliveries to Ukraine must be discussed "together with friends and allies and especially with our transatlantic partner, with the United States of America."

Hebestreit said Wednesday that last week's decision by Scholz and Biden marked "a qualitatively new step" in support for Ukraine, and stressed that allies "will have to see along the way" what additional steps could be taken in "international coordination."

Nonetheless, the British plans, which are expected to be officially announced at a meeting of Western defense officials at the Ramstein military base in Germany on January 20, will probably ramp up the pressure on Scholz as the U.K. would be the first country to supply Ukraine's military with modern Western-made battle tanks.

Downing Street said Wednesday that U.K. Defense Secretary Ben Wallace is leading discussions with Western allies on how to send "game-changing" tanks to Ukraine.

The chancellor has repeatedly argued against sending Leopards by saying that Germany must not act alone in sending Western tanks — an argument that would be invalidated by Britain's move. So far, countries have only supplied older Soviet-era battle tanks to Ukraine, but stocks of these vehicles as well as ammunition are increasingly running low, and awareness is growing that Kyiv needs further support amid fears of a new Russian offensive.

Ukrainian Foreign Minister Dmytro Kuleba told German public broadcaster ARD on Wednesday he was convinced that Germany would sooner or later agree to send Leopards.

"Even if Germany has certain rational arguments for not doing it, Germany will still do it at a later date," Kuleba said. "We have already seen this with the self-propelled howitzers, with the IRIS-T air defense system, and most recently with the Marders and Patriot [air defense] systems."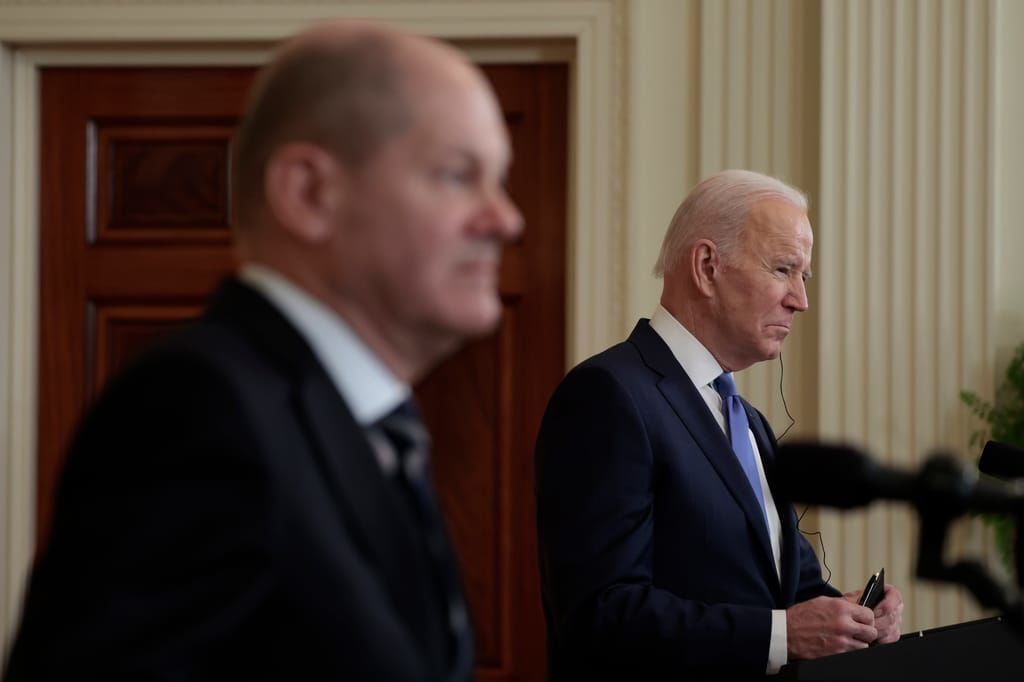 Two German officials said that Scholz's position depended heavily on U.S. President Joe Biden
Kuleba added: "It's always a similar pattern: First they say 'no,' then they fiercely defend their decision, only to say 'yes' in the end. We are still trying to understand why the German government is doing this to itself."
Marie-Agnes Strack-Zimmermann, the chair of the German parliament's defense committee and a lawmaker from Scholz's liberal coalition partner the FDP, also urged Scholz to follow the British plans and drop his reluctance to sending heavy tanks.
"After the Marder, the Leopard must follow so that Ukraine can successfully defend itself against the brutal Russian war of aggression," Strack-Zimmermann told POLITICO. "Germany must finally get strategically ahead of the curve and should not always only react when the situation in Ukraine deteriorates."
The U.S. itself does not look set to send battle tanks in the immediate future.
Talks between the U.S. and Ukrainians are continuing over providing American-made Abrams tanks, but there has been little progress as the Biden administration thinks a European-led solution is best. 
The Defense Department has been hesitant to provide the Abrams to Ukraine due to significant maintenance and sustainment challenges. A tank division can guzzle up to 600,000 gallons of fuel a day, and few of the tanks' technologies are approved for export. 
"It's constantly an item of discussion but not near a decision," said one person familiar with internal deliberations who asked for anonymity.
"Certainly, we know that the Abrams tank in addition to being a gas guzzler is quite challenging to maintain," Laura Cooper, deputy assistant secretary of defense for Russia, Ukraine and Eurasia told reporters at the Pentagon last week. "It's about the right capability in multiple facets and maintenance and sustainment is one of them, and it's an important one, especially when there's alternate capabilities that, you know, might — might offer easier maintenance or sustainment."   
Ukrainian officials have suggested that the U.S. send just a handful of Abrams tanks – as few as five – in order to spur Europe to act, a second person familiar with the discussions between the U.S. and Ukraine said. Despite promising full transparency over where the tanks are deployed and how they're used, the Pentagon has not signed off on the idea.