This time it's personal. Deeply personal.
The Netflix trailers had hinted at explosive revelations about the monarchy, but in the end the final three episodes of the series had a different kind of impact. It was emotional rather than political.

It was a battle between brothers, with an underlying sense of anger and betrayal.

People sometimes call the royals a soap opera. This was the Christmas omnibus edition, with claims of shouting matches, underhand dealing, and a big walkout.

"It was terrifying to have my brother scream and shout at me and my father say things that just simply weren't true," said Prince Harry.

He was still clearly raw and raging. His hatred for the tabloid press loomed large. "Enough of the pain, enough of the suffering," he said of the impact of negative press coverage of his wife.

There was no great warmth for the rest of his family either. Across six hours of the series, his father, King Charles, was only a fleeting guest in the story. Camilla, the Queen Consort, seemed absent entirely.

The family summit in Sandringham - before Harry and Meghan left for the US - was presented as more like an ambush. The couple claimed they had been given no flexibility on their plans to be half-in, half-out royals.

"So there was no other option at this point. I said 'We need to get out of here,'" said Prince Harry.

Harry's brother and sister-in-law - Prince William, and Catherine, the Princess of Wales - were painted as frosty and distant figures, rather than intimate family. Beyoncé was bigged up more than Catherine.

There was a "wedge" between the brothers, Prince Harry said. From his perspective, there was a "dirty game" going on, of rival camps trading in tabloid stories.

And it will set up another chain reaction of stories when they next all meet in front of the public - next year's coronation isn't far away.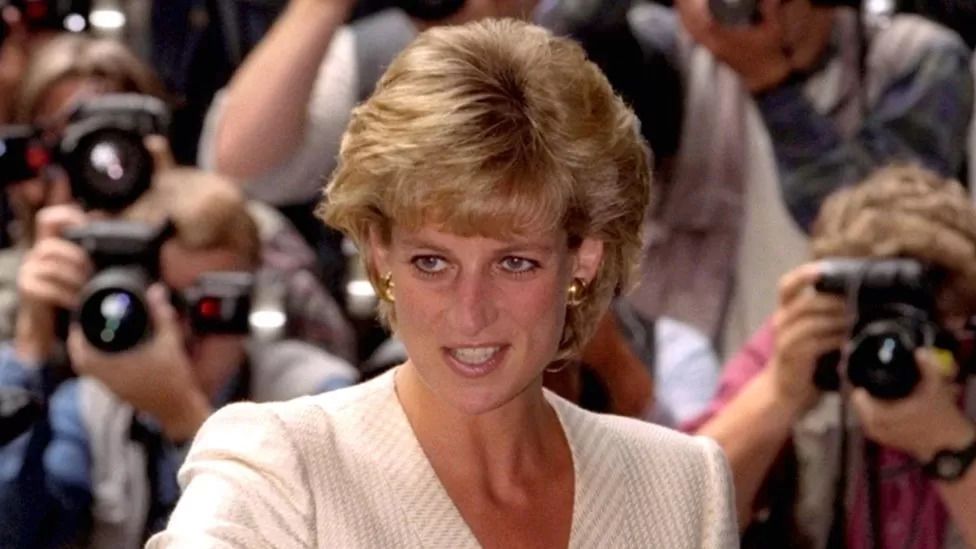 Prince Harry spoke repeatedly of the influence of his mother Princess Diana
This was very much Harry and Meghan's view of their own experience, not a conventional documentary showing other sides of the story.
But Prince Harry came across as a more empathetic figure than before, battered by the tabloids and "ashamed" at how depressed his wife had become. He seemed unsure how to find an exit from what seemed to have become a malicious Truman Show with red carpets.
For some it will have been cringeworthy, such as a scene of the couple mediating. But for others that same scene will show a dogged determination to re-invent himself.
"I'd changed, to the point where I'd outgrown my environment," he said. It was all very therapy meets rom-com, but there was a real sense of relief at his escape.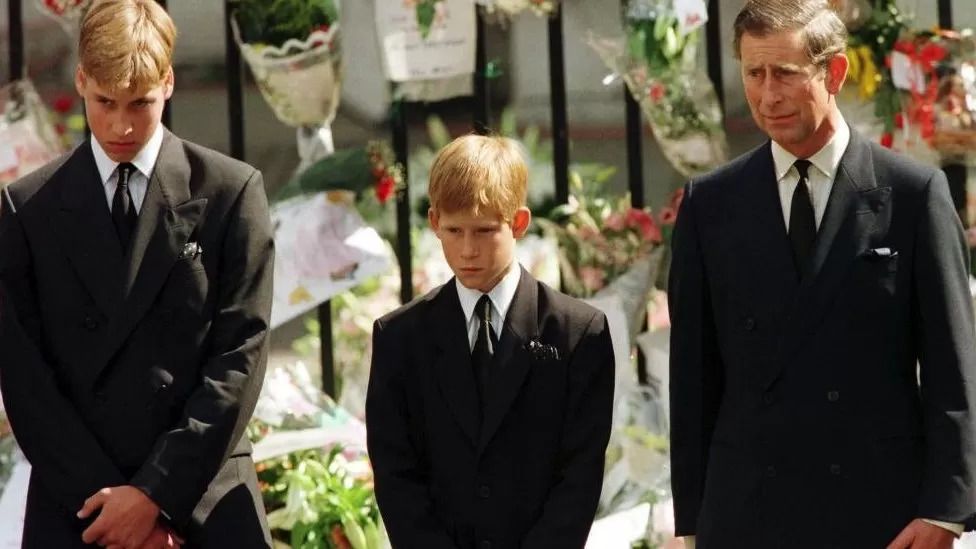 Harry, alongside his brother and father, watch as his mother's coffin is placed into a hearse

The other huge figure in this series was his mother, Princess Diana - her absence bigger than his father's presence. His sense of loss was still painfully apparent. So many of his references to Meghan seemed to involve his mother.

The couple claimed their initial popularity had threatened to steal the limelight from other royals - which they linked to Diana's concern about overshadowing Charles.

It suggested Meghan's character was like his mother's; they both faced tabloid pressure, and in the pay-off, as Harry enjoyed the Californian sunshine, he said that his mother might have moved here too.

He appeared to be carrying out the journey that she never finished and his tenacious defence of Meghan was fuelled by the way he had been unable to protect his mother.

But to take a longer view, this won't seriously damage the Royal Family in a way that they might have feared.

There was no real inside gossip, nobody was named as a racist, the accusations were not catastrophic. These were stones thrown at the palace windows - not a brick put through one.

Neither Buckingham Palace nor Kensington Palace are responding to the series, which is a gauge that the series contained nothing so awful that they needed to challenge it.

The other royals were making their own contrasts by carrying on. The King and Queen Consort visited a food bank and community kitchen while Prince William and Catherine were at a carol concert where he spoke of the Christmas message "to serve and not to be served".

So what will the public make of it all?

Harry and Meghan are a couple that divide opinion and this is likely to be received along similar lines.

For their fans, it was a story about their victimhood - a couple struggling to be themselves against unsympathetic and outdated institutions, facing attacks that were laced with racism. This was their chance to put the record straight.

For those who are less supportive, they might wonder why so much attention is being paid to the woes of the mega-rich, who have the luxury of so many choices.

While many have been worrying about switching on the heating, this couple's big angst was switching from a palace to a Californian mansion. From that perspective, it might look like a celebrity couple having a meltdown in first class.

But there might also be a sense of sadness at what might have been. What began with a fairytale wedding, ended in tears. And as Prince Harry said, Meghan could have been a huge asset for an institution wanting to widen its appeal.