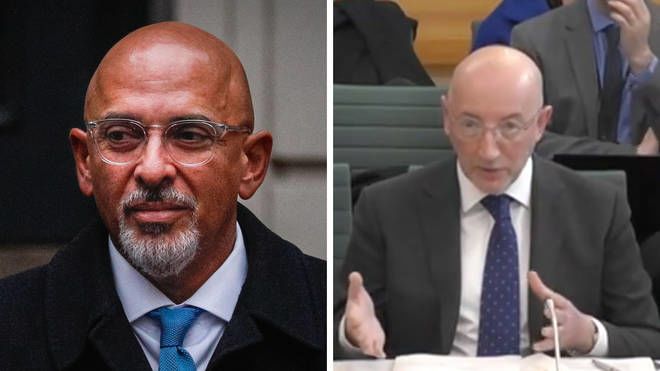 Nadhim Zahawi did not make 'innocent error' with his tax, HMRC chief tells MPs
Jim Harra, HMRC's chief executive, told MPs on the Public Accounts Committee this morning that "there are no penalties for innocent errors in your tax affairs".
It comes after Mr Zahawi admitted that "errors" in his tax affairs had been deemed "careless" by HM Revenue & Customs but the mistake was "careless" rather than deliberate.

Being careful to point out that he was not discussing anyone in particular, the chief executive of HMRC told MPs: "Carelessness is a concept in tax law. It can be relevant to how many back years that we can assess, can be relevant to whether someone is liable to a penalty and if so, what penalty they will be liable to for an error in their tax affairs.

"There are no penalties for innocent errors in your tax affairs. So if you take reasonable care, but nevertheless make a mistake, whilst you will be liable for the tax and for interest if it's paid late, you would not be liable for a penalty.

"But if your error was as a result of carelessness, then legislation says that a penalty could apply in those circumstances."

He pointed out, to laughter from MPs, that "innocent" was not the term used in legislation.

"If you have been careless in your tax affairs, and as a result of that carelessness have made a mistake, then you could be liable to penalty."

Tory chairman Mr Zahawi has faced calls to step down from his role despite releasing a statement on Saturday to "address some of the confusion about my finances".

He did not disclose the size of the settlement - reported to be an estimated £4.8 million including a 30% penalty - or confirm whether he paid a fine.

The row centres on a tax bill over the sale of shares in YouGov, the polling firm Mr Zahawi founded, worth an estimated £27 million.

The shares were held by Balshore Investments, a company registered offshore in Gibraltar and linked to Mr Zahawi's family.

Downing Street said it did not know last week that Mr Zahawi had paid a reported 30% penalty to HMRC.

Mr Zahawi has insisted he is "confident" he has "acted properly throughout" but Prime Minister Rishi Sunak has ordered an investigation by Sir Laurie Magnus, his independent adviser on ministers' interests, into whether he broke ministerial rules.

Mr Sunak was challenged about the scandal during Wednesday's PMQs, where Labour leader Sir Keir Starmer accused the PM of being too "weak" to sack Mr Zahawi.

Sir Keir asked: "Does the PM agree that any politician who seeks to avoid the taxes they owe in this country is not fit to be in charge of taxpayer money?"

Mr Sunak acknowledged that he had not been given the full picture about the Tory chairman's financial matters when he told MPs last week that Mr Zahawi had given a "full" account.

But he insisted that when he entered No10 and gave Mr Zahawi the job of Minister Without Portfolio "no issues were raised with me".

Downing Street declined to comment on remarks by HMRC chief executive Jim Harra at the Public Accounts Committee on Thursday, where he made clear that there are "no penalties for innocent errors" in an individual's tax affairs.

A spokesman for the PM referred reporters to Rishi Sunak's remarks in the Commons on Wednesday.

"The independent adviser will establish the facts and provide advice to the PM and then he will obviously consider next steps. I obviously can't pre-empt that. It is right that the independent adviser is allowed to continue with that work," he said.