The UK's new disability minister has admitted the government "has scope to do better" when it comes to getting disabled people into work.
Tom Pursglove, Minister for Disabled People, Health and Work, made the comment while announcing a new Disability Action Plan.

He is the third MP to hold the position in as many months.

The Office for National Statistics states that 53% of disabled people in the UK are in employment.

That is compared to 82% of non-disabled people.

A lack of accessibility in the workplace, biases in hiring processes and difficulty initially accessing employment services, are often cited as barriers to disabled people entering the workforce.

Mr Pursglove, who has been the MP for Corby since 2015, told the BBC Access All podcast that one way in which he hopes to improve the experience of disabled people getting into work, is digitising the Access to Work scheme.

Access to Work aims to help disabled people start or stay in work. It provides grants to pay for practical support like transport or interpreters for British Sign Language users, but is currently paper-based.

Mr Pursglove, 34, said that while the scheme "unlocks so many opportunities for so many people," he believes there is "scope to do better around the way that that system and process works".

He added: "It's very early days in the role, but one of the things that has struck me is, what more can we do to try and digitise those processes wherever possible?

"What can we do to try and minimise delays that people see? And how can we just make it more effective?"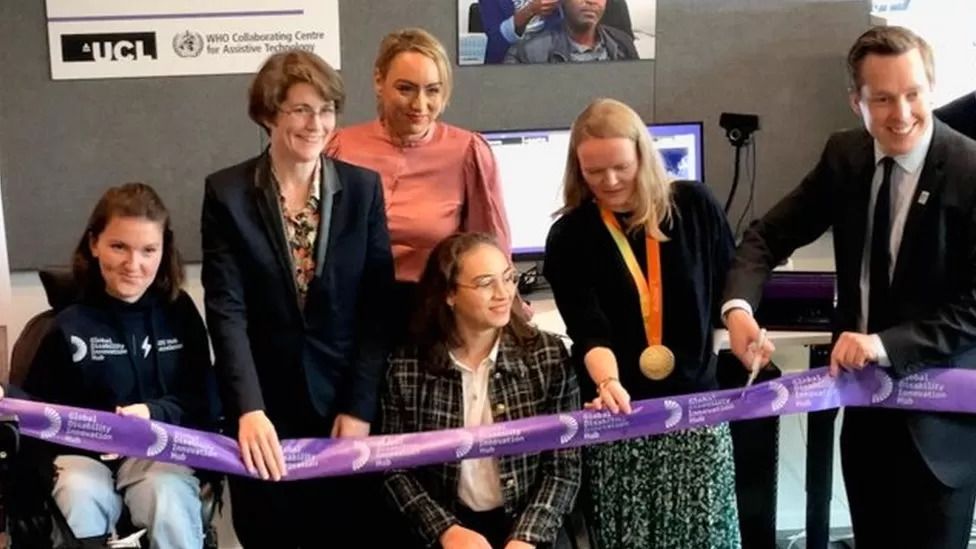 MP Tom Pursglove opens the new lab Global Disability Innovation Hub at the Olympic Park
More than 25,000 disabled people are currently waiting for their Access to Work application to be processed, and the time taken to process the application has almost doubled in the last year, from 32.5 days to 63.1 days.
The Minister made the comments as he opened a new Global Disability Innovation Hub (GDI Hub) research lab at the Queen Elizabeth Olympic Park in Stratford, London, to mark International Day of People with Disabilities on 3 December.
The GDI Hub is a research centre focused on disability innovation and inclusivity through research and data.
The announcement of the Disability Action Plan, which the government says will "meaningfully improve" the lives of disabled people, comes almost one year after a survey of disabled people - used to inform the highly anticipated National Disability Strategy - was ruled "unlawful" by the High Court.
In January 2022, the UK Disability Survey gained 14,000 responses but was found to have failed to consult with disabled people effectively to allow for "meaningful responses". The government is currently appealing against the decision.
It said the newly announced Disability Action Plan was separate to the National Disability Strategy, and it would include a consultation.