She asked 'what relevance' the anti-apartheid leader had to the couple's latest series
A granddaughter of Nelson Mandela has hit out at the Duke and Duchess of Sussex for using the anti-apartheid leader's words in their new Netflix documentary.

Ndileka Mandela asked "what relevance" the life of her grandfather, South Africa's first president, has to the couple's series Live to Lead.

The show - produced and presented by Prince Harry and Meghan - is billed by Netflix as an inspirational feature about "leaders committed to making a difference in the world [sharing] their inspiring life stories".

It features footage of figures including Nelson Mandela, and was created with the help of The Nelson Mandela Foundation, a non-profit organisation focused on his legacy.

In the show's trailer, the Duke and Duchess said: "This was inspired by Nelson Mandela, who once said 'what counts in life is not the mere facts that we have lived. It is what difference we have made to the lives of others that will determine the significance of the life we lead'."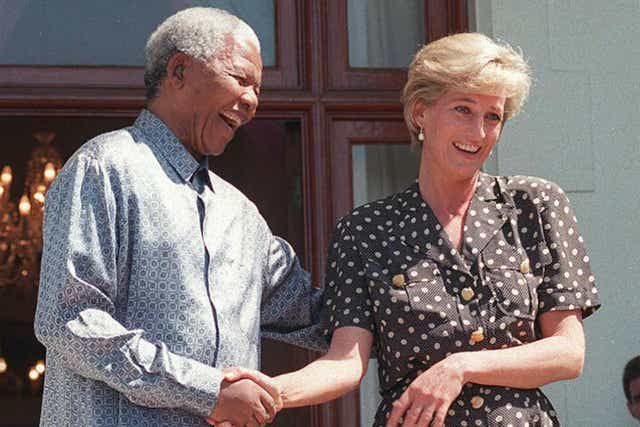 Prince Harry's late mother Princess Diana met Nelson Mandela at his home in Cape Town, South Africa, in Mary 1997, just months before her death that August
But social activist Ndileka has criticised the Duke and Duchess for their use of her grandfather's words, in an interview with The Australian.
"Harry needs to be authentic and stick to his own story, what relevance does granddad's life have with his?" she told the news outlet.
"I don't believe he nor Meghan have ever properly met granddad - maybe when Harry was young at Buckingham Palace - but they are using his quotations in the documentary to draw in people and make millions without the Mandela family benefiting.
"I know the Nelson Mandela Foundation has supported the initiative but people have stolen grandfather's quotes for years and have used his legacy because they know his name sells – Harry and Meghan are no different from them.
"I admire Harry for having the confidence to break away from an institution as iconic as the Royal family. Grandad rebelled against an arranged marriage to find his own path in life.
"But it comes at a price, you have to then fund your own life.
"I've made peace with people using granddad's name but it's still deeply upsetting and tedious every time it happens," she told the Australian.
Her comments come after it emerged prime minister of New Zealand Jacinda Ardern only learned she would feature in the new documentary when the trailer was released.
The documentary landed on Netflix on New Year's Eve, after the Duke and Duchess' explosive six-part docuseries Harry & Meghan caused waves by revealing a series of allegations about their treatment by the royal family.