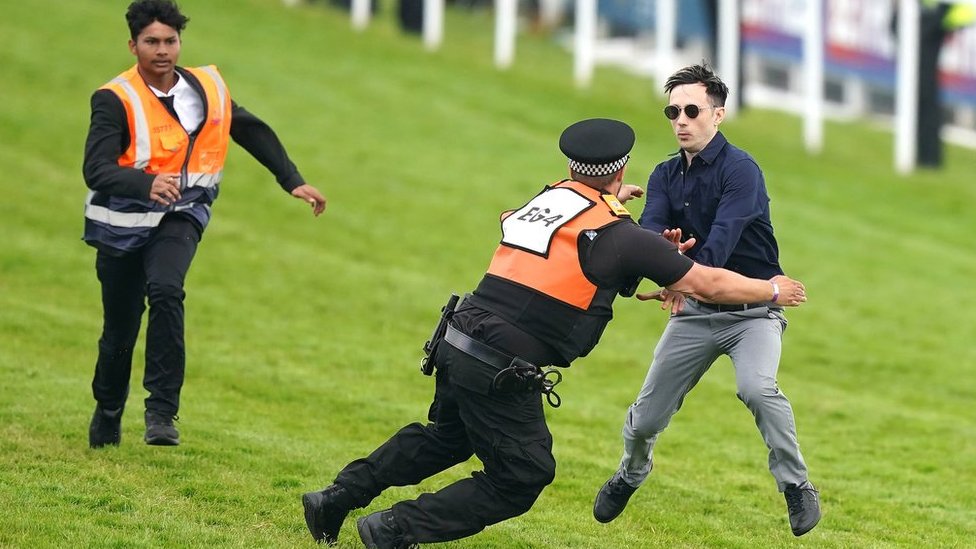 Surrey Police Charge Man with Causing Public Nuisance After Epsom Derby Protest
Surrey Police have announced that a man from Hackney, London, named Ben Newman, 32, has been charged with causing public nuisance after a protester ran onto the racecourse during the Epsom Derby on Saturday.
The horseracing event was targeted by animal rights protesters who attempted to breach a large security operation in order to disrupt the day's main race.

The protester was seen being bundled to the floor by police and security guards during the opening seconds of the prestigious race, but the race was unaffected.

The protest went ahead despite the Jockey Club, which runs the event, being granted a court injunction prohibiting the group Animal Rising from disrupting it.

The group had publicly threatened to stop the main race going ahead, saying they wanted to raise awareness about animal rights.

Mr Newman was one of 31 people arrested in connection with the planned protests, including 12 on the racecourse grounds and 19 during a pre-emptive operation in the hours before it began.

Two women were arrested after being "quickly detained moments before they were able to get on to the track".

Mr Newman is the only protester to face a charge so far.

The remaining 30 people have been released on bail pending further inquiries, police said.