London is still suffering from the worst fatality rate from air pollution in England, data shows
The 16 worst hotspots for killer toxic air are all in London despite falls in this type of particulate pollution, official figures revealed on Wednesday.

Westminster and the City of London had the highest rate of deaths in the city attributable to tiny, human-made PM 2.5 particulate pollution in 2021, according to the new analysis.

They were followed by Hackney, Islington, Kensington and Chelsea, and Tower Hamlets.

The next ten areas were Camden, Southwark, Newham, Hammersmith and Fulham, Lambeth, Haringey, Wandsworth, Waltham Forst, Brent and Lewisham.

On Wednesday was the 10th anniversary of the death of Ella Adoo-Kissi-Debrah, aged nine, who lived near the South Circular in Lewisham, south-east London, a road notorious for fumes spewed out by heavy traffic.

She became the first person in the UK to have air pollution listed as a cause of death.

Her mother Rosamund has been one of Britain's foremost campaigners to clean up the nation's toxic air and was awarded a CBE in the New Year's Honours List for services to public health.

She told The Standard: "Ella's death will save lives. We need to remember that.
"Today is a sad occasion but we are also as a family very proud of all the positive changes that have come out of her death not just in air pollution but in asthma treatment as well."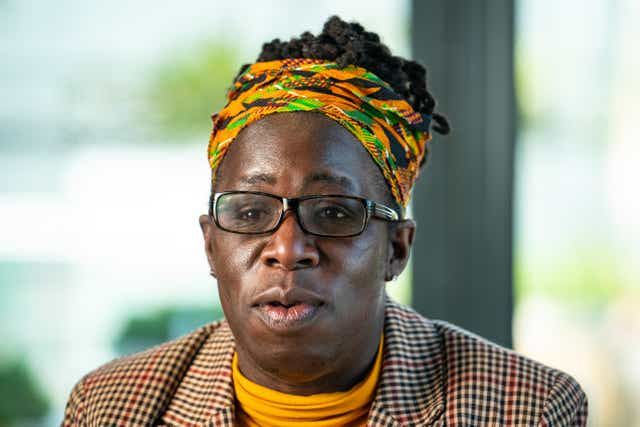 Rosamund Adoo-Kissi-Debrah, the mother of Ella Adoo-Kissi-Debrah who was the first person in the UK to have air pollution listed as a cause of death on her death certificate
Campaigners, including Mayor Sadiq Khan, will gather on the South Bank on Wednesday night to commemorate Ella's death.
Her mother has told how she suffered "hundreds" of asthma attacks in the last two-and-a-half years of her life and was "in and out of hospital".
The South Bank ceremony will include the unveiling of a new version of an artwork that depicts Ella's mother "fighting for breath".
The projection, which will be shown for three successive nights, seeks to encourage support for "Ella's Law" which would establish clean air as a basic human right and force the Government to speed up the battle against air pollution.
The data from the Office for Health Improvement and Disparities revealed that London and the South East have seen the biggest falls in deaths linked to toxic air over a four year period.
But they also showed the capital still suffering from the worst fatality rate from air pollution in England.
Nine per cent of deaths in London in 2018 were attributable to this type of air pollution which scientists say is particularly harmful as it can seep deep into the heart and lung systems.
This fatality rate figure dropped to 6.5 per cent in 2021, a fall of 27.8 per cent.
Only the South East saw a bigger decline from 7.7 to 5.4, or 29.9 per cent.
The smallest drop was in the North East, of just 7.7 per cent, which actual saw a rise in this fatality rate from toxic air in 2021 compared to 2020.
As did both the North West and the East Midlands, though over the four-year period they still had respective declines of 10.2 per cent and 16.4 per cent.
The drop in the South West was 16.4 per cent, the East 27.6 per cent, the West Midlands 19.1 per cent, Yorkshire and the Humber 18 per cent, and the average for England 22.5 per cent.
In London, the biggest falls were in Barking and Dagenham, down 32.6 per cent, followed by Bexley 32.2 per cent, Newham 31.3 per cent, Waltham Forest 31.2 per cent and Redbridge also 31.2 per cent.
Simon Birkett, founder of Clean Air in London, stressed: "Most of the deaths revealed by these new statistics will be of cardiovascular causes and ignore the suffering of children like Ella Roberta Adoo Kissi-Debrah who died 10 years ago today.
"It is inexcusable therefore that the Government has breached the legal limit for this deadly form of air pollution and failed to match the European Commission's proposed new standard."
Professor Frank Kelly, chair in community health and policy at Imperial College's Global Centre of Air Pollution Research, said: "It's fantastic to see these reductions in death rates linked to improvements in air quality across England.
"However, there is still some way to go before we are all breathing air which is clean enough to be not affecting our health."
The Government has admitted that it failed to meet the limits in the Convention on Long Range Transboundary Air Pollution's amended Gothenburg Protocol and the National Emissions Ceiling Regulations which require the UK to reduce emissions of PM2.5 by 30 per cent compared to emissions in 2005 by 2020 and in each subsequent year until 2029.
A Department of Environment spokesman said: "One of the drivers for the 6 per cent rise in PM2.5 emissions in 2021 is increased activity post
COVID
-19 as society emerged from lockdowns."
He added: "Clearly there is much more to do to tackle this pollutant. That's why we have legislated to restrict the sale of wet wood and coal, and our new Environmental Improvement Plan sets out further action to meet our long-term targets and ambitious interim targets for PM2.5."
However, the Government's own watchdog, the Office for Environmental Protection, has criticised it for adopting an annual Mean Concentration PM2.5 target of 10 micrograms per cubic metre (µg m-3) to be met across England by 2040, ten years later than proposed by the EU.
Dr Camilla Kingdon, president of the Royal College of Paediatrics and Child Health, told the Standard: "The goal must be to bring air pollution levels down by 2030, not 2040.
"We cannot afford to have another generation of children breathing toxic air, it is morally indefensible."
Professor Kevin Fenton, London regional director for public health, said: "Air pollution presents a very real risk to the health of all Londoners, but some people are more affected because they are exposed to higher levels of air pollution in their day-to-day lives, they live in a polluted area, or are more vulnerable to its impacts such as children, the elderly and people with heart disease or respiratory conditions such as asthma.
"Improving air quality is a key public health priority for London, and tackling it is crucial to reducing the health impacts and disparities seen across communities in our city."
Mr Khan said the expansion of the ultra-low emission zone in August would "help to ensure that a young child growing up in outer London doesn't befall the same tragic fate as Ella".
He added: "I'm not prepared to have on my conscience the early death or life-limiting illness of another Londoner when such an outcome is preventable."